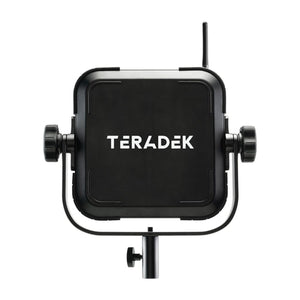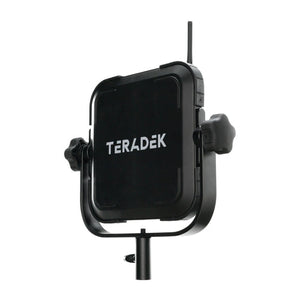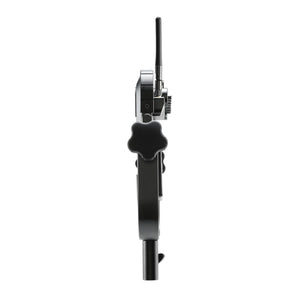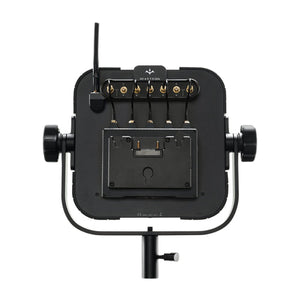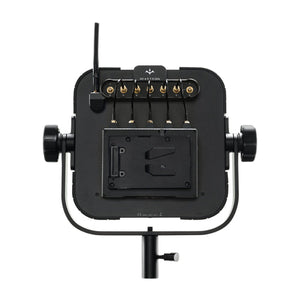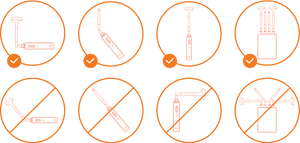 The Array offers a more resilient wireless transmission, especially in challenging RF conditions, by focusing the signal and reducing interference. Featuring a dedicated external omnidirectional antenna for increased reception when the signal is outside the directional cone of the panel array. As a result, you may achieve a boost in the reception range based on the maximum range of the connected Bolt4K.
Antenna placement
Array 4K Panel Antenna
Your Bolt 4K receiver (if equipped with a dual battery plates) can attach to the back of an Bolt 6 / Bolt 4K Antenna Array which is a directional antenna with a receive pattern that varies based on its distance from the transmitter. The panel antenna enables Bolt 4K MAX to reach its full 5,000 ft range, and while it doesn't add range to your 750 or 1500 systems, it focuses the receiver's antenna elements and increases gain in front of the panel. If you're shooting outdoors, using a panel antenna to direct your signal should improve performance, especially for ranges greater than 1,500 ft. The Panel antenna has both vertical and horizontal antenna connections (two H, five V), and your TX antenna configuration will determine which RP-SMA connector to connect to the left and right antennas on the receiver.
Your antennas are only as good as how you place them
In most cases, the ideal position for the transmitter and receiver antennas is perpendicular to the ground -- straight up and down. If the transmitter is at an angle or on its side, antennas should be arranged so that they point up. Pointing the antennas in any other direction re-orients the radiation pattern and may reduce performance. For situations where the ideal antenna placement just isn't possible, you can relocate their position on your camera with Teradek antenna extension kit.

Optimizing your wireless performance and getting the most of Bolt 4K is as simple as correctly placing your antennas and understanding when to use what antenna configuration. No matter which antenna you use, Bolt 4K still produces a sharper image and handles channel interference over longer ranges better than ever before.
Features
Focuses the wireless signal and reduces interference to achieve a boost in reception range (but not above max range of Bolt set)
Composed of 3x16 dBi, 2x14 dBi, and 1x2dBi antennas using 5.1-7.3 GHz MIMO
Small, Lightweight and made from UV-protected plastic with aluminum alloy
Included Items
1x Antenna Array V4 for Bolt 6 / Bolt 4K
5x 10cm Antenna Cable (RP-SMA Female to RP-SMA Female)
1x Standard Antenna (2dBi WiFi 2.4/5.8 GHz)
Shipping policy
Any items which are in stock, will be dispatched immediately - same day if possible and morning of the following business day at the latest. Items which are not in stock at our local warehouse will be routed to us, and dispatched immediately upon arrival to us. In that case, the estimated dispatch time is noted on the product page.
Note that you are always welcome to email info@dittools.eu or call (+372) 5556 0057 for a more accurate shipping time estimate, as this does vary depending on a number of factors.
Standard shipping
Unless otherwise noted, all items are shipped standard via DPD. We normally ship to European Union countries only – do contact us for possible exceptions, particularly other European mainland countries. Shipping times vary between 1 to 10 business days within Europe – an up to date estimate will be given at checkout.
Express shipping
Our shipping partner for expedited deliveries is DHL Express; please contact us directly for a quote.
Returning an item
If you are not completely satisfied with your purchase, you can return your item(s) for a full refund within 14 days of confirmed delivery.
Special sales, demo items and promotions may have modified return policies. If an item from a bundle is returned for refund, the total bundle discount or the total value of the gifts will get deducted from the returned item prior to issuing a refund. If the bundle discount (or gift value) exceeds the value of the returned item, the difference must be paid to be able to return the item.
Return autorization
If you would like to return any item(s), please contact us by either emailing info@dittools.eu or calling (+372) 5556 0057. We will share with you a Return Merchandise Authorization (RMA) code and ask that you clearly mark this code outside of your shipping box as you ship your item(s) back for a refund.
You will be liable for the shipping and any applicable customs/duty fees returning the item(s).
Incorrect items
If the return is made due to a faulty product, or an incorrectly shipped product, or if you are returning the item(s) due to a defect, or functionality issue, or because it is not the item you have ordered, we will gladly email or mail a return shipping label covering all shipping related expenses. In order to determine whether the return is initiated due to a technical problem, we may ask for you to provide visual support like images or a video on the item(s).
Shipping
Returned merchandise must be in its original packaging, and placed in a decent shipping box, e.g. the same box that we shipped the items to you in. Please make sure to clearly mark the RMA code you have received from us outside on the box.
Do not forget to cover or peel off any existing shipping labels on the box.
DIT Supplies OÜ cannot be held accountable for return shipments that have not reached us or returns made without RMA codes. We strongly advise that if you are returning the item(s) with a carrier of your choice that you use a traceable shipping method.
It may take 4-5 business days for your return to reach us. Once it is received and inspected, your refund will be processed and automatically applied to your credit card or original method of payment within 14 business days. Please note that depending on your credit card company, it may take an additional 2-4 business days after your credit is applied for it to post to your account.
Customs, duties & taxes
There are no customs duties or taxes on orders shipping within the EU. Orders shipped outside of the EU may be subject to import taxes, customs duties and fees collected by the destination country. The recipient of an international shipment may be subject to such import taxes, customs duties and fees, which are collected once a shipment reaches the recipient's country. Additional charges for customs clearance must be paid for by the recipient; we have no control over these charges and cannot predict what they may be. Customs policies vary widely from country to country; and when customs clearance procedures are required, it can cause delays beyond our original delivery estimates. We advise that you contact your local customs office for more information.