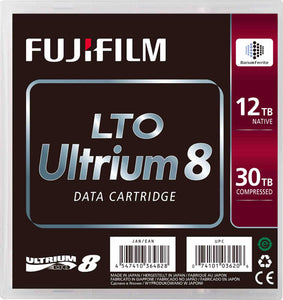 FUJIFILM LTO Ultrium 8 Data Cartridges ("LTO8"):
Meeting 8th generation "LTO (Linear Tape Open) Ultrium standards" for magnetic tape media, Ultrium 8 Data Cartridge will allow for backup and archive of large volumes of data, high-speed data transfer at 750 MB/sec. ( 360 MB/sec. for non-compressed data), and offer a storage capacity of 30 TB ( 12 TB for non-compressed data).
LTO8, with its high capacity and capability to store data for over 50 years, is optimal for economically storing large quantities of "cold data"- data that is seldom accessed as time passes- over the long term.
Enhanced "NANOCUBIC technology"
Fujifilm LTO Ultrium 8 data cartridges use Fujifilm's enhanced NANOCUBIC technology, which incorporates three Fujifilm proprietary technologies.
Nano-particle Technology: Micronizing of uniform Barium Ferrite particles.
Nano-dispersion Technology: Uniform dispersion for nano sized particle.
Nano-coating Technology: Very smooth ultra-thin layer coating to realize an even thinner magnetic layer.
Barium Ferrite
"Barium Ferrite magnetic particles" offer outstanding recording and retrieval performance for long-term storage. The magnetic property remains stable when micronized, and it enables good signal quality with little noise over a wide frequency range. Fujifilm's "Barium Ferrite magnetic particles" offer low variance in terms of magnetic properties, offering greater stability, and the ability to reliably store data for over thirty years has been verified. In April 2015, Fujifilm in cooperation with IBM demonstoraged the potential of achieving a data cartridge with 220 terabytes of uncompressed capacity using an advanced prototype of Barium Ferrite magnetic particles.
FUJIFILM Servo Technology
LTO Ultrium technology relies heavily on timing-based, high-precision servo control to achieve its remarkable performance levels. LTO Ultrium data cartridge uses dual servo tracks that have been precisely written along the entire length of each of its four data bands, for extremely fine placement control and redundancy in the event of tape damages.
Encrypted for Security
From LTO G4 System, the Advanced Encryption Standard (AES) 256-bit encryption algorithms is introduced to keep data secure. The hardware-based AES 256-bit encryption offers higher level of security during storage and transporting of sensitive information.
WORM is also available
WORM (Write Once Read Many) functionality provides a cost-effective means for storing data in non-rewriteable format to help address compliance requirements.
Shipping policy
Any items which are in stock, will be dispatched immediately - same day if possible and morning of the following business day at the latest. Items which are not in stock at our local warehouse will be routed to us, and dispatched immediately upon arrival to us. In that case, the estimated dispatch time is noted on the product page.
Note that you are always welcome to email info@dittools.eu or call (+372) 5556 0057 for a more accurate shipping time estimate, as this does vary depending on a number of factors.
Standard shipping
Unless otherwise noted, all items are shipped standard via DPD. We normally ship to European Union countries only – do contact us for possible exceptions, particularly other European mainland countries. Shipping times vary between 1 to 10 business days within Europe – an up to date estimate will be given at checkout.
Express shipping
Our shipping partner for expedited deliveries is DHL Express; please contact us directly for a quote.
Returning an item
If you are not completely satisfied with your purchase, you can return your item(s) for a full refund within 14 days of confirmed delivery.
Special sales, demo items and promotions may have modified return policies. If an item from a bundle is returned for refund, the total bundle discount or the total value of the gifts will get deducted from the returned item prior to issuing a refund. If the bundle discount (or gift value) exceeds the value of the returned item, the difference must be paid to be able to return the item.
Return autorization
If you would like to return any item(s), please contact us by either emailing info@dittools.eu or calling (+372) 5556 0057. We will share with you a Return Merchandise Authorization (RMA) code and ask that you clearly mark this code outside of your shipping box as you ship your item(s) back for a refund.
You will be liable for the shipping and any applicable customs/duty fees returning the item(s).
Incorrect items
If the return is made due to a faulty product, or an incorrectly shipped product, or if you are returning the item(s) due to a defect, or functionality issue, or because it is not the item you have ordered, we will gladly email or mail a return shipping label covering all shipping related expenses. In order to determine whether the return is initiated due to a technical problem, we may ask for you to provide visual support like images or a video on the item(s).
Shipping
Returned merchandise must be in its original packaging, and placed in a decent shipping box, e.g. the same box that we shipped the items to you in. Please make sure to clearly mark the RMA code you have received from us outside on the box.
Do not forget to cover or peel off any existing shipping labels on the box.
DIT Supplies OÜ cannot be held accountable for return shipments that have not reached us or returns made without RMA codes. We strongly advise that if you are returning the item(s) with a carrier of your choice that you use a traceable shipping method.
It may take 4-5 business days for your return to reach us. Once it is received and inspected, your refund will be processed and automatically applied to your credit card or original method of payment within 14 business days. Please note that depending on your credit card company, it may take an additional 2-4 business days after your credit is applied for it to post to your account.
Customs, duties & taxes
There are no customs duties or taxes on orders shipping within the EU. Orders shipped outside of the EU may be subject to import taxes, customs duties and fees collected by the destination country. The recipient of an international shipment may be subject to such import taxes, customs duties and fees, which are collected once a shipment reaches the recipient's country. Additional charges for customs clearance must be paid for by the recipient; we have no control over these charges and cannot predict what they may be. Customs policies vary widely from country to country; and when customs clearance procedures are required, it can cause delays beyond our original delivery estimates. We advise that you contact your local customs office for more information.