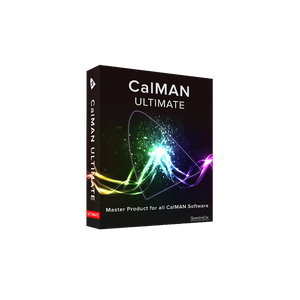 Who Needs It
Professional AV installers and calibrators who work with home theaters, commercial displays, medical imaging displays, professional reference monitors, and/or video walls. Also for display reviewers and manufacturers.
What is Included
CalMAN Ultimate Software License
Ten (10) CalMAN Client 3 Software Licenses
One Year Free All Access (CalMAN Ultimate)
CalMAN® Ultimate Key Features
Optimize display settings for brightness, contrast and resolution
Achieve optimal colorspace and gamma targets
Conduct CMS (color management system) and multipoint grayscale calibrations
Analyze display performance with an advanced Quick Analysis Workflow
Create comprehensive Customer Reports for each calibration
Automate the calibration process with AutoCal® Technology for select display models
Access display settings through DDC (direct display control) with supported display models
Generate 3D LUTs for select home theater Video Processors and studio reference monitors
Calibrate computer monitors with ICC+® Technology from CalMAN RGB (from Client 3 Licenses)
Calibrate multi-panel video walls with the new Display Matching workflow
Calibrate home theaters, studios, and commercial displays for hundreds of customers, no purchase of additional software licenses necessary
Create customized reports and workflows in Design Mode
Supported Display Types
UHD, 4K, HDR TVs
UHP, LED, Laser Projectors
Multi-panel video walls
Reference video monitors
Computer monitors
Included Workflows
Systems Integrator Introduction
Systems Integrator Basic
Systems Integrator Advanced
Systems Integrator Professional
Tutorial Basic
Tutorial Advanced
Display Matching
ISF Introduction
ISF Calibration
Home Theater Introduction
Home Theater Basic
Home Theater Advanced
Home Theater Enthusiast
Quick Analysis
Studio Introduction
ColorChecker
Color Cube 3D LUT
Monitor - Introduction
Monitor - Standard
Monitor - Advanced
Monitor - Direct
Monitor - Introduction
Monitor - Standard
Monitor - Advanced
Monitor - Direct
Monitor - Broadcast
Monitor - Dolby Vision Custom Workflow
Color Volume
HLG Calibration
Supported Meters
SpectraCal C3, C6 HDR2000
Klein K10-A, Cinema Pro
Colorimetry Research CR-100, CR-250, CR-300
Konica Minolta LS-100, CL-200, CS-100a, CS-200, CA-210, CA-310, CS-1000, CS-2000a
Photo Research PR-521, PR-525, PR-650, PR-655, PR-670, PR-680, PR-701, PR-705, PR-715, PR-740
Orb Optronix SP-100/200
Sencore OTC-1000, ColorPro V
JETI SpecBos 1201, SpecBos 1211
X-Rite i1Display Pro (OEM), i1Display 2, Monaco Optix XR, i1Monitor, i1Pro, i1Pro 2,
ColorMunki Photo, ColorMunki Design, Chroma 5, Hubble
basICColor Discus
Supported Pattern Sources
Cinetal Davio 2.0
DVDO Duo, IR-Controlled, VP30, VP50
Fujifilm IS-Mini
Lumagen Radiance XD, XE, XS, Mini-3D, 20xx Series, 21xx Series
Pandora Pluto
SpectraCal VideoForge HDMI, SpectraCal VideoForge Pro, VideoForge Classic, VideoForge 4K, DPG-1000, DPG-1400, DPG-2000
Accupel HDG-3000, HDG, 4000, DVG-5000
DVDO AVLab TPG
Extron VTB-300, VTG-400
Quantum Data 701, 780, 801, 802, 804, 880, 881, 882
Sencore VP300, VP301, VP400, VP401, VP403, MP500, S802
Phabrix SX
SpectraCal VirtualForge Software
JVC Internal Patterns
CalMAN Client 3 for Computer Monitors
MobileForge App
Supported Video Processors and Monitors for 1D and 3D LUTs
AVFoundry Video EQ, Video EQ Pro
DVDO Duo
Flexible Picture Systems Image AnyPlace 200
Runco DHD3, DHD4, DHDLS
Lumagen Radiance XD, XE, XS, Mini-3D, 20xx Series, 21xx Series
AJA Video LUT Box
Blackmagic HD Link Pro, DaVinci Resolve 10.1 software
Cinetal Davio, Davio 2.0
Dolby PRM-4200 Monitor
eeColor Image Processor
Flanders Scientific Monitors w/ 3D LUTs
Fujifilm IS-Mini
EIZO ColorEdge Monitors
Lumagen Radiance XD, XE, XS, Mini-3D, 20xx Series, 21xx Series
SpectraCal ColorBox
TVLogic XVM Series Monitors
System Requirements
Windows 7®or later with latest operating system updates installed (recommended: Windows 7® or later)
2 GHz processor (recommended: 2 GHz Dual Core Processor)
2 GB RAM (recommended: 4 GB RAM)
Microsoft® .NET Framework 4.6
Shipping policy
Any items which are in stock, will be dispatched immediately - same day if possible and morning of the following business day at the latest. Items which are not in stock at our local warehouse will be routed to us, and dispatched immediately upon arrival to us. In that case, the estimated dispatch time is noted on the product page.
Note that you are always welcome to email info@dittools.eu or call (+372) 5556 0057 for a more accurate shipping time estimate, as this does vary depending on a number of factors.
Standard shipping
Unless otherwise noted, all items are shipped standard via DPD. We normally ship to European Union countries only – do contact us for possible exceptions, particularly other European mainland countries. Shipping times vary between 1 to 10 business days within Europe – an up to date estimate will be given at checkout.
Express shipping
Our shipping partner for expedited deliveries is DHL Express; please contact us directly for a quote.
Returning an item
If you are not completely satisfied with your purchase, you can return your item(s) for a full refund within 14 days of confirmed delivery.
Special sales, demo items and promotions may have modified return policies. If an item from a bundle is returned for refund, the total bundle discount or the total value of the gifts will get deducted from the returned item prior to issuing a refund. If the bundle discount (or gift value) exceeds the value of the returned item, the difference must be paid to be able to return the item.
Return autorization
If you would like to return any item(s), please contact us by either emailing info@dittools.eu or calling (+372) 5556 0057. We will share with you a Return Merchandise Authorization (RMA) code and ask that you clearly mark this code outside of your shipping box as you ship your item(s) back for a refund.
You will be liable for the shipping and any applicable customs/duty fees returning the item(s).
Incorrect items
If the return is made due to a faulty product, or an incorrectly shipped product, or if you are returning the item(s) due to a defect, or functionality issue, or because it is not the item you have ordered, we will gladly email or mail a return shipping label covering all shipping related expenses. In order to determine whether the return is initiated due to a technical problem, we may ask for you to provide visual support like images or a video on the item(s).
Shipping
Returned merchandise must be in its original packaging, and placed in a decent shipping box, e.g. the same box that we shipped the items to you in. Please make sure to clearly mark the RMA code you have received from us outside on the box.
Do not forget to cover or peel off any existing shipping labels on the box.
DIT Supplies OÜ cannot be held accountable for return shipments that have not reached us or returns made without RMA codes. We strongly advise that if you are returning the item(s) with a carrier of your choice that you use a traceable shipping method.
It may take 4-5 business days for your return to reach us. Once it is received and inspected, your refund will be processed and automatically applied to your credit card or original method of payment within 14 business days. Please note that depending on your credit card company, it may take an additional 2-4 business days after your credit is applied for it to post to your account.
Customs, duties & taxes
There are no customs duties or taxes on orders shipping within the EU. Orders shipped outside of the EU may be subject to import taxes, customs duties and fees collected by the destination country. The recipient of an international shipment may be subject to such import taxes, customs duties and fees, which are collected once a shipment reaches the recipient's country. Additional charges for customs clearance must be paid for by the recipient; we have no control over these charges and cannot predict what they may be. Customs policies vary widely from country to country; and when customs clearance procedures are required, it can cause delays beyond our original delivery estimates. We advise that you contact your local customs office for more information.