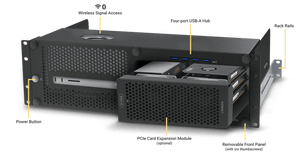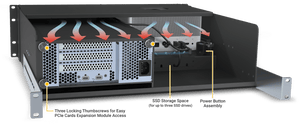 Three systems to choose from. For many creative professionals, PCIe card expansion for connecting specialty cards to handle audio and video post-production projects is not an option — it's a necessity! Sonnet designed the xMac Studio for pro workflow flexibility; choose a system configured with a Thunderbolt to PCIe card expansion module that best suits your needs. xMac Studio is also available without a module so you can add one at a later date, or use one of your existing compatible Sonnet expansion modules.
xMac Studio is a rugged steel 3U rackmount enclosure for securing a Mac Studio with optional PCIe card expansion module in a rack, placing the Mac Studio behind a quick and easy to remove front panel. Convenient front panel operation allows you turn Mac Studio on with its own dedicated front power button, connect USB devices through a 4-port USB-A hub, and access the computer's front ports and SD card slots. When equipped with an Echo III or Echo I PCIe Card Expansion Module, three rear panel locking thumbscrews allow you to easily pull out and access the module and PCIe cards through the front without removing the front panel. The xMac Studio design enables you to connect and disconnect cables without needing to remove the Mac Studio from the enclosure.

An opening on top of xMac Studio ensures hindrance-free wireless signal access. The xMac Studio is designed to allow normal WiFi and Bluetooth wireless operation in most configurations (depending on rack type and position in rack), so you can use wireless devices and iOS® device control apps.
Key Features
Connects PCIe Card Slots to Mac Studio
Use high-performance PCIe cards with the Mac Studio.
Makes Your Mac Studio Road-ready
3U rackmount enclosure with firm rubber cushions securely holds the Mac Studio and Thunderbolt expansion module in place, adding mobility to your workflow.
Ideal for Use in Server Rooms
Standard mounting holes and included adjustable rack rails enable easy installation into any standard server rack up to 24" deep.
Front to Back Airflow Management
Supports direct airflow through the enclosure, Mac Studio, and Thunderbolt expansion module to keep them operating as cool in a rack as on a desk, even when the xMac Studio is mounted between two other rack-mounted components.
Front Panel Power Switch and Integrated USB-A Ports
Front panel button enables operation of the computer's rear-mounted power switch; integrated USB-A hub enables connection of four USB peripherals to the Mac Studio.
Easy Access
No tools required – removable front panel secured with thumbscrews allows easy installation of and access to the Mac Studio. Secured with three thumbscrews on the back, the Thunderbolt expansion module can be removed and reinstalled through the front of the enclosure without removing the front plate.
Space for Storage
Behind a covered opening beneath the computer is a space to place two Thunderbolt or USB SSDs (sold separately); two included adhesive-backed magnets secure them in place.
Open Slot and Port Access
Provides access to the computer's SD card slot and front and back panel ports, enabling you to connect and disconnect cables easily.

Compatibility
Mac Compatibility

PCIe Cards Compatibility

Hardware
Part Number

Warranty

Form Factor

External Connectors

Echo III Module

External Connectors

Two Thunderbolt ports
Power (C14-type)
Internal Connector

6-pin Mini-Fit Jr (same type as on legacy Mac Pro motherboard; provides up to 75W of power for PCIe cards that require supplemental power)
Expansion Slots (Top to Bottom)(1)

One x8 mechanical (x8 electrical) PCIe 3.0
One x16 mechanical (x8 electrical) PCIe 3.0
One x8 mechanical (x4 electrical) PCIe 3.0
PCIe Cards Supported

One full-length, full-height, double-width PCIe card, plus one single-width card or
Three full-length, full-height, single-width PCIe cards
Power Supply

Universal 400W, 115-230V AC, 50-60 Hz

(2)
Operating Temperature

0ºC to 35ºC (32ºF to 95ºF)
Dimensions (WxDxH)

19 x 16.5 x 5.2 in. (48 x 41.9 x 13.3 cm)
Weight

Compliance

RoHS 3 (Directive 2015/863)
IEC62368-1 and IEC62368-2 Safety
Package Contents

xMac Studio enclosure
Echo III Module (Thunderbolt to PCIe card expansion)
Region-specific power cable for US, Australia, Europe, Japan, Switzerland, or UK
6-pin auxiliary power cable
Thunderbolt cable
ThunderLok 3 Thunderbolt connector retainer clip
Extension rails for rack depth 16-24 inches
Two adhesive-backed magnets
Documentation
Shipping policy
Any items which are in stock, will be dispatched immediately - same day if possible and morning of the following business day at the latest. Items which are not in stock at our local warehouse will be routed to us, and dispatched immediately upon arrival to us. In that case, the estimated dispatch time is noted on the product page.
Note that you are always welcome to email info@dittools.eu or call (+372) 5556 0057 for a more accurate shipping time estimate, as this does vary depending on a number of factors.
Standard shipping
Unless otherwise noted, all items are shipped standard via DPD. We normally ship to European Union countries only – do contact us for possible exceptions, particularly other European mainland countries. Shipping times vary between 1 to 10 business days within Europe – an up to date estimate will be given at checkout.
Express shipping
Our shipping partner for expedited deliveries is DHL Express; please contact us directly for a quote.
Returning an item
If you are not completely satisfied with your purchase, you can return your item(s) for a full refund within 14 days of confirmed delivery.
Special sales, demo items and promotions may have modified return policies. If an item from a bundle is returned for refund, the total bundle discount or the total value of the gifts will get deducted from the returned item prior to issuing a refund. If the bundle discount (or gift value) exceeds the value of the returned item, the difference must be paid to be able to return the item.
Return autorization
If you would like to return any item(s), please contact us by either emailing info@dittools.eu or calling (+372) 5556 0057. We will share with you a Return Merchandise Authorization (RMA) code and ask that you clearly mark this code outside of your shipping box as you ship your item(s) back for a refund.
You will be liable for the shipping and any applicable customs/duty fees returning the item(s).
Incorrect items
If the return is made due to a faulty product, or an incorrectly shipped product, or if you are returning the item(s) due to a defect, or functionality issue, or because it is not the item you have ordered, we will gladly email or mail a return shipping label covering all shipping related expenses. In order to determine whether the return is initiated due to a technical problem, we may ask for you to provide visual support like images or a video on the item(s).
Shipping
Returned merchandise must be in its original packaging, and placed in a decent shipping box, e.g. the same box that we shipped the items to you in. Please make sure to clearly mark the RMA code you have received from us outside on the box.
Do not forget to cover or peel off any existing shipping labels on the box.
DIT Supplies OÜ cannot be held accountable for return shipments that have not reached us or returns made without RMA codes. We strongly advise that if you are returning the item(s) with a carrier of your choice that you use a traceable shipping method.
It may take 4-5 business days for your return to reach us. Once it is received and inspected, your refund will be processed and automatically applied to your credit card or original method of payment within 14 business days. Please note that depending on your credit card company, it may take an additional 2-4 business days after your credit is applied for it to post to your account.
Customs, duties & taxes
There are no customs duties or taxes on orders shipping within the EU. Orders shipped outside of the EU may be subject to import taxes, customs duties and fees collected by the destination country. The recipient of an international shipment may be subject to such import taxes, customs duties and fees, which are collected once a shipment reaches the recipient's country. Additional charges for customs clearance must be paid for by the recipient; we have no control over these charges and cannot predict what they may be. Customs policies vary widely from country to country; and when customs clearance procedures are required, it can cause delays beyond our original delivery estimates. We advise that you contact your local customs office for more information.