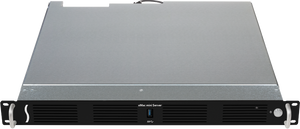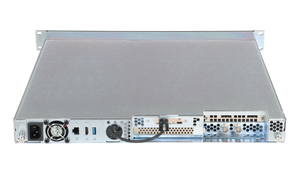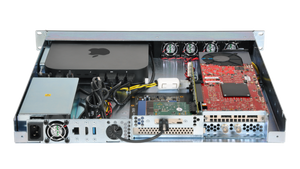 Transform a Mac mini

®
 

with Thunderbolt 3 Ports from a Basic Computer to a Workstation!


For many applications, a Mac mini with Thunderbolt 3 ports has all the processing power necessary to allow it to replace a full-sized desktop or workstation. But for pro audio and video users, the mini's compact size can limit its potential—there are no slots for PCIe expansion cards needed to provide additional connectivity and functionality, and you need to securely rackmount the computer. Sonnet's award-winning xMac™ mini Server addresses these issues and maximizes a Mac mini's capabilities in a big way.Inside its custom 1U enclosure, the xMac mini Server Thunderbolt 3 Edition securely mounts your Mac mini, and connects two PCIe cards to the computer through one of its Thunderbolt 3 ports. A USB-A port and a power button mounted on the front panel allow the connection of a keyboard, mouse, thumb drive or other USB peripheral to, and the operation of the system without requiring access to the back of the computer. Additional panel-mount cables (HDMI, 10 Gigabit Ethernet, and USB-A) are included to connect the ports on the computer to ports on the back of the xMac mini Server for convenient external connection. Due to the active electronics at both ends of Thunderbolt cables, passthrough Thunderbolt ports are not possible, but an opening on the back panel enables you to easily route cables to the computer or the internal connections on an installed card.

Video Ingest Station. ProTools Multitrack Recording Rig. Metadata Controller.
Large-Capacity RAID Storage Server. Video wall server.

Connect two high-performance PCIe cards to transform your Mac mini with Thunderbolt 3 ports from a simple computer to something much more.
Dual PCIe 2.0 Slots; Supports PCIe 1.1, 2.0, and 3.0 Cards
The xMac mini Server Thunderbolt 3 Edition supports one full-height, full-length, single-width card, plus one full-height, half-length card. Plus, if you install a PCIe card that includes a daughter card (or interface connector bracket) like the ones included with RME's HDSPe MADI FX card, Blackmagic Design's DeckLink 4K Extreme 12G, and the Lynx AES16e-50, a supplied mounting bracket allows you to securely mount the daughter card inside the chassis next to the main card, leaving the xMac's second PCIe slot open for another card.
Expansion Made Easy
The xMac mini Server provides easy access to its PCIe slots and your computer's ports; simply loosen two thumbscrews and then slide the top cover off. Once inside, installing PCIe cards and connecting cables to the computer are simple. The included Thunderbolt 3 (40Gbps) cable connects your Mac mini to one of the xMac mini Server's Thunderbolt 3 ports, linking the PCIe slots to the computer. The xMac's second Thunderbolt 3 port enables daisy chaining of additional Thunderbolt peripherals such as additional PCIe expansion (like Sonnet's

 

Echo Express III-R

 

rackmount chassis), pro video breakout boxes, video capture and playback devices, audio I/O devices, and more.
Idea Enabler
Mac mini as an ingest station for uncompressed 4K video? Absolutely. Mac mini as a virtual sound check, pro audio plug-in DAW and record rig? Sure! xMac mini Server enables you to expand your Mac mini's capabilities in ways you never imagined. For PCIe card compatibility information, see our

 

PCIe Card Thunderbolt Compatibility Chart

 

for a list of cards(3)

 

that have been tested to be recognized over a Thunderbolt connection and compatible with Thunderbolt technology requirements.
Key Features
Adds Connectivity and Capabilities to Your Mac mini

—Connects two high-performance PCIe 1.1, 2.0, or 3.0 expansion cards to the Mac mini

Diverse PCIe Card Support

—Supports pro video capture and playout, pro audio, 10 Gigabit Ethernet, Fibre Channel, SAS/SATA RAID controllers, and other PCIe cards

Server Room Ready—1U rackmount enclosure with user-replaceable fans, easy to remove lid, built-in cable management features
Makes Your Mac mini Road-Ready—Securely holds the computer and PCIe cards in place during transport, adding mobility to your Mac
Thunderbolt 3 Interface—Offers approximately 1750 MB/s of PCIe bandwidth to the installed cards
Two Thunderbolt 3 Ports—One port used to connect to the computer; second port supports daisy-chaining of up to five additional Thunderbolt(1) peripheral devices to your computer, attaching a single USB(2) peripheral device, or connecting a 4K display.
Rear Panel Connectivity, Front Panel Operation—Ethernet, HDMI and USB-A ports mounted at the rear of the chassis for easy connectivity; front panel power button activates power switch on Mac mini; illuminated USB-A port enables connection of keyboard, mouse, thumb drive, etc.
Power for High-Performance PCIe Cards—Integrated 150W power supply provides plenty of power for cards you install; auxiliary PCIe power connector enables use of power hungry non-GPU cards such as the Avid® Pro Tools|HDX or the RED® ROCKET-X™

Power for High-Performance PCIe Cards

The xMac mini Server integrates a universal 150W power supply and includes an auxiliary PCIe power connector for cards that require supplementary power, such as the Avid Pro Tools|HDX or the RED ROCKET. In short, there is plenty of power for any combination of compatible cards.
40Gbps Thunderbolt 3 — The USB-C That Does It All
The xMac mini Server Thunderbolt 3 Edition includes two Thunderbolt 3 ports; the first is used for connection to your computer, while the second supports daisy chaining of up to five additional Thunderbolt peripheral devices to a single port on your computer(1). This Sonnet solution includes 10Gbps USB 3.1 Gen 2 support, meaning you can connect a USB device to the second Thunderbolt 3 port using the proper cable or adapter. There's also full support for connecting a 4K display @ 60Hz. For connected peripherals requiring extra power, 15 watts is provided to connected bus-powered devices.
Smart Design Inside and Out
The xMac mini Server has numerous thoughtful design touches. The fans are user-replaceable, and there's an optional extra-quiet fan kit available. The xMac mini Server's power switch turns the computer on and off without the need for you to reach around back, and the PCIe slots power on/off with the Mac mini for energy savings. The enclosure's rear panel includes mounting holes for two BNC connectors used for HD/SDI output from cards like the RED ROCKET-X, or for MADI and word clock IO from cards like the RME HDSPe MADI FX. There's a central power hub for the computer and the PCIe slot's power supply, enabling you to power everything with one power cord. The front panel USB-A provides port provides a handy visual cue, lighting up when the computer is on.


Thunderbolt 3 (40Gbps) Cable and ThunderLok™ 3 Included
To connect your computer to the xMac mini Server, Sonnet includes a 0.5-meter Thunderbolt 3 (40Gbps) cable. And, to prevent accidental cable disconnection which can lead to data loss, we include a Sonnet ThunderLok 3 Thunderbolt connector retainer clip(4) to secure the cable to the xMac. ThunderLok 3 is easy to install and use—just slide it over one end of the cable, and then plug in the connector and secure it to the chassis by turning a thumbscrew. Because of its unique design, ThunderLok remains on the cable so it won't get lost when not in use.
Shipping policy
Any items which are in stock, will be dispatched immediately - same day if possible and morning of the following business day at the latest. Items which are not in stock at our local warehouse will be routed to us, and dispatched immediately upon arrival to us. In that case, the estimated dispatch time is noted on the product page.
Note that you are always welcome to email info@dittools.eu or call (+372) 5556 0057 for a more accurate shipping time estimate, as this does vary depending on a number of factors.
Standard shipping
Unless otherwise noted, all items are shipped standard via DPD. We normally ship to European Union countries only – do contact us for possible exceptions, particularly other European mainland countries. Shipping times vary between 1 to 10 business days within Europe – an up to date estimate will be given at checkout.
Express shipping
Our shipping partner for expedited deliveries is DHL Express; please contact us directly for a quote.
Returning an item
If you are not completely satisfied with your purchase, you can return your item(s) for a full refund within 14 days of confirmed delivery.
Special sales, demo items and promotions may have modified return policies. If an item from a bundle is returned for refund, the total bundle discount or the total value of the gifts will get deducted from the returned item prior to issuing a refund. If the bundle discount (or gift value) exceeds the value of the returned item, the difference must be paid to be able to return the item.
Return autorization
If you would like to return any item(s), please contact us by either emailing info@dittools.eu or calling (+372) 5556 0057. We will share with you a Return Merchandise Authorization (RMA) code and ask that you clearly mark this code outside of your shipping box as you ship your item(s) back for a refund.
You will be liable for the shipping and any applicable customs/duty fees returning the item(s).
Incorrect items
If the return is made due to a faulty product, or an incorrectly shipped product, or if you are returning the item(s) due to a defect, or functionality issue, or because it is not the item you have ordered, we will gladly email or mail a return shipping label covering all shipping related expenses. In order to determine whether the return is initiated due to a technical problem, we may ask for you to provide visual support like images or a video on the item(s).
Shipping
Returned merchandise must be in its original packaging, and placed in a decent shipping box, e.g. the same box that we shipped the items to you in. Please make sure to clearly mark the RMA code you have received from us outside on the box.
Do not forget to cover or peel off any existing shipping labels on the box.
DIT Supplies OÜ cannot be held accountable for return shipments that have not reached us or returns made without RMA codes. We strongly advise that if you are returning the item(s) with a carrier of your choice that you use a traceable shipping method.
It may take 4-5 business days for your return to reach us. Once it is received and inspected, your refund will be processed and automatically applied to your credit card or original method of payment within 14 business days. Please note that depending on your credit card company, it may take an additional 2-4 business days after your credit is applied for it to post to your account.
Customs, duties & taxes
There are no customs duties or taxes on orders shipping within the EU. Orders shipped outside of the EU may be subject to import taxes, customs duties and fees collected by the destination country. The recipient of an international shipment may be subject to such import taxes, customs duties and fees, which are collected once a shipment reaches the recipient's country. Additional charges for customs clearance must be paid for by the recipient; we have no control over these charges and cannot predict what they may be. Customs policies vary widely from country to country; and when customs clearance procedures are required, it can cause delays beyond our original delivery estimates. We advise that you contact your local customs office for more information.