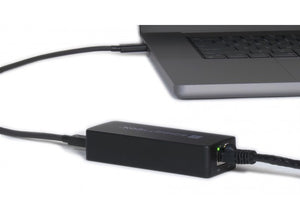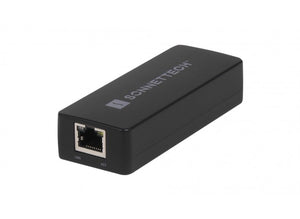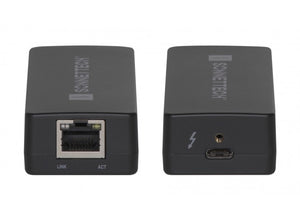 The Single-adapter Solution for Connecting to Pro Tools | Carbon
The Avid® Pro Tools | Carbon audio interface for music production has been described as a creative game changer; its innovative use of eight onboard HDX processors and a custom FPGA enable you to track and monitor with near-zero latency when using AAX DSP plug-ins. Because Carbon connects to your Mac® over Ethernet using a proprietary version of AVB (Audio Video Bridging, aka IEEE 802.1), you'll have to use an AVB capable Thunderbolt™ Gigabit Ethernet adapter if your computer doesn't have onboard Ethernet. The Avid Qualified Sonnet Thunderbolt AVB adapter is your single-adapter solution for connecting your supported Mac with Thunderbolt ports to the Carbon interface.
AVB-Compliant Ethernet Adapter - Connect to Other Devices On a Network
Beyond its support for the Pro Tools | Carbon interface, the Sonnet Thunderbolt AVB Adapter enables you to add your Mac as an endpoint in an AVB network and connect to other devices such as audio interfaces, mixers, plug-in processors, personal monitor stations, stage boxes, speakers, speaker processors, and others. Audio Video Bridging support makes the adapter perfect for use in pro audio and video applications where synchronization of data streams is critical.
What is the Benefit of an AVB Network?
An AVB network is extremely reliable since it is designed to reserve a portion of the available Ethernet network bandwidth for its own data. Packets of AVB data are sent regularly in allocated slots within the reserved bandwidth, ensuring AVB packets maintain time synchronization.
Thunderbolt Interface for Low Latency
Featuring a 40Gbps Thunderbolt™ interface, the Sonnet Thunderbolt AVB Adapter supports the low-latency, fully synchronized streaming of audio and video over Ethernet required for Avid Pro Tools | Carbon and AVB support.
Bus-powered Operation
Operating off its Thunderbolt connection, Sonnet's Thunderbolt AVB Adapter is bus-powered, so there's no need to plug in a power supply or power cable.
Key Features
- Avid Qualified
Avid qualified single-adapter solution for connecting your supported Mac to the Avid Pro Tools | Carbon audio interface.
- AVB-Compliant
Enables you to make your Mac an endpoint in an AVB Ethernet network.
- 40Gbps Thunderbolt Interface
Supports extremely low latency required for AVB applications.
- Pocketable
Compact and highly portable.
- Bus-Powered, Energy Efficient
Powered through Thunderbolt port – requires no power adapter.
- Easy Setup
Configure the adapter's basic settings using operating system preferences.
- Apple M1 Series Compatible
Compatible with M1, M1 Pro, and M1 Max Macs.
- Intel Mac Compatible
Compatible with Mac computers with Thunderbolt 3 ports.
Technical Specifications
Mac Compatibility
Mac® (M1, M1 Pro, M1 Max)
Mac (Intel®) with Thunderbolt 3 ports
macOS® 10.12.6+
macOS Monterey compatible
Pro Tools Carbon Compatibility
See Avid support page for supported Mac computers
Warranty
Form Factor
Thunderbolt Ethernet adapter
External Connectors
One Thunderbolt port
One RJ45 port
GbE Controller
Bus Interface
Network Support
Packets
Maximum packet size: 9000 bytes
Data Rates Supported
Advanced Features
Audio Video Bridging (AVB) protocols over Ethernet compliant with IEEE 802.AS, 1588-2008, P802.1Qat, and P802.1Qav
Energy-Efficient Ethernet (IEEE 802.3az)
Virtual LAN (VLAN) support - IEEE 802.1q VLAN
Wake-on-LAN (WOL) support
Stateless Oflloads
TCP, UDP and IPv4 checksum offloading
TSO (TCP Segmentation Offload, AKA Large Send Offload)
LRO (Large Receive Offload)
RSS (Receiver Side Scaling)
AVDECC Compliant
Operating Temperature
0ºC to 35ºC (32ºF to 95ºF)
Dimensions (WxDxH)
5 x 3.9 x 0.8 in. (38.1 x 98.4 x 20.6 mm)
Weight
Adapter: 0.20 lbs (0.09 kg)
Complete Package: 0.40 lbs (0.18 kg)
Compliance
RoHS 3 (Directive 2015/863)
IEC62368-1 and IEC62368-2 Safety
Package Contents
Sonnet Thunderbolt AVB Adapter
0.5-meter Thunderbolt cable
ThunderLok 3 Thunderbolt connector retainer clip(1)
Documentation
Shipping policy
Any items which are in stock, will be dispatched immediately - same day if possible and morning of the following business day at the latest. Items which are not in stock at our local warehouse will be routed to us, and dispatched immediately upon arrival to us. In that case, the estimated dispatch time is noted on the product page.
Note that you are always welcome to email info@dittools.eu or call (+372) 5556 0057 for a more accurate shipping time estimate, as this does vary depending on a number of factors.
Standard shipping
Unless otherwise noted, all items are shipped standard via DPD. We normally ship to European Union countries only – do contact us for possible exceptions, particularly other European mainland countries. Shipping times vary between 1 to 10 business days within Europe – an up to date estimate will be given at checkout.
Express shipping
Our shipping partner for expedited deliveries is DHL Express; please contact us directly for a quote.
Returning an item
If you are not completely satisfied with your purchase, you can return your item(s) for a full refund within 14 days of confirmed delivery.
Special sales, demo items and promotions may have modified return policies. If an item from a bundle is returned for refund, the total bundle discount or the total value of the gifts will get deducted from the returned item prior to issuing a refund. If the bundle discount (or gift value) exceeds the value of the returned item, the difference must be paid to be able to return the item.
Return autorization
If you would like to return any item(s), please contact us by either emailing info@dittools.eu or calling (+372) 5556 0057. We will share with you a Return Merchandise Authorization (RMA) code and ask that you clearly mark this code outside of your shipping box as you ship your item(s) back for a refund.
You will be liable for the shipping and any applicable customs/duty fees returning the item(s).
Incorrect items
If the return is made due to a faulty product, or an incorrectly shipped product, or if you are returning the item(s) due to a defect, or functionality issue, or because it is not the item you have ordered, we will gladly email or mail a return shipping label covering all shipping related expenses. In order to determine whether the return is initiated due to a technical problem, we may ask for you to provide visual support like images or a video on the item(s).
Shipping
Returned merchandise must be in its original packaging, and placed in a decent shipping box, e.g. the same box that we shipped the items to you in. Please make sure to clearly mark the RMA code you have received from us outside on the box.
Do not forget to cover or peel off any existing shipping labels on the box.
DIT Supplies OÜ cannot be held accountable for return shipments that have not reached us or returns made without RMA codes. We strongly advise that if you are returning the item(s) with a carrier of your choice that you use a traceable shipping method.
It may take 4-5 business days for your return to reach us. Once it is received and inspected, your refund will be processed and automatically applied to your credit card or original method of payment within 14 business days. Please note that depending on your credit card company, it may take an additional 2-4 business days after your credit is applied for it to post to your account.
Customs, duties & taxes
There are no customs duties or taxes on orders shipping within the EU. Orders shipped outside of the EU may be subject to import taxes, customs duties and fees collected by the destination country. The recipient of an international shipment may be subject to such import taxes, customs duties and fees, which are collected once a shipment reaches the recipient's country. Additional charges for customs clearance must be paid for by the recipient; we have no control over these charges and cannot predict what they may be. Customs policies vary widely from country to country; and when customs clearance procedures are required, it can cause delays beyond our original delivery estimates. We advise that you contact your local customs office for more information.