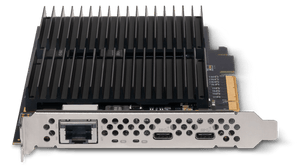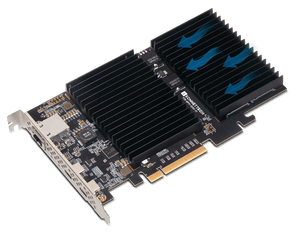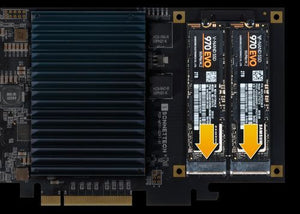 McFiver PCIe Card
Multifunction Adapter Card with Dual M.2 NVMe SSD Slots, 10Gb Ethernet, and Two 10Gbps USB-C Ports
compatible with Mac® | Windows® | Linux®
PROFESSIONAL MULTIFUNCTION PCIe CARD
Multiple Functions.
High Performer at Each One.
Only multifunction PCIe adapter card with M.2 NVMe storage, 10Gb Ethernet, and 10Gbps USB-C connectivity
Are you looking to add SSD storage, ultra-high-speed Ethernet connectivity, or high-performance USB-C® ports to your setup? Or all three? Even in computers with multiple expansion card slots, installing three adapter cards to get the interfaces you need may not be feasible. Sonnet's engineers designed a truly unique solution — the McFiver™ PCIe® Card. Mac, Windows, and Linux compatible, this professional, multifunction adapter includes five interfaces — this is the only adapter card to feature dual M.2 NVMe SSD slots, one RJ45 10Gb Ethernet port, and two 10Gbps USB-C ports, fitting them all on a standard full-height PCIe card.
Two M.2 NVMe Slots
Add up to 16TB of storage with your own high performance M.2 NVMe SSDs
One 10GBASE-T 10GbE Port
RJ45 port connects your computer to 10GbE infrastructure via inexpensive copper cabling
Two 10Gbps USB-C Ports
Adds two USB-C ports with full 10Gbps bandwidth per port
One PCIe x8 Slot is all You Need
Install the McFiver PCIe Card into an available x8 PCIe 3.0 or 4.0 slot to obtain maximum performance in your computer. No PCIe card slots in your computer, but Thunderbolt ports outside? The McFiver provides great performance, a lot of connectivity, and is ideal for use in an Echo™ Thunderbolt™ to PCIe card expansion system with an available full-height x8 card slot. The combo enables you to take advantage or all that the McFiver has to offer with any compatible Mac (M1, M1 Pro, M1 Max, M1 Ultra, Intel®), Windows, or Linux computer with Thunderbolt ports.
Dual M.2 NVMe SSD Slots
Add Up to 16TB of SSD Storage
McFiver PCIe Card provides mass SSD storage capability on a PCIe card. Dual M.2 NVMe PCIe SSD slots support up to 16TB internal high performance storage expansion (SSDs sold separately), enabling you to save and access your data fast, and effortlessly store large files and media libraries.
Super High-Speed Data Transfers
If super high-speed data transfers are critical to your work, you need an NVMe SSD-based upgrade. Installed on the McFiver PCIe Card, a single NVMe PCIe SSD can deliver tremendous performance — up to 3400 MB/s read and write sustained data transfers — but the McFiver enables you to mount two of them. Formatted as a RAID 0 set, two SSDs can achieve sustained transfers up to 6600 MB/s read and write. No matter how you use it, you'll love the speed.
Silent SSD Cooling
No Thermal Throttling. No Slowdowns. SSDs heat up significantly when performing very large file transfers and will protect themselves from overheating by "thermal throttling" — a feature that drastically cuts SSDs' performance while allowing them to cool. The McFiver PCIe Card's silent SSD cooling solution works to eliminate the need for thermal throttling and enables your SSDs to always maintain their highest performance.
SSD SMART
Installing your M.2 SSDs on the McFiver PCIe Card is a simple task, and the card uses your computer's operating system's built-in drive utilities to format them. SSD health monitoring is supported through S.M.A.R.T. (Self-Monitoring, Analysis and Reporting Technology) data reporting. Are you a Mac user? You can install macOS® on one SSD to create a very fast boot volume, and then use the other installed SSD for file storage; as a super-fast plug-in, media storage, or scratch disk; or for Time Machine® backups.
10Gb Ethernet Port
Blazing-Fast 10GBASE-T Connectivity
The increasing demand for wired network bandwidth has pushed 10Gb Ethernet (10GbE) into the mainstream. It's not just for use in software development, postproduction, and shared storage workflows where speed is critical — there's increasing need for it in workflows of all kinds and businesses of all sizes. Very affordable 10GbE switches have reduced the cost of upgrading, but many computers don't natively support 10GbE — the McFiver PCIe Card can get you connected. The McFiver is equipped with one RJ45 port that enables you to connect your computer to 10GbE infrastructure via Cat 6A cabling at up to 100 meters.
Multi-Gigabit Ethernet Support for Faster Transfers Across Existing Cabling
If your facility already has Cat 5e wiring installed, you can still get an amazing performance gain — from 250 to 500 percent over Gigabit Ethernet speed — without rewiring! The McFiver PCIe Card supports the NBASE-T™ industry-standard (multi-Gigabit Ethernet) of 2.5Gb and 5Gb link speeds to enable greater than Gigabit Ethernet speed over Cat 5e (or better) cabling when used with a multi-Gigabit compatible switch or router. You can utilize the same adapter card across your organization for users supported by different Ethernet cabling infrastructures to obtain the best possible performance.
Two 10Gbps USB 3.2 Type-C Ports
High Performance USB 3.2 Gen 2 Controller
10Gbps USB 3.2 controller can concurrently deliver full 10Gbps bandwidth through both ports.
10Gbps USB Performance Bliss
The fastest USB 3.2 Gen 2 drives available — equipped with NVMe SSDs — can transfer data at incredible speeds. Can your computer support their full performance? Upgrading your workflow with Sonnet's McFiver PCIe Card ensures 10Gbps USB SSDs can operate at their peak performance.
High Speed Simultaneous Transfers
Many multi-port USB cards split their USB controller's total bandwidth between all their ports, which limits performance when two or more devices are connected and operating. The McFiver PCIe Card features an advanced USB 3.2 Gen 2 controller that delivers full 10Gbps bandwidth per port and implements advanced data traffic management to eliminate bandwidth congestion. When installed in a computer's PCIe 3.0 or 4.0 slot, the McFiver PCIe Card supports two simultaneous 10Gbps transfers, enabling it to transfer data from two drives to the computer (and from drive to drive) at maximum speeds of 1000 MB/s per drive.
Sonnet Port Power Advantages
Sonnet designed the McFiver PCIe Card with a focus on intelligent power delivery and management for attached SSDs powered through its ports — unlike ordinary USB adapter cards designed without attention to detail.
Thunderbolt PCIe Expansion System Compatibility(1)
Mac computer with Thunderbolt ports via a Thunderbolt 3 or Thunderbolt 2 to PCIe card expansion system with available x8 PCIe card slot.
Windows 10 computer with Thunderbolt 4 or Thunderbolt 3 ports via a Thunderbolt 3 to PCIe card expansion system with available x8 PCIe card slot. Windows 11 is not currently supported. We are working with Microsoft to resolve the issue.
Linux computer with Thunderbolt 4 or Thunderbolt 3 ports via a Thunderbolt 3 to PCIe card expansion system with available x8 PCIe card slot.
Hardware
Form Factor
Bus Interface
M.2 SSD Sockets Specifications
Internal Connectors
Two M-keyed (NVMe) M.2 slots

SSDs Supported(2)
M.2 2280 NVMe PCIe SSDs
macOS Boot Support
Only from a single SSD (not RAIDed)
Mac Pro 7,1
Any Thunderbolt Mac
Windows/Linux Boot Support
RAID Support
macOS, Windows, Linux
RAID 0 or 1
NVMe Support
S.M.A.R.T. Status Data Reporting Support
10Gb Ethernet Port Specifications
External Connectors
10GbE Controller
Network Support
10GBASE-T (100 meters using Cat 6A cabling; 55 meters using Cat 6 cabling)
5GBASE-T(3), 2.5GBASE-T(3),1000BASE-T (100 meters using Cat5e [or better] cabling)
Packets
Maximum packet size: 16352 bytes (jumbo frames); 9000 bytes under macOS
Data Rates Supported
10 Gb/s, 5 Gb/s, 2.5 Gb/s, 1 Gb/s, 100 Mb/s
Advanced Features
Flow control support
MSI (Message Signaled Interrupts)
RSS (Receive-Side Scaling)
Interrupt coalescing
Multicast filtering
Energy-Efficient Ethernet (IEEE 802.3az)
64-bit address support for systems using more than 4GB of physical memory
Wake-on-LAN support
Stateless Offloads
TCP, UDP, and IPv4 checksum offloading
TSO (TCP Segmentation Offload, AKA Large Send Offload)
LRO (Large Receive Offload)
RSS (Receiver Side Scaling)
USB-C 3.2 Gen 2 Ports Specifications
Peripherals Supported
Industry standard USB 3.2 Gen 1, Gen 2 and 2x2; USB 3.1 Gen 1 and 2; USB 3.0, 2.0 and 1.1
Thunderbolt-only peripherals are NOT supported
Bus-Powered Peripherals Supported
HD, SSD, SSD RAID, etc.
7.5W (5V @ 1.5A) per port advertised using USB Type-C Charging
Cables Supported
USB-C (10Gbps)
USB4
Thunderbolt 4
Thunderbolt 3 (≤ 0.8 meter)
USB 3 Chipset
USB Standard
Complies with OHCI (Open Host Controller Interface), EHCI (Enhanced Host Controller Interface), and xHCI (eXtensible Host Controller Interface) standards
UASP
USB attached SCSI protocol supported under macOS 12+, Windows 11 and 10
Hot Plug
Supports hot-pluggable and hot swappable device connection
Boot Support
Booting not supported via devices attached to USB-C ports
Operating Temperatures
0ºC to 35ºC (32ºF to 95ºF)
Compliance
RoHS 3 (Directive 2015/863)
IEC62368-1 and IEC62368-2 Safety
Package Contents
McFiver PCIe Card
Documentation
Shipping policy
Any items which are in stock, will be dispatched immediately - same day if possible and morning of the following business day at the latest. Items which are not in stock at our local warehouse will be routed to us, and dispatched immediately upon arrival to us. In that case, the estimated dispatch time is noted on the product page.
Note that you are always welcome to email info@dittools.eu or call (+372) 5556 0057 for a more accurate shipping time estimate, as this does vary depending on a number of factors.
Standard shipping
Unless otherwise noted, all items are shipped standard via DPD. We normally ship to European Union countries only – do contact us for possible exceptions, particularly other European mainland countries. Shipping times vary between 1 to 10 business days within Europe – an up to date estimate will be given at checkout.
Express shipping
Our shipping partner for expedited deliveries is DHL Express; please contact us directly for a quote.
Returning an item
If you are not completely satisfied with your purchase, you can return your item(s) for a full refund within 14 days of confirmed delivery.
Special sales, demo items and promotions may have modified return policies. If an item from a bundle is returned for refund, the total bundle discount or the total value of the gifts will get deducted from the returned item prior to issuing a refund. If the bundle discount (or gift value) exceeds the value of the returned item, the difference must be paid to be able to return the item.
Return autorization
If you would like to return any item(s), please contact us by either emailing info@dittools.eu or calling (+372) 5556 0057. We will share with you a Return Merchandise Authorization (RMA) code and ask that you clearly mark this code outside of your shipping box as you ship your item(s) back for a refund.
You will be liable for the shipping and any applicable customs/duty fees returning the item(s).
Incorrect items
If the return is made due to a faulty product, or an incorrectly shipped product, or if you are returning the item(s) due to a defect, or functionality issue, or because it is not the item you have ordered, we will gladly email or mail a return shipping label covering all shipping related expenses. In order to determine whether the return is initiated due to a technical problem, we may ask for you to provide visual support like images or a video on the item(s).
Shipping
Returned merchandise must be in its original packaging, and placed in a decent shipping box, e.g. the same box that we shipped the items to you in. Please make sure to clearly mark the RMA code you have received from us outside on the box.
Do not forget to cover or peel off any existing shipping labels on the box.
DIT Supplies OÜ cannot be held accountable for return shipments that have not reached us or returns made without RMA codes. We strongly advise that if you are returning the item(s) with a carrier of your choice that you use a traceable shipping method.
It may take 4-5 business days for your return to reach us. Once it is received and inspected, your refund will be processed and automatically applied to your credit card or original method of payment within 14 business days. Please note that depending on your credit card company, it may take an additional 2-4 business days after your credit is applied for it to post to your account.
Customs, duties & taxes
There are no customs duties or taxes on orders shipping within the EU. Orders shipped outside of the EU may be subject to import taxes, customs duties and fees collected by the destination country. The recipient of an international shipment may be subject to such import taxes, customs duties and fees, which are collected once a shipment reaches the recipient's country. Additional charges for customs clearance must be paid for by the recipient; we have no control over these charges and cannot predict what they may be. Customs policies vary widely from country to country; and when customs clearance procedures are required, it can cause delays beyond our original delivery estimates. We advise that you contact your local customs office for more information.