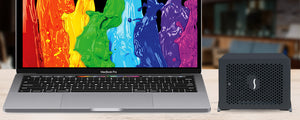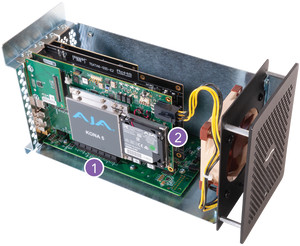 3-slot Thunderbolt 3 desktop expansion system for PCIe cards
Connect Three Full-height, Half-length+ PCIe Cards to Computers with Thunderbolt 3 Ports

Although thin Mac®, Windows®, and Linux® computers with Thunderbolt™ 3 ports offer processing power to spare, for many users (such as pros in the creative fields) onboard processing power alone is not enough. Sonnet's Echo™ Express SE IIIe is a compact, desktop Thunderbolt™ 3 to PCIe card expansion system that enables you to connect three professional PCIe cards at the same time to any computer with Thunderbolt 3 ports.

The Thunderbolt 3 Connection
This compact desktop expansion system supports three professional PCIe cards (video capture; audio DSP; 6Gb or 12Gb SAS or SATA host bus adapter; 10Gb, 25Gb, or40Gb Ethernet; or RAID controller; etc.) and connects them to your computer through a single Thunderbolt 3 cable.
Key Features
Connect PCIe Cards
Use multiple high-performance PCIe cards with any computer with a Thunderbolt 3 port.
Three PCIe 3.0 x8 Slots
Supports three full-height, half-length+ (up to 7.75 inches long), single-width cards, or one double-width card plus one single-width card.
40Gbps Thunderbolt 3 Interface
Offers 2750 MB/s of PCIe bandwidth, doubling the performance capabilities of Thunderbolt 2.
Pro Performance. Compact Design.
Takes up little space on the desktop, but large enough to support nearly every Thunderbolt-compatible non-GPU PCIe card at full performance.
Two Thunderbolt 3 Ports
One port connects to computer; second port supports daisy-chaining of up to five additional Thunderbolt peripheral devices.
Remarkably Quiet
Temperature-controlled,variable-speed fan automatically and quietly cools the cards.
Energy Saver Mode
Powers on/off automatically with the computer.
Rugged Aluminum Housing
Provides robust and secure protection.
Pro Power
NEW - Auxiliary PCIe power connector for a power-hungry card; daisy chain port provides up to 15W of power to connected peripherals.
Free Lifetime Tech Support
‍Sonnet was established in Irvine, California in 1986. Since then, we've pioneered and brought to market many innovative and award-winning products that enhance the performance and connectivity of Mac, Windows, and other industry-standard computers. Many of our employees (including engineers) have been with the company for more than 20 years (some have been here since the beginning). We have a wealth of knowledge about our current and past products. Should you ever need technical support on one of our products, contact us; we'll be around to help you.
Nearly Every Thunderbolt-Compatible, Non-GPU PCIe Card Supported
Smaller than the 3-slot Echo Express III-D (Thunderbolt 3 Edition), the Echo Express SE IIIe is still large enough to support nearly every Thunderbolt 3 compatible card available. With its three x8 slots, the SE IIIe supports PCIe 3.0, PCIe 2.0, and PCIe 1.1 cards up to 7.75 inches long. Do you have a card in mind but aren't sure it's compatible? We've put together a list in our supporting PCIe Card Thunderbolt Compatibility Chart (PDF). There you'll find cards identified as conforming to Thunderbolt technology requirements, and organized by fit and power compatibility with specific expansion system.
Three PCIe 3.0 Slots for Demanding Professional Needs
‍Echo Express SE IIIe's PCIe 3.0 x8 slots support three half-length+, full-height, single-width PCIe cards, or one single-width card plus one double-width card.
Double-width?
‍Some specialty cards, such as RME's HDSPe MADI FX, Blackmagic Design's DeckLink 4K Extreme, and the Lynx AES16e 50, include a daughter card that mates with and provides additional external connections to the main card.
Power to Spare
‍Echo Express SE IIIe includes an auxiliary PCIe power connector, enabling you to install a card requiring extra power, such as the AJA® Kona® 5 or Blackmagic DeckLink 4K Extreme 12G, and Bluefish444's Epoch and KRONOS SDI cards.

Quiet Please
The Echo Express SE IIIe is designed to be ultra-quiet so that it can be comfortably used in noise-sensitive environments. Its enclosure is ventilated front and back to facilitate airflow over the cards bya large, quiet, temperature-controlled fan to efficiently cool the system. The fan automatically speeds up and slows down smoothly as needed—there's no guesswork in deciding which fan speed to select.
Included at No Extra Charge
Thunderbolt 3 Cable. ThunderLok 3.
Sonnet includes a 0.7-meter Thunderbolt 3 (40Gbps) cable that, unlike some other cables, transfers data at Thunderbolt 3's full 2750 MB/s bandwidth, and supports up to 100W of Power Delivery (PD). Sonnet also provides a ThunderLok 3 Thunderbolt connector retainer clip(1) that prevents accidental cable disconnections—just slide it over one end of the cable, and then plug in the connector and secure it to the chassis by turning a thumbscrew. Because of its unique design, ThunderLok remains on the cable so it won't get lost when not in use.
Fastest External Interface Available
Echo Express SE IIIe features a 40Gbps Thunderbolt 3 interface, which offers double the PCIe bandwidth and connectivity of Thunderbolt 2, and yields up to 2750 MB/s of bandwidth, enabling it to support 4K video capture and processing cards at high frame rates, and 16Gb FC cards and dual-port 10GbE cards at full performance.(2)(3)
Thunderbolt 3 –
The USB C That Does It All
Echo Express SE IIIe includes two Thunderbolt 3 ports; the first connects it to your computer, while the second supports daisy chaining of up to five additional Thunderbolt peripheral devices to a single port on your computer. The SE III also includes 10Gbps USB 3.1 Gen 2 support, meaning you can connect a USB device to the second port using the proper cable or adapter. For connected peripherals requiring extra power, 15 watts is provided to connected bus-powered devices. With the ability to handle multiple demanding, high performance PCIe cards, support for connecting two 4K displays @ 60Hz or one 5K display @ 60Hz(4), and support for a vast array of Thunderbolt(5) and USB(6) devices, Thunderbolt 3 is a leap forward in every way.
BLAZING PERFORMANCE

Up to Twice the Performance of Thunderbolt 2

Thunderbolt 3 Speed Comparison Chart
Thunderbolt 3 Daisy Chain Diagram
Connect computer to one port on the Echo Express SE IIIe and daisy chain up to 5 additional Thunderbolt devices (plus two 4K monitors, one 5K display, or one USB 3.0 device)
Warranty

Form Factor

External Connectors

Two Thunderbolt 3 ports
12V power port
Internal Connector

6-pin Mini-Fit Jr (same type as on legacy Mac Pro motherboard; provides power for PCIe card that requires supplemental power)
Expansion Slots

One x8 mechanical (x4 electrical) PCIe 3.0
Two x8 mechanical (x8 electrical) PCIe 3.0
PCIe Cards Supported

One half-length+ (up to 7.75 inches long), double-width, full-height x8 PCIe card, plus one single-width card or
Three half-length+, single-width, full-height x8 PCIe cards
Power Adapter

Universal 120W, 100-240V, 50-60 Hz
Fan

Operating Temperature

0ºC to 35ºC (32ºF to 95ºF)
Dimensions (WxDxH)

6.5 x 11 x 4.6 in. (16.5 x 27.9 x 11.7 cm)
Weight

RoHS Compliant

Package Contents

Echo Express SE IIIe
Universal power adapter
Power cord
0.7-meter Thunderbolt 3 (40Gbps) cable
ThunderLok 3 Thunderbolt Connector Retainer Clip

(1)

Documentation
Shipping policy
Any items which are in stock, will be dispatched immediately - same day if possible and morning of the following business day at the latest. Items which are not in stock at our local warehouse will be routed to us, and dispatched immediately upon arrival to us. In that case, the estimated dispatch time is noted on the product page.
Note that you are always welcome to email info@dittools.eu or call (+372) 5556 0057 for a more accurate shipping time estimate, as this does vary depending on a number of factors.
Standard shipping
Unless otherwise noted, all items are shipped standard via DPD. We normally ship to European Union countries only – do contact us for possible exceptions, particularly other European mainland countries. Shipping times vary between 1 to 10 business days within Europe – an up to date estimate will be given at checkout.
Express shipping
Our shipping partner for expedited deliveries is DHL Express; please contact us directly for a quote.
Returning an item
If you are not completely satisfied with your purchase, you can return your item(s) for a full refund within 14 days of confirmed delivery.
Special sales, demo items and promotions may have modified return policies. If an item from a bundle is returned for refund, the total bundle discount or the total value of the gifts will get deducted from the returned item prior to issuing a refund. If the bundle discount (or gift value) exceeds the value of the returned item, the difference must be paid to be able to return the item.
Return autorization
If you would like to return any item(s), please contact us by either emailing info@dittools.eu or calling (+372) 5556 0057. We will share with you a Return Merchandise Authorization (RMA) code and ask that you clearly mark this code outside of your shipping box as you ship your item(s) back for a refund.
You will be liable for the shipping and any applicable customs/duty fees returning the item(s).
Incorrect items
If the return is made due to a faulty product, or an incorrectly shipped product, or if you are returning the item(s) due to a defect, or functionality issue, or because it is not the item you have ordered, we will gladly email or mail a return shipping label covering all shipping related expenses. In order to determine whether the return is initiated due to a technical problem, we may ask for you to provide visual support like images or a video on the item(s).
Shipping
Returned merchandise must be in its original packaging, and placed in a decent shipping box, e.g. the same box that we shipped the items to you in. Please make sure to clearly mark the RMA code you have received from us outside on the box.
Do not forget to cover or peel off any existing shipping labels on the box.
DIT Supplies OÜ cannot be held accountable for return shipments that have not reached us or returns made without RMA codes. We strongly advise that if you are returning the item(s) with a carrier of your choice that you use a traceable shipping method.
It may take 4-5 business days for your return to reach us. Once it is received and inspected, your refund will be processed and automatically applied to your credit card or original method of payment within 14 business days. Please note that depending on your credit card company, it may take an additional 2-4 business days after your credit is applied for it to post to your account.
Customs, duties & taxes
There are no customs duties or taxes on orders shipping within the EU. Orders shipped outside of the EU may be subject to import taxes, customs duties and fees collected by the destination country. The recipient of an international shipment may be subject to such import taxes, customs duties and fees, which are collected once a shipment reaches the recipient's country. Additional charges for customs clearance must be paid for by the recipient; we have no control over these charges and cannot predict what they may be. Customs policies vary widely from country to country; and when customs clearance procedures are required, it can cause delays beyond our original delivery estimates. We advise that you contact your local customs office for more information.