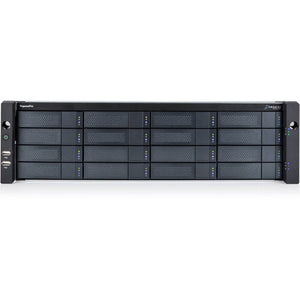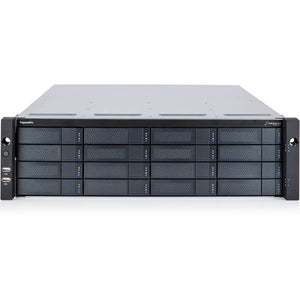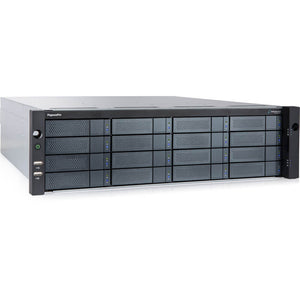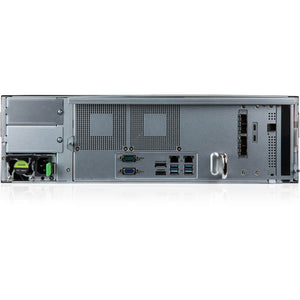 Thunderbolt™ 3 DAS and NAS fusion storage system
Rapid data transfer from DAS to NAS and vice-versa
Utilizing 8th Gen Intel® CoreTM processors, PegasusPro delivers remarkable system performance
Multiple team members can connect to PegasusPro on 4K, even 8K productions
Intuitive user interface
PegasusPro leaps over technological hurdles to deliver a true Thunderbolt™ 3 DAS and NAS fusion system for a major improvement in workflow efficiency for digital media collaboration. PegasusPro is a kind of system that enables rapid data transfer from DAS to NAS and vice-versa, a huge time saving, performance improvement that is unique in the industry. In addition, utilizing 8th Gen Intel® CoreTM processors, PegasusPro delivers remarkable system performance. Multiple team members can connect to PegasusPro on 4K, even 8K productions; And simultaneously share their work with other team contributors over 10G NAS. All done using a simple, intuitive user interface after a quick and easy one-time setup procedure.
Mac users familiar with the Pegasus Series will transit easily to PegasusPro. Just install PROMISE Utility Pro and connect to the shared storage. Data on your Pegasus3 or Pegasus32 is immediately accessible with a single Thunderbolt™ 3 connection to PegasusPro. Simplified administration is possible because NAS volumes and folders, including shared team folders on the DAS volume are already created. The administrator (master host system) has to simply allow or deny access to client users – that's it.
TECHNOLOGY BREAKTHROUGH-FILEBOOST™
Convert from DAS to NAS and vice-versa with FileBoost™ for the first time, reducing hours of troublesome transferring and sharing time to just one-click.
PERFORMANCE AND SHARING
Recommended for medium to large editing teams. Dual Thunderbolt™ 3 ports (AJA Write:2809MB/s, Read:2784MB/s)* supports up to five 4K concurrent editors and sharing with up to twenty NAS users with 10G Ethernet switch.
*Performance figures presented in this page are tested by PROMISE. Figures may vary by environment.
INVESTMENT PROTECTION FOR PEGASUS USERS
Aggregate, share content and expand up to total 6 daisy chain on Pegasus3 and/or Pegasus32 to ensure the best utilization of asset to Pegasus users, in addition, allow to be upgraded and adapted to fit future needs, e.g. 8K definition.
NO COMPROMISING PERFORMANCE
Embrace high performance file sharing for collaborative workflow features on Final Cut Pro X, Adobe Premiere Pro, DaVinci etc.
EASE OF USE
Plug and Play. Intuitive and simple PROMISE Utility Pro to simplify user and data administration, enables seamless transition and ease of use to end users.
DATA PROTECTION IS ESSENTIAL
Worldwide most robust PROMISE RAID engine, stable and high performance. Easy backup to NAS and Cloud.
COST EFFECTIVE
All-in-one storage to support Thunderbolt™ DAS/Ethernet NAS/Thunderbolt™ NAS. Thunderbolt™ -to-Ethernet networking connects shared asset storage to workstations. Scale up storage capacity with up to 6 JBOD expansion units on PegasusPro R16.
Shipping policy
Any items which are in stock, will be dispatched immediately - same day if possible and morning of the following business day at the latest. Items which are not in stock at our local warehouse will be routed to us, and dispatched immediately upon arrival to us. In that case, the estimated dispatch time is noted on the product page.
Note that you are always welcome to email info@dittools.eu or call (+372) 5556 0057 for a more accurate shipping time estimate, as this does vary depending on a number of factors.
Standard shipping
Unless otherwise noted, all items are shipped standard via DPD. We normally ship to European Union countries only – do contact us for possible exceptions, particularly other European mainland countries. Shipping times vary between 1 to 10 business days within Europe – an up to date estimate will be given at checkout.
Express shipping
Our shipping partner for expedited deliveries is DHL Express; please contact us directly for a quote.
Returning an item
If you are not completely satisfied with your purchase, you can return your item(s) for a full refund within 14 days of confirmed delivery.
Special sales, demo items and promotions may have modified return policies. If an item from a bundle is returned for refund, the total bundle discount or the total value of the gifts will get deducted from the returned item prior to issuing a refund. If the bundle discount (or gift value) exceeds the value of the returned item, the difference must be paid to be able to return the item.
Return autorization
If you would like to return any item(s), please contact us by either emailing info@dittools.eu or calling (+372) 5556 0057. We will share with you a Return Merchandise Authorization (RMA) code and ask that you clearly mark this code outside of your shipping box as you ship your item(s) back for a refund.
You will be liable for the shipping and any applicable customs/duty fees returning the item(s).
Incorrect items
If the return is made due to a faulty product, or an incorrectly shipped product, or if you are returning the item(s) due to a defect, or functionality issue, or because it is not the item you have ordered, we will gladly email or mail a return shipping label covering all shipping related expenses. In order to determine whether the return is initiated due to a technical problem, we may ask for you to provide visual support like images or a video on the item(s).
Shipping
Returned merchandise must be in its original packaging, and placed in a decent shipping box, e.g. the same box that we shipped the items to you in. Please make sure to clearly mark the RMA code you have received from us outside on the box.
Do not forget to cover or peel off any existing shipping labels on the box.
DIT Supplies OÜ cannot be held accountable for return shipments that have not reached us or returns made without RMA codes. We strongly advise that if you are returning the item(s) with a carrier of your choice that you use a traceable shipping method.
It may take 4-5 business days for your return to reach us. Once it is received and inspected, your refund will be processed and automatically applied to your credit card or original method of payment within 14 business days. Please note that depending on your credit card company, it may take an additional 2-4 business days after your credit is applied for it to post to your account.
Customs, duties & taxes
There are no customs duties or taxes on orders shipping within the EU. Orders shipped outside of the EU may be subject to import taxes, customs duties and fees collected by the destination country. The recipient of an international shipment may be subject to such import taxes, customs duties and fees, which are collected once a shipment reaches the recipient's country. Additional charges for customs clearance must be paid for by the recipient; we have no control over these charges and cannot predict what they may be. Customs policies vary widely from country to country; and when customs clearance procedures are required, it can cause delays beyond our original delivery estimates. We advise that you contact your local customs office for more information.