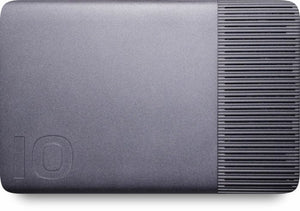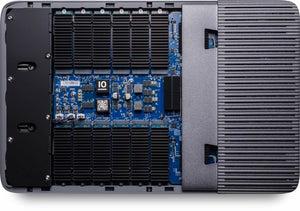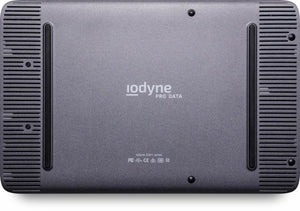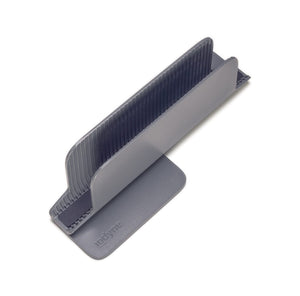 Product type:
External RAID
Redefining Pro Performance
With twelve lightning-fast NVMe SSDs, a 64GB/s PCI Express Fabric, 8 Thunderbolt ports, and incredible technology running on a System-on-a-Chip, Pro Data redefines Thunderbolt storage performance. For the first time, multiple Thunderbolt ports can be transparently combined to accelerate an NVMe Express storage workload. Pro Data is the fastest Thunderbolt storage, and works with any Thunderbolt-capable computer.
Rethinking Pro Versatility
Through iodyne's intuitive and powerful design, all twelve NVMe SSDs are combined in a single storage pool sharing data and parity space. Create containers to keep projects and tasks organized and protected with configurable RAID levels.
Containers
Create Transactional RAID-6 containers for your critical work and backups, or RAID-0 Scratch containers to streamline access to your app's temp files. Containers provide storage for your computer's filesystems, like APFS. And so all the apps in your workflow immediately work with Pro Data: just point them to the right directory. Pro Data's Dynamic Striping transparently and intelligently distributes data and parity across all of your device's SSDs, and adapts automatically when an SSD module is ready to be replaced.


With multiple containers keeping everything sorted, up to four computers can connect simultaneously to the same Pro Data and use Storage Handoff to distribute workflow tasks. Sharing data among teammates is now a single click away, and you'll wonder how you collaborated before without it. You can even Handoff containers between M1 and Intel Macs for the ultimate developer setup!
Reinforcing Pro Reliability
All customer data stored in Pro Data is encrypted at rest with strong AES-XTS-256 encryption, ensuring that your assets cannot be stolen if lost. Keys are stored in a hardware Secure Enclave, and protected by passwords kept in your Keychain.
SSD Lifetime
Pro Data's Transactional RAID transparently distributes user data and parity over all twelve NVMe SSDs with minimal Write Amplication, delivering 10x the lifetime of a standard SSD. Unlike an external SSD, Pro Data's performance provides sustained throughput across hours of the most intense workloads, without degradation
SSD Management
Keep track of the status of your Pro Data with our beautiful, elegant and simple native Mac app. Pro Data automatically monitors the health and lifespan of all internal SSDs, and connects with iodyne Cloud to order replacement SSDs over the device lifetime.
Container Passwords
Add a per-Container password to restrict access to particular users or computers in a workgroup. Share common device password across multiple containers for desktop setups.

 

Capacity

12TB or 24TB

Expansion

Up to 6 devices can be daisy-chained per Thunderbolt port pair. Multiple daisy-chains can be created on computers that provide more than one Thunderbolt host port.

Features

Transactional RAID-6 and RAID-0

Data Checksums and Self-Healing

XTS-AES-256 Encryption with Hardware Secure Enclave

NVMe Thunderbolt Multipathing up to 4× paths


Multi-User connectivity for up to 4× computers

Storage Handoff between connected macOS computers


Dynamic Containers with up to 15 containers
 per device

RAID Levels per-Container with adaptive striping and parity

Automatic SSD Fault Management and RAID Resilvering


Designed for easy Self-Repair of SSD modules

Performance

Up to 5 GB/s Bandwidth

Connectivity

8× 40Gb Thunderbolt3 ports:
4 upstream to one or more computers
4 downstream to other devices and accessories

Cables

0.7m 40Gb included. Compatible also with Corning optical cables

Power

180W GaN power adapter, 110-220V 50-60Hz

Dimensions

15.39″ × 10″ × 1.22″, 7.3 lbs
39.1cm × 25.4cm × 3.1cm, 3.3kg

Product can be placed horizontally on desk or vertically in stand. Multiple stands interlock to use desk or DIT cart space more efficiently with expanded configurations. Height including rubber feet on flat surface in horizontal orientation: 1.4″ (3.55cm)

Warranty

1 year standard. Extended to 3 years at no charge upon registering your device with an iodyne Cloud account. Free replacement SSD modules while device is in Warranty.
Shipping policy
Any items which are in stock, will be dispatched immediately - same day if possible and morning of the following business day at the latest. Items which are not in stock at our local warehouse will be routed to us, and dispatched immediately upon arrival to us. In that case, the estimated dispatch time is noted on the product page.
Note that you are always welcome to email info@dittools.eu or call (+372) 5556 0057 for a more accurate shipping time estimate, as this does vary depending on a number of factors.
Standard shipping
Unless otherwise noted, all items are shipped standard via DPD. We normally ship to European Union countries only – do contact us for possible exceptions, particularly other European mainland countries. Shipping times vary between 1 to 10 business days within Europe – an up to date estimate will be given at checkout.
Express shipping
Our shipping partner for expedited deliveries is DHL Express; please contact us directly for a quote.
Returning an item
If you are not completely satisfied with your purchase, you can return your item(s) for a full refund within 14 days of confirmed delivery.
Special sales, demo items and promotions may have modified return policies. If an item from a bundle is returned for refund, the total bundle discount or the total value of the gifts will get deducted from the returned item prior to issuing a refund. If the bundle discount (or gift value) exceeds the value of the returned item, the difference must be paid to be able to return the item.
Return autorization
If you would like to return any item(s), please contact us by either emailing info@dittools.eu or calling (+372) 5556 0057. We will share with you a Return Merchandise Authorization (RMA) code and ask that you clearly mark this code outside of your shipping box as you ship your item(s) back for a refund.
You will be liable for the shipping and any applicable customs/duty fees returning the item(s).
Incorrect items
If the return is made due to a faulty product, or an incorrectly shipped product, or if you are returning the item(s) due to a defect, or functionality issue, or because it is not the item you have ordered, we will gladly email or mail a return shipping label covering all shipping related expenses. In order to determine whether the return is initiated due to a technical problem, we may ask for you to provide visual support like images or a video on the item(s).
Shipping
Returned merchandise must be in its original packaging, and placed in a decent shipping box, e.g. the same box that we shipped the items to you in. Please make sure to clearly mark the RMA code you have received from us outside on the box.
Do not forget to cover or peel off any existing shipping labels on the box.
DIT Supplies OÜ cannot be held accountable for return shipments that have not reached us or returns made without RMA codes. We strongly advise that if you are returning the item(s) with a carrier of your choice that you use a traceable shipping method.
It may take 4-5 business days for your return to reach us. Once it is received and inspected, your refund will be processed and automatically applied to your credit card or original method of payment within 14 business days. Please note that depending on your credit card company, it may take an additional 2-4 business days after your credit is applied for it to post to your account.
Customs, duties & taxes
There are no customs duties or taxes on orders shipping within the EU. Orders shipped outside of the EU may be subject to import taxes, customs duties and fees collected by the destination country. The recipient of an international shipment may be subject to such import taxes, customs duties and fees, which are collected once a shipment reaches the recipient's country. Additional charges for customs clearance must be paid for by the recipient; we have no control over these charges and cannot predict what they may be. Customs policies vary widely from country to country; and when customs clearance procedures are required, it can cause delays beyond our original delivery estimates. We advise that you contact your local customs office for more information.