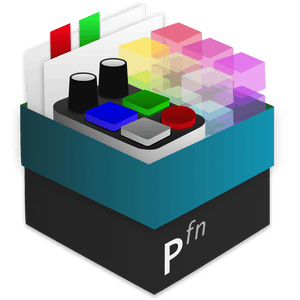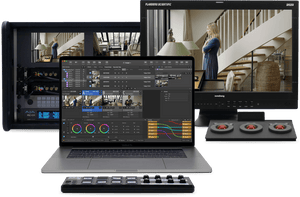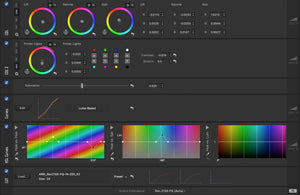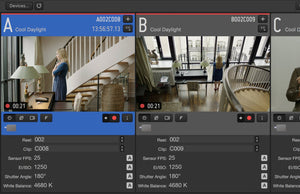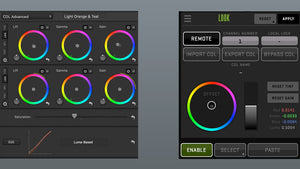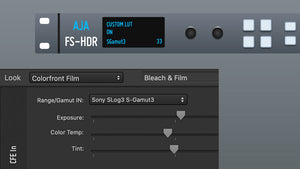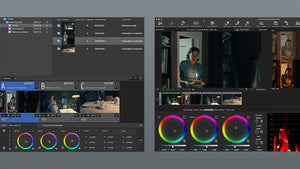 Livegrade Studio offers exceptional image control and look management capabilities boosting image quality and workflow efficiency on many production levels.
Livegrade Studio is the most comprehensive digital imaging system for demanding film productions, tying together all aspects of technical monitoring and creative visualization on the film set.
It enables creatives to interact and iterate on the camera image already during shooting. This reduces guesswork during production and enhances the filmmaking process.
The shared creative experience allows for an efficient, exploratory decision making process during production and increases the quality of the visual outcome. At the end of the day, it helps you make your movie production faster at a higher level of quality.
Livegrade Studio leverages the power of the production-proven functionalities of Livegrade Pro and provides an additional level of handling multi-camera and multi-monitor setups:
Achieve superior image quality along with your DP's intended artistic look for every scene, giving camera departments full image control on set, even with large and complex setups.
React quickly to the DP's changes to the stage floor by adjusting to the changes of production settings, camera systems, and lighting conditions with a flexible toolset optimized for multi-camera setups.
Take advantage of the only digital imaging software that comes with grading modes for all industry-standard color pipelines ensuring a seamless color workflow from set to finishing.
Let the team make more informed creative decisions by evaluating the scenes in a richer context with real-time looks and instant access to reference material, also for long-period productions with multiple units.
Precisely communicate looks and metadata across disciplines to streamline and intensify collaboration with dailies operators, video assists, and post-production departments.
Create perfect looks for all output colorspaces.
Livegrade Studio's features serve demanding production requirements such as SDR/HDR dual monitoring for multi-camera shoots.
All primary and secondary color grading tools are provided to quickly visualize the DP's creative intent on any HDR and SDR display. In addition, numerous grading modes enable working in industry-standard color pipelines (ASC-CDL + LUT, ACES, FilmLight, or camera-specific look pipelines) and seamless look transfers to dailies creation and post-production departments.
Livegrade Studio's output colorspaces let you manage your on-set looks, captured media, and monitoring setup with ease - even in complex setups.
Switch fast between multiple sources and destinations.
The direct router control functionality in Livegrade Studio is a real game-changer explicitly designed for fast-paced film production environments.
Interactively change and map individual video routings directly from within the software or apply and automate your specific routing configurations' presets. With these capabilities, the software significantly reduces setup time and simplifies complex configuration tasks that make operations run smoothly.
Auto-record multiple signals and instantly share media between units.
Livegrade Studio streamlines recording of multiple camera setups and allows sharing reference media across production processes.
Easily set up automatic recording for multiple camera sources and capture high quality reference media on the fly.
Adding unlimited storage locations lets you flexibly extend your disk space. Furthermore, the media storage system allows a quick exchange of reference media with other Livegrade systems.
Real-time looks on virtual production walls.
Livegrade Studio integrates virtual production systems and technology. A "virtual" LUT box connects Livegrade Studio to an Unreal Engine system, enabling real-time lighting and look adjustments of the LED wall's image. Integrating Brompton processors allows fine-tuning the color balance of your LED panels and foreground objects, providing a perfect basis for creative visualizations. Linked with the disguise Designer software Livegrade Studio offers convenient control of any number of CDLs in a Designer project to transfer visual intent on the LED wall in real time.
Learn more about supporting virtual production processes with Livegrade Studio on the corresponding workflow page.
Built-in third-party integrations.
Livegrade Studio comes with dedicated grading modes supporting FilmLight and Colorfront color pipelines, and seamless integrations with QTAKE systems and Colourlab Ai.
The FilmLight integration lets you benefit from a consistent color pipeline from set to post by exchanging looks with FilmLight applications via the proprietary BLG file format. You can choose from a wide range of input and output transforms and grade via ASC-CDL in FilmLight's T-Log/E-Gamut working color space and others. Finally, exported BLG looks preserve all parameters, ensuring full editability in other applications.
The Colorfront Film integration supports the "Colorfront Film" color pipeline in the AJA FS-HDR device. All controls and options of the Colorfront Film pipeline are available in Livegrade Studio. This allows continuous working within the Colorfront Film pipeline from the start.
The QTAKE grading integration lets you adjust looks in QTAKE directly from Livegrade Studio. Therefore, QTAKE acts as a signal processing system – similar to a LUT box – controlled by Livegrade Studio. This simplifies the interaction with video assists on set.
The Colourlab Ai integration enables you to provide a framegrab for analysis to the Colourlab Ai app and receive back auto-generated look metadata as ASC-CDL and 3D LUT.
Shipping policy
Any items which are in stock, will be dispatched immediately - same day if possible and morning of the following business day at the latest. Items which are not in stock at our local warehouse will be routed to us, and dispatched immediately upon arrival to us. In that case, the estimated dispatch time is noted on the product page.
Note that you are always welcome to email info@dittools.eu or call (+372) 5556 0057 for a more accurate shipping time estimate, as this does vary depending on a number of factors.
Standard shipping
Unless otherwise noted, all items are shipped standard via DPD. We normally ship to European Union countries only – do contact us for possible exceptions, particularly other European mainland countries. Shipping times vary between 1 to 10 business days within Europe – an up to date estimate will be given at checkout.
Express shipping
Our shipping partner for expedited deliveries is DHL Express; please contact us directly for a quote.
Returning an item
If you are not completely satisfied with your purchase, you can return your item(s) for a full refund within 14 days of confirmed delivery.
Special sales, demo items and promotions may have modified return policies. If an item from a bundle is returned for refund, the total bundle discount or the total value of the gifts will get deducted from the returned item prior to issuing a refund. If the bundle discount (or gift value) exceeds the value of the returned item, the difference must be paid to be able to return the item.
Return autorization
If you would like to return any item(s), please contact us by either emailing info@dittools.eu or calling (+372) 5556 0057. We will share with you a Return Merchandise Authorization (RMA) code and ask that you clearly mark this code outside of your shipping box as you ship your item(s) back for a refund.
You will be liable for the shipping and any applicable customs/duty fees returning the item(s).
Incorrect items
If the return is made due to a faulty product, or an incorrectly shipped product, or if you are returning the item(s) due to a defect, or functionality issue, or because it is not the item you have ordered, we will gladly email or mail a return shipping label covering all shipping related expenses. In order to determine whether the return is initiated due to a technical problem, we may ask for you to provide visual support like images or a video on the item(s).
Shipping
Returned merchandise must be in its original packaging, and placed in a decent shipping box, e.g. the same box that we shipped the items to you in. Please make sure to clearly mark the RMA code you have received from us outside on the box.
Do not forget to cover or peel off any existing shipping labels on the box.
DIT Supplies OÜ cannot be held accountable for return shipments that have not reached us or returns made without RMA codes. We strongly advise that if you are returning the item(s) with a carrier of your choice that you use a traceable shipping method.
It may take 4-5 business days for your return to reach us. Once it is received and inspected, your refund will be processed and automatically applied to your credit card or original method of payment within 14 business days. Please note that depending on your credit card company, it may take an additional 2-4 business days after your credit is applied for it to post to your account.
Customs, duties & taxes
There are no customs duties or taxes on orders shipping within the EU. Orders shipped outside of the EU may be subject to import taxes, customs duties and fees collected by the destination country. The recipient of an international shipment may be subject to such import taxes, customs duties and fees, which are collected once a shipment reaches the recipient's country. Additional charges for customs clearance must be paid for by the recipient; we have no control over these charges and cannot predict what they may be. Customs policies vary widely from country to country; and when customs clearance procedures are required, it can cause delays beyond our original delivery estimates. We advise that you contact your local customs office for more information.