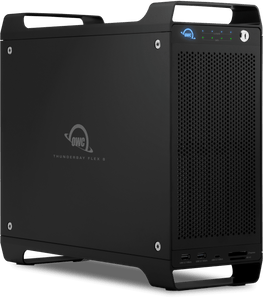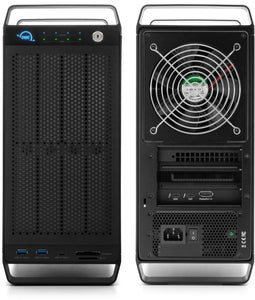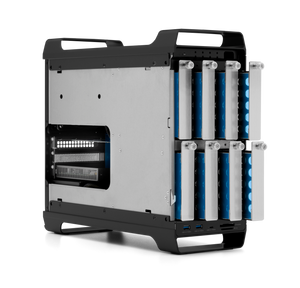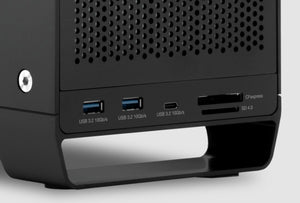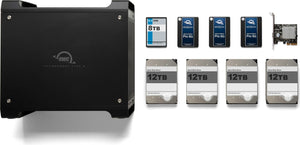 THE INDUSTRY'S FIRST
THUNDERBOLT 3
ALL-IN-WONDER
Tame your workflow with this highly configurable productivity platform for digital imaging, VFX, video production, and video editing professionals. With unrivaled FLEXibility, you can choose drive type(s), enjoy docking convenience, and expand your capabilities with PCIe cards.
FLEX

IBLE STORAGE

Eight Universal 3.5/2.5-inch Drive Bays
Use SATA/SAS1 and U.2/M.22 NVMe drives for up to 128TB of capacity and real-world speeds up to 2750MB/s.

Future-Ready
The top four bays can utilize U.2 SSDs...the emerging M&E industry storage standard.

Powerfully Easy RAID
Create, manage, and monitor advanced RAID sets with SoftRAID, the world's most advanced RAID management solution with easy setup, e-notifications, and drive integrity monitoring.
DOCKING
 

FLEX

IBILITY

Connect More
Convenient front mounted USB-C and (2) USB-A 10Gb/s ports for peripherals and mobile devices.

See More
DisplayPort 1.4 for connecting up to an 8K display3

Fast Media Ingest
Frontside SD 4.0 and CFexpress card readers with up to 985MB/s speed
FLEX

PANDABLE FOR UNIQUE NEEDS

Do More
A second Thunderbolt 3 port4 for daisy-chaining devices or additional display(s).

Play Your Card
PCIe x16 connector/x4 lane slot for audio/video capture, networking, SSD storage, hardware RAID card, or I/O card
FLEX

 

YOUR WAY THROUGH EVERY WORKFLOW

Whether you call it a workflow workhorse, a productivity platform, or a configurable command center, one description of the ThunderBay Flex 8 says it best. It's a groundbreaking workflow solution for digital imaging, VFX, video production, and video editing professionals from the world's leading Thunderbolt accessory manufacturer.

ThunderBay Flex 8 offers eight drive bays that support a mix of SATA/SAS and U.2/M.2 NVMe drives for up to 128TB of storage capacity. Next, there's a plethora of ports including two Thunderbolt 3, one USB-C, and two USB-A for device docking and charging.

See your work in greater detail by adding up to an 8K display via a built-in DisplayPort 1.4 connection. Ingest hi-res images and video via front-side SD 4.0 and CFexpress card readers. And when you want to expand your desktop capabilities, there's a PCIe slot waiting for your specific project needs.

ThunderBay Flex 8 is the one Thunderbolt 3 desktop device that rules them all. With an irresistible economy of scale, this consolidated solution is ideal for anyone waiting for the right moment to invest in Thunderbolt technology.
NVME. PCIE.
WHAT'S IT MEAN TO ME?
At the heart of the ThunderBay Flex 8 capabilities are two cutting-edge technology standards: NVMe and PCIe. Non-Volatile Memory Express (NVMe) optimizes the performance of modern flash technology over the Peripheral Component Interconnect Express (PCIe) standard. It enables significantly faster SSD performance with a more direct and optimized path to a computer's processor.
Tying both of these technologies together is the Thunderbolt 3 interface which uses the PCIe bus. This interface offers the fastest data transfers possible on a single cable between computers and peripherals like storage solutions, docks, and expansion devices while also supplying 85W of power to keep your laptop ready to go at a moment's notice.
THE FUTURE STANDARD OF STORAGE AVAILABLE TODAY
Right out of the packaging, all eight bays can utilize SATA 6Gb/s 2.5-inch SSDs or 3.5-inch HDDs. To take advantage of 40Gb/s PCIe technology, the top four bays are NVMe U.2 SSD ready. These emerging super-fast SSDs enable ThunderBay Flex 8 to meet the future storage needs of content creators and video production pros.
MUSCLE-FLEXING DATA PERFORMANCE
Are you a video pro working with 4K/8K and even Phantom high-speed files? The ThunderBay Flex 8 offers a variety of drive configurations that deliver real-world read/write speeds of 2750MB/s that saturate the Thunderbolt 3 speed threshold. Try any of these options:
A single U.2 NVMe SSD in Bay A
Multiple U.2 SSDs installed in top four bays (A-D) in RAID 0
Six or more SATA SSDs in any bays in RAID 0
Swap out the built-in SATA drive controller card with a SATA/SAS hardware RAID card and configure 8 x SATA/SAS drives in hardware RAID 0
Done with the drives but need the docking connectivity?Eject the ThunderBay Flex 8 drives and any external drives in a single click with the free OWC Dock Ejector app. It ensures all data has been written before any drive is unmounted to protect against data loss. It will even warn you from accidentally ejecting an in-use drive.
DOCKING
 

FLEX

IBILITY

A virtual buffet of productivity-enhancing possibilities awaits you with the docking connections built into ThunderBay Flex 8. Power your notebook with up to 85W power delivery while capturing multi-stream hi-res footage at full frame rate. Connect audio and video mixers, digital camera, keyboards, and other peripherals and charge mobile devices via one USB-C and two USB-A 10Gb/s ports. Ingest and work with 4/8K RAW video and RAW photo files immediately at speeds up to 985MB/s with frontside SD 4.0 and CFexpress card readers. Add more viewing space with up to an 8K monitor via the DisplayPort 1.4 interface. And if all that's not enough to satisfy your project needs, daisy-chain up to five additional Thunderbolt 3 devices!
FLEX

PANDABLE FOR UNIQUE NEEDS

By removing the enclosure's side panel, you can expand your capabilities by installing a half-length, full-height, single-width expansion card in the PCIe x16 connector/x4 lanes slot. Add a 4K video capture card for direct ingest of multi-stream high-res footage. Record high-quality tracks with an audio card and then edit and archive tracks.

Create a powerful file server with a high-speed networking card. By replacing the built-in SATA drive controller with a SATA or SAS RAID card, you can turn ThunderBay Flex 8 into a hardware RAID storage solution while keeping a PCIe slot open for other cards.
A

 

FLEX

TRAORDINARY PLATFORM

ThunderBay Flex 8 is a user-configurable platform that you can use to launch into projects with a new realm of time and money-saving results. To get you started, we suggest three sample configurations that make the most of the extraordinary highlights that have made OWC solutions the choice of performance enthusiasts and cinematographers around the world:
Plug and play with no drivers needed and Thunderbolt 3 cable included
Free lifetime US-based support
Worry-free ownership with up to 5 Year OWC Limited Warranty5
EASY AND COMPLETE DRIVE MANAGEMENT
Now you can quickly access and robustly protect your data with SoftRAID for Mac. SoftRAID makes it a breeze to create RAID volumes by helping you through the entire process. With multiple RAID options, you decide what you're using your RAID volume for and how much space to allocate to it. It's that simple to create your preference of speed and/or redundancy for your data volume.
ADVANCED
Create RAID 0, 1, 4, 5, 1+0 (10) volumes (RAID 6, 6+ coming in 2020) and get email notifications for drive and RAID volume health with SoftRAID (Mac only)
VIGILANT
Predictive warnings help protect against unexpected drive failure
CERTIFIED
Drives are validated before use to ensure they are safe for data storage
VERIFY
Volume validation ensures sectors can be read, parity is correct, and any potential volume failure is minimized
OUTPERFORMS
Up to 86% faster than AppleRAID
THOROUGH
Full TRIM support improves internal and external SSD performance in all RAID levels
A PROTECTIVE, ECONOMICAL POST-PRODUCTION SOLUTION
Sending a drive from set to post-production typically entails tedious and time-consuming drive enclosure disassembly to access the storage drive or costly shipping of the entire enclosure to the post lab. But ThunderBay Flex 8 offers a flexible option.
By installing an OWC U.2 NVMe Interchange System carrier tray (sold separately) with a built-in U.2 connector into a ThunderBay Flex 8 drive tray, you can protect the U.2 SSD drive's connector from repeated install/removal wear for improved drive longevity and investment. When done with your shoot, just ship the lightweight protective carrier and drive to the lab where the carrier can be installed into an OWC Helios 3S equipped with the OWC Interchange System. It's a complete solution to safeguard your data while lowering shipping costs.
Specifications
Mechanisms Supported

3.5 inch SATA drives
2.5 inch SATA drives
2.5 inch U.2 drives (top 4 bays only)
NVMe M.2 drives (via U.2 adapter)
2.5 inch SAS drives (requires SAS card, not included)
3.5 inch SAS drives (requires SAS card, not included)

Standard Mechanism

(8) Toshiba 4TB MG04ACA Series Enterprise Class Hard Disk Drives
*1GB = 1,000,000,000 bytes. Total accessible capacity varies depending upon operating environment (typically 5-10% less). The actual total capacity will depend on your own defined file settings/preferences.
**OWC reserves the right to replace or upgrade to equivalent or better components.

Display Support

DisplayPort 1.4: Up to 8K @ 60Hz or 4K @ 120Hz
Thunderbolt 3: Up to 5K @ 60Hz via a native Thunderbolt 3 display or 4K @ 60Hz via a Thunderbolt display or a USB-C display adapter

Bootable

Dependent upon configuration. Independent Mac volumes should boot in most scenarios.

Hot Swap Support
Hot Plug Support
Chipset

Thunderbolt: Intel JHL7440
PCIe Switch: ASMedia ASM-2824
USB Controller: Genesys Logic GL-3590

Drive Interface
Rotational Speed
Certifications
Data Rate

Thunderbolt 3: 40Gb/s (or 5000MB/s)

Data Transfer Rate (Maximum)

Thunderbolt 3 : 40 Gb/s (or 5000 MB/s)
RAID
RAID Capable
RAID Levels Supported

RAID 0
RAID 1
RAID 0+1
RAID 4
RAID 5
JBOD

RAID Features
Reliability
MTBF (Mean Time Between Failures)
Contact Start Stops

Varies depending on drive mechanism installed
Compatibility
Mac OS Compatibility
Other Requirements

macOS 10.15.1 or later required.

Host Port Requirements
PCIe Cards Supported

Supports one full-height, half-length, single-width card (driverless or with Thunderbolt-aware driver). GPUs not supported.

Driver Required

SoftRAID Only The SoftRAID driver is installed within the SoftRAID application.
For PCIe cards that require a driver, please check the manufacturer web site. Drivers for PCIe cards must be Thunderbolt-aware to function.
Power
Power Supply

Internal UL-listed universal auto-switching power supply

AC Input

100-240V, 47-63Hz, 4.0A-8.0A

DC Output
Wattage
External Power Adapter
Power Delivery

(2) Thunderbolt 3 Ports (15W, 85W)
Physical
Number of Bays
Expansion Slots

(1) PCIe 3.0 x16 physical, x4 electrical, full-height, half-length, single-width

Device Ports

(2) Thunderbolt 3 Ports
(1) USB 3.2 Gen 2 Type-C Port up to 10Gb/s (1250MB/s) - USB 2.0/3.0 backwards compatible
(2) USB 3.2 Gen 2 Type-A Ports up to 600MB/s
(1) DisplayPort Port

Memory Card Slots

(1) CFexpress
(1) Secure Digital (SD)

Cooling

(1) 120mm 1,600RPM cooling fan

Security Slot
Power Button
Power/Activity LED
Housing Color
Housing Material
Dimensions

Height: 34.9 cm (13.7 in)
Length: 39.0 cm (15.4 in)
Width: 14.9 cm (5.9 in)

Weight
Environmental
Ambient Temperature

Operating: 50°F to 95°F (10°C to 35°C)
Non-Operating: -40°F to 149°F (-40°C to 65°C)

Altitude

Operating: -304.8 m to 3,048.0 m (-1,000 ft to 10,000 ft)
Non-Operating: -304.8 m to 12,192.0 m (-1,000 ft to 40,000 ft)

Humidity

Operating: 8% to 90% non-condensing
Non-Operating: 5% to 95% non-condensing

Shock

Operating: Varies depending on drive mechanism installed
Non-Operating: Varies depending on drive mechanism installed
Acoustics
Noise

Varies depending on drive mechanism installed
Shipping policy
Any items which are in stock, will be dispatched immediately - same day if possible and morning of the following business day at the latest. Items which are not in stock at our local warehouse will be routed to us, and dispatched immediately upon arrival to us. In that case, the estimated dispatch time is noted on the product page.
Note that you are always welcome to email info@dittools.eu or call (+372) 5556 0057 for a more accurate shipping time estimate, as this does vary depending on a number of factors.
Standard shipping
Unless otherwise noted, all items are shipped standard via DPD. We normally ship to European Union countries only – do contact us for possible exceptions, particularly other European mainland countries. Shipping times vary between 1 to 10 business days within Europe – an up to date estimate will be given at checkout.
Express shipping
Our shipping partner for expedited deliveries is DHL Express; please contact us directly for a quote.
Returning an item
If you are not completely satisfied with your purchase, you can return your item(s) for a full refund within 14 days of confirmed delivery.
Special sales, demo items and promotions may have modified return policies. If an item from a bundle is returned for refund, the total bundle discount or the total value of the gifts will get deducted from the returned item prior to issuing a refund. If the bundle discount (or gift value) exceeds the value of the returned item, the difference must be paid to be able to return the item.
Return autorization
If you would like to return any item(s), please contact us by either emailing info@dittools.eu or calling (+372) 5556 0057. We will share with you a Return Merchandise Authorization (RMA) code and ask that you clearly mark this code outside of your shipping box as you ship your item(s) back for a refund.
You will be liable for the shipping and any applicable customs/duty fees returning the item(s).
Incorrect items
If the return is made due to a faulty product, or an incorrectly shipped product, or if you are returning the item(s) due to a defect, or functionality issue, or because it is not the item you have ordered, we will gladly email or mail a return shipping label covering all shipping related expenses. In order to determine whether the return is initiated due to a technical problem, we may ask for you to provide visual support like images or a video on the item(s).
Shipping
Returned merchandise must be in its original packaging, and placed in a decent shipping box, e.g. the same box that we shipped the items to you in. Please make sure to clearly mark the RMA code you have received from us outside on the box.
Do not forget to cover or peel off any existing shipping labels on the box.
DIT Supplies OÜ cannot be held accountable for return shipments that have not reached us or returns made without RMA codes. We strongly advise that if you are returning the item(s) with a carrier of your choice that you use a traceable shipping method.
It may take 4-5 business days for your return to reach us. Once it is received and inspected, your refund will be processed and automatically applied to your credit card or original method of payment within 14 business days. Please note that depending on your credit card company, it may take an additional 2-4 business days after your credit is applied for it to post to your account.
Customs, duties & taxes
There are no customs duties or taxes on orders shipping within the EU. Orders shipped outside of the EU may be subject to import taxes, customs duties and fees collected by the destination country. The recipient of an international shipment may be subject to such import taxes, customs duties and fees, which are collected once a shipment reaches the recipient's country. Additional charges for customs clearance must be paid for by the recipient; we have no control over these charges and cannot predict what they may be. Customs policies vary widely from country to country; and when customs clearance procedures are required, it can cause delays beyond our original delivery estimates. We advise that you contact your local customs office for more information.