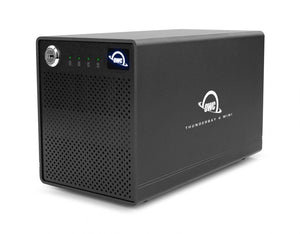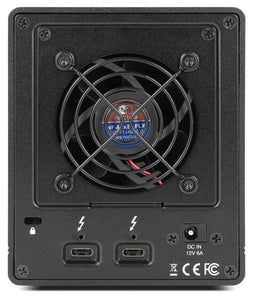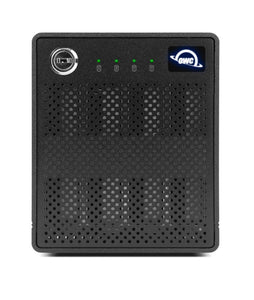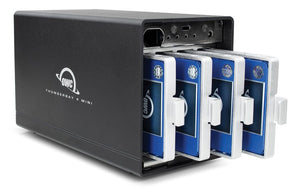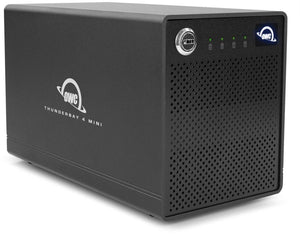 Professional Grade 4-Bay 2.5-inch Drive Thunderbolt 3 Storage Solution
With four 2.5-inch drive bays, ThunderBay 4 mini transforms SSDs and HDDs into a pro-grade, Thunderbolt 3 storage solution in a compact design.
THE PERFECT COMBINATION OF SPEED, SIZE, AND CONVENIENCE FOR PERMANENT ACCESS TO YOUR DATA
Retasks/maximizes SSD potential: four 2.5-inch drive bays
Pro-grade speeds: up to 1556MB/s with (2) Thunderbolt 3 ports (Thunderbolt 2/Thunderbolt backward compatible)1
Fits all needs: add your own drives or choose from pre-configured solutions
Daisy-chain expansion: add up to five additional Thunderbolt devices
Deployment ready: solutions undergo rigorous multi-hour drive burn-in
Whisper quiet: heat dissipating aluminum with 32.5dB cooling fan
Quick swaps: drives mount on sliding trays
Plug and play: no drivers needed and includes Thunderbolt cable
Easy RAID setup: included SoftRAID guides you through every step of creating RAID volumes
Thunderbolt certified for Mac and Windows
Worry free: up to 3 Year OWC Limited Warranty with 1 Year Level 1 data recovery
BIG RAID SYSTEM PERFORMANCE IN A COMPACT DESIGN
The ThunderBay 4 mini is perfect for repurposing or maximizing 2.5-inch SSDs for a compact data storage solution. It's big on performance and flexibility, yet ThunderBay 4 mini is about the length of a pencil and weighs only 3.1 pounds with SSDs. The rugged heat-dissipating aluminum enclosure features two Thunderbolt 3 (Thunderbolt 2/Thunderbolt backward compatible)1 for up to 1556MB/s speeds, so you have more than enough bandwidth to handle personal and business backups — all the way up to today's highest resolution audio, photo, and video formats. If you are seeking big RAID performance that's small enough to fit on a desk, in a rack, or on a DIT cart, your wish is now a reality.
A NEW WORLD OF SSD USE FLEXIBILITY
With four drive bays, you can mix or match different brand and capacity 2.5-inch SSDs and HDDs. Use mixed drives independently or combine drives as a RAID with the included SoftRAID setup and management software. Available in a variety of pre-configured capacity solutions to achieve your desired balance of storage, performance, and data redundancy.
Whatever the day or project demands, the ThunderBay 4 mini is the perfect workflow solution:
Expand production capabilities in industry-leading creative platforms like Final Cut X, Avid Pro Tools, Apple Pro Logic, and Adobe Lightroom
Edit large images
Manage massive photo and audio libraries
Store drone videos
Use it as a transport drive
STORE MORE, SEE MORE, DO MORE
With the ability to daisy-chain you can add up to five additional ThunderBay 4 mini solutions to create massive storage capacities. Merge them with SoftRAID for even more flexibility, capacity, and capability. Or if speed is what you're after, connect multiple ThunderBay 4 mini solutions to multiple Thunderbolt 3 ports on your Mac or PC to achieve exponential speed capabilities. Beyond storage, the sky is the limit for what you can connect. Attach a 5K Thunderbolt display or two 4K displays. Place a USB 3.1 device at the end of the chain. With an extra Thunderbolt 3 port, you have the flexibility to add to your daisy-chain and master any task at hand.
INSTALL OR SWAP DRIVES IN MINUTES
Want to access another drive or expand your storage capacity? Simply open the front panel security lock to access the four individual bays. Drives mount to a tray that slides back in and automatically plugs into a drive connector so you can get back to work in minutes.
INCLUDES SOFTRAID: EASY AND COMPLETE DRIVE MANAGEMENT
Now you can maximize disk space, get the fastest access speeds and protect against disk failure with Plug and Play simplicity. SoftRAID's easy setup makes it a breeze to create RAID volumes by helping you through the entire process. Just decide what you're using your RAID volume for and how much space to allocate to it. It's that simple to create your preference of speed and/or redundancy attributes of your data volume.
Speed, size, and convenience — the ThunderBay 4 mini provides everything a demanding workflow requires.
SoftRAID HIGHLIGHTS:
Up to 86% faster versus AppleRAID
ThunderBay 4 mini RAID models – create advanced RAID 0, 1, 4, 5, 1+0 (10) volumes for higher performance and/or redundancy
ThunderBay 4 mini RAID-Ready models – create your choice of RAID 0 or RAID 1 for desired speed or redundancy
Enterprise-class monitoring for disk and RAID volume health with email notifications
Volume validation to ensure sectors can be read, parity is correct, and minimization of volume failure
Disk certification checks that your disks are safe to store data on before use
Disk failure prediction with early warning helps protect you from sudden disk failure
QUALITY YOU CAN TRUST
Like all OWC products, ThunderBay 4 mini is built to the highest standards of reliability and performance and Thunderbolt Certified for Mac and Windows. Because 100% reliability is always the goal, ThunderBay 4 is rigorously quality tested and backed by our 3 Year OWC Limited Warranty plus award-winning, 24/7 customer support.
DETAILED SPECS
OS
macOS 10.13 or later
Windows 10 or later
Hardware
Works with any Thunderbolt 3-equipped Mac or Windows PC.1
Interface
Drives Supported
(4) 2.5-inch SATA HDDs and/or SSDs
Software RAID Modes
JBOD/Independent
RAID 0, 1, 4, 5, 1+0 (10) via SoftRAID engine
Power
External UL-listed, universal auto-switching
AC input: 100 ~ 240V, 50-60Hz
DC output: 12V, 6A
Total wattage: 72W
Enclosure Dimensions
Width: 3.8 in (9.6 cm)
Height: 4.6 in (11.7 cm)
Depth: 7.5 in (19.1 cm)
Enclosure Weight (empty)
OPERATING ENVIRONMENT
Environmental (Operating)
Temperature (°F) 41°F to 95°F
Temperature (°C) 5°C to 35°C
Environmental (Non-Operating)
Temperature (°F) -4°F to 140°F
Temperature (°C) -20°C to 60°C
Shipping policy
Any items which are in stock, will be dispatched immediately - same day if possible and morning of the following business day at the latest. Items which are not in stock at our local warehouse will be routed to us, and dispatched immediately upon arrival to us. In that case, the estimated dispatch time is noted on the product page.
Note that you are always welcome to email info@dittools.eu or call (+372) 5556 0057 for a more accurate shipping time estimate, as this does vary depending on a number of factors.
Standard shipping
Unless otherwise noted, all items are shipped standard via DPD. We normally ship to European Union countries only – do contact us for possible exceptions, particularly other European mainland countries. Shipping times vary between 1 to 10 business days within Europe – an up to date estimate will be given at checkout.
Express shipping
Our shipping partner for expedited deliveries is DHL Express; please contact us directly for a quote.
Returning an item
If you are not completely satisfied with your purchase, you can return your item(s) for a full refund within 14 days of confirmed delivery.
Special sales, demo items and promotions may have modified return policies. If an item from a bundle is returned for refund, the total bundle discount or the total value of the gifts will get deducted from the returned item prior to issuing a refund. If the bundle discount (or gift value) exceeds the value of the returned item, the difference must be paid to be able to return the item.
Return autorization
If you would like to return any item(s), please contact us by either emailing info@dittools.eu or calling (+372) 5556 0057. We will share with you a Return Merchandise Authorization (RMA) code and ask that you clearly mark this code outside of your shipping box as you ship your item(s) back for a refund.
You will be liable for the shipping and any applicable customs/duty fees returning the item(s).
Incorrect items
If the return is made due to a faulty product, or an incorrectly shipped product, or if you are returning the item(s) due to a defect, or functionality issue, or because it is not the item you have ordered, we will gladly email or mail a return shipping label covering all shipping related expenses. In order to determine whether the return is initiated due to a technical problem, we may ask for you to provide visual support like images or a video on the item(s).
Shipping
Returned merchandise must be in its original packaging, and placed in a decent shipping box, e.g. the same box that we shipped the items to you in. Please make sure to clearly mark the RMA code you have received from us outside on the box.
Do not forget to cover or peel off any existing shipping labels on the box.
DIT Supplies OÜ cannot be held accountable for return shipments that have not reached us or returns made without RMA codes. We strongly advise that if you are returning the item(s) with a carrier of your choice that you use a traceable shipping method.
It may take 4-5 business days for your return to reach us. Once it is received and inspected, your refund will be processed and automatically applied to your credit card or original method of payment within 14 business days. Please note that depending on your credit card company, it may take an additional 2-4 business days after your credit is applied for it to post to your account.
Customs, duties & taxes
There are no customs duties or taxes on orders shipping within the EU. Orders shipped outside of the EU may be subject to import taxes, customs duties and fees collected by the destination country. The recipient of an international shipment may be subject to such import taxes, customs duties and fees, which are collected once a shipment reaches the recipient's country. Additional charges for customs clearance must be paid for by the recipient; we have no control over these charges and cannot predict what they may be. Customs policies vary widely from country to country; and when customs clearance procedures are required, it can cause delays beyond our original delivery estimates. We advise that you contact your local customs office for more information.