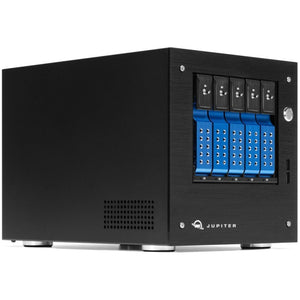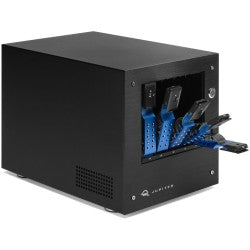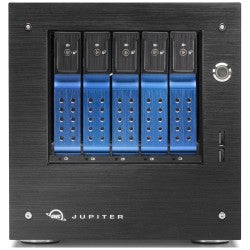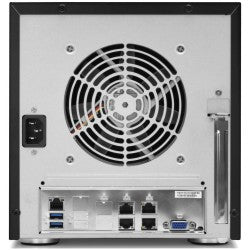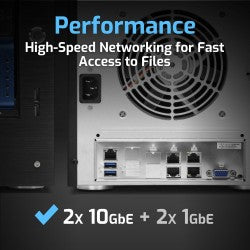 Adaptable to Your Needs
The Jupiter mini 5-Bay lets you take control of your data with a Network Attached Storage (NAS) solution that is adaptable to meet your unique requirements. At the heart of that flexibility is the pre-loaded and pre-configured TrueNAS Core OS — the world's #1 open source storage operating system with over 10 million downloads. TrueNAS Core looks like a typical NAS GUI and can be remotely managed via a web-based interface. There's a suite of features including effective fileserver backups with the "snapshot" function, military-grade encryption and user access management, plus a world of plugins that let you customize the Jupiter mini 5-Bay to your specific needs.
Want a shared and secure on-set storage and editing solution? The Jupiter mini 5-Bay is small enough to fit into a carry-on and weighs 21.5 lbs with drives, yet offers massive storage up to 70TB, multiple RAID choices, and integrity protection for the ultimate in centralized storage. It's compatible with leading video editing systems including Final Cut Pro/Pro X, Avid Media Composer, Adobe Premiere Pro, and DaVinci Resolve.
The Value of Freedom
Most data security apps and solutions have a variety of "lock-in" fees that can nickel and dime you into being over-budget. With TrueNAS Core at its core, the Jupiter mini 5-Bay NAS doesn't have any licensing fee, user restrictions, or hardware limitations that require a fee to unlock. Every unit is pretested and certified ready for you to create your own private Dropbox, Google Drive, Amazon AWS, or BackBlaze-like storage cloud — but with tons more storage capacity and no monthly bill. That combined with the open source's zero cost allows Jupiter mini 5-Bay to deliver a Total Cost of Ownership (TCO) that helps keep any budget in the black.
Freedom also extends to product design. The Jupiter mini 5-Bay features five trayless and locking hot-swappable 3.5-inch SATA 6Gb/s drive bays, an x16 PCIe 3.0 slot for adding additional networking or storage via SSD or HDD, and an M.2 slot to add performance caching for higher read/write performance.
Helping you keep a watchful eye over Jupiter mini 5-Bay is the built-in Baseboard Management Controller (BMC). This hardware-based server control technology enables you to access and monitor Jupiter mini 5-Bay anywhere in the world with a username and password.
Your Personal Cloud File Server…Accessible Anywhere, Anytime
Unsure if your data is really safe in the cloud with a third-party — or who has access and control over it? Now you can set up the Jupiter mini 5-Bay as a secure personal cloud file server by installing a free plugin like NextCloud and have instant access on any device in any location to documents, calendar, contacts, and photos on a server only you control. Download files you need on the road. Stream a movie or music files from your home to your laptop in a hotel on the other side of the world. Even back up your mobile device digital life. Jupiter mini 5-Bay NAS is all business too. It offers real-time collaborative editing, notification of file shares or comments, secure file exchange with password-protected public links and powerful on-server and end-to-end encryption.
You Got This…Because OWC Has Got You Covered
Owning a Jupiter mini 5-Bay begins with an optional pre-sale consultation with Jupiter product experts to determine if Jupiter mini 5-Bay is a good fit for your infrastructure, planned uses, and user requirements. If it's not a good fit, Jupiter engineers can recommend and even build the correct Jupiter solution to fit your needs and budget.
Next, your Jupiter mini 5-Bay is pre-tested and undergoes a multi-hour burn-in certification process to ensure immediate deployment at your home or office.
Once your Jupiter mini 5-Bay is up and running, you can call us with hardware and general open source questions you have, all part of a three-year warranty that can be extended for an additional two years. It's fair to say Jupiter mini 5-Bay offers the most complete peace-of-mind NAS ownership experience available.
Shipping policy
Any items which are in stock, will be dispatched immediately - same day if possible and morning of the following business day at the latest. Items which are not in stock at our local warehouse will be routed to us, and dispatched immediately upon arrival to us. In that case, the estimated dispatch time is noted on the product page.
Note that you are always welcome to email info@dittools.eu or call (+372) 5556 0057 for a more accurate shipping time estimate, as this does vary depending on a number of factors.
Standard shipping
Unless otherwise noted, all items are shipped standard via DPD. We normally ship to European Union countries only – do contact us for possible exceptions, particularly other European mainland countries. Shipping times vary between 1 to 10 business days within Europe – an up to date estimate will be given at checkout.
Express shipping
Our shipping partner for expedited deliveries is DHL Express; please contact us directly for a quote.
Returning an item
If you are not completely satisfied with your purchase, you can return your item(s) for a full refund within 14 days of confirmed delivery.
Special sales, demo items and promotions may have modified return policies. If an item from a bundle is returned for refund, the total bundle discount or the total value of the gifts will get deducted from the returned item prior to issuing a refund. If the bundle discount (or gift value) exceeds the value of the returned item, the difference must be paid to be able to return the item.
Return autorization
If you would like to return any item(s), please contact us by either emailing info@dittools.eu or calling (+372) 5556 0057. We will share with you a Return Merchandise Authorization (RMA) code and ask that you clearly mark this code outside of your shipping box as you ship your item(s) back for a refund.
You will be liable for the shipping and any applicable customs/duty fees returning the item(s).
Incorrect items
If the return is made due to a faulty product, or an incorrectly shipped product, or if you are returning the item(s) due to a defect, or functionality issue, or because it is not the item you have ordered, we will gladly email or mail a return shipping label covering all shipping related expenses. In order to determine whether the return is initiated due to a technical problem, we may ask for you to provide visual support like images or a video on the item(s).
Shipping
Returned merchandise must be in its original packaging, and placed in a decent shipping box, e.g. the same box that we shipped the items to you in. Please make sure to clearly mark the RMA code you have received from us outside on the box.
Do not forget to cover or peel off any existing shipping labels on the box.
DIT Supplies OÜ cannot be held accountable for return shipments that have not reached us or returns made without RMA codes. We strongly advise that if you are returning the item(s) with a carrier of your choice that you use a traceable shipping method.
It may take 4-5 business days for your return to reach us. Once it is received and inspected, your refund will be processed and automatically applied to your credit card or original method of payment within 14 business days. Please note that depending on your credit card company, it may take an additional 2-4 business days after your credit is applied for it to post to your account.
Customs, duties & taxes
There are no customs duties or taxes on orders shipping within the EU. Orders shipped outside of the EU may be subject to import taxes, customs duties and fees collected by the destination country. The recipient of an international shipment may be subject to such import taxes, customs duties and fees, which are collected once a shipment reaches the recipient's country. Additional charges for customs clearance must be paid for by the recipient; we have no control over these charges and cannot predict what they may be. Customs policies vary widely from country to country; and when customs clearance procedures are required, it can cause delays beyond our original delivery estimates. We advise that you contact your local customs office for more information.