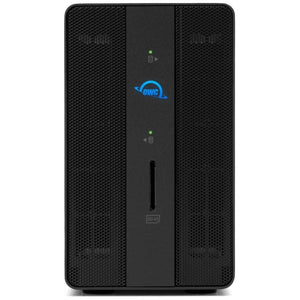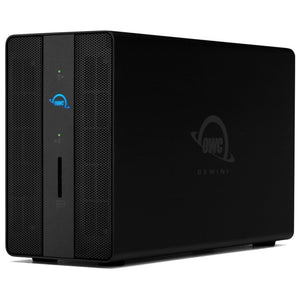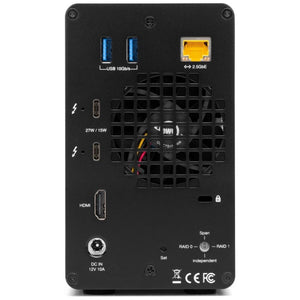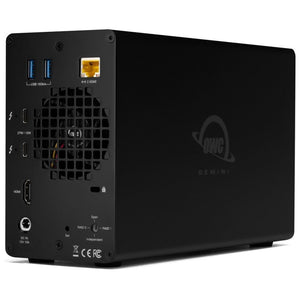 Dual drive Thunderbolt 3 Hardware RAID Storage and Docking Enclosure for 2.5-inch or 3.5-inch SATA or U.2 Drives
The Do-It-All Tool for Digital Workflows
With dual drive bays and seven connectivity ports including an SD UHS-II card reader, the OWC Gemini is the do-it-all tool that will organize your digital life. You'll have plenty of room to duplicate footage, create and manage archives, or render and process effects. Connect your favorite peripherals via USB ports. Ingest the day's shoot or drone footage with the frontside reader.
Hardware or Software RAID: Speed, Reliability, Flexibility
The OWC Gemini can utilize the built-in hardware RAID controller to unleash the full potential of two 3.5-inch 7200RPM hard drives or 2.5-inch SATA SSDs. Preconfigured in high-speed RAID 0 mode to deliver maximum throughput from its drives, Gemini offers real-world HDD speeds up to 562MB/s 1 for audio editors/musicians/producers, individual content creators, photographers, small photography studios, and filmmakers working with up to 4K resolutions and compressed codecs. A/V professionals seeking SSDs that start and stay fast over their full capacity can take advantage of the proven reliability of OWC Mercury Extreme SSDs. With sustained RAID 0 speed up to 956MB/s 2, you can easily handle 8K single and 4K multi sequences, slow motion video, 10 bits footage, and ultra-high-resolution RAW pictures.
Even faster with NVMe SSDs
Make your dream of becoming an editing powerhouse a reality by utilizing the performance of NVMe SSDs. Using software RAID such as SoftRAID (sold separately) you can set both NVMe drives as a RAID 0 for performance up to 1446MB/s 3. This is enough bandwidth to handle demanding media workflows such as 8K video and 6K multicam sequences using advanced 10 bit and 12 bit codecs, high frame rate footage, and ultra-high resolution RAW pictures. You can also use M.2 "blade" style SSDs via adapters like the OWC ShuttleOne and U2 Shuttle 4.
Stay Connected to Your Team and Media
The OWC Gemini features a 2.5Gb/s Ethernet port so you can transfer files and work up to 2.5x faster over wired networks and enjoy increased productivity in an IP-based workflow 5. Great for shared workspaces and workflows, file transfers breeze by quickly so you spend less time setting up and more time getting to work. It's also great for sending your files over to a NAS to keep them safely archived 6. When it's time to share your progress, you can use your RAID options to render out working files and a fast connection to post for team and client reviews.
Gain an 8K Perspective
With a dedicated latest generation HDMI port, Gemini empowers you to add the fresh, crisp perspective of an 8K display to your workflow 7.
Reclaim Your Desktop
With multi-drive media dumps, controllers, A/V outputs, and a mess of device cables, it can be hard enough to find space for your notebook let alone room to work. OWC Gemini fights the clutter with a single-cable connection that delivers storage, ethernet sharing, charging power, and 8K monitor support while neatly consolidating all your peripheral device cables. Reclaim your workspace and reduce your stress.
Innergize Your Workflow with Highest Performance and Reliability
OWC Innergize™ is the first stage of the From Capture to Completion™ ecosystem of OWC products designed to seamlessly propel professional photographers, videographers, and content creators to the highest level of workflow performance and reliability. This OWC custom-designed app is a complete health, performance, and field upgrade management tool when you use OWC Atlas SD memory cards with Gemini's SD reader slot.
Health: Over time and use cycles, flash memory does wear out. Innergize verifies and reports the percentage of use life remaining. Now you can work with full confidence your OWC Atlas card will deliver the reliability you can trust.
Sanitize: Writes, deletes, and formatting all take their toll on memory cards. Innergize cleans and restores the flash memory performance of OWC Atlas memory cards so you can get the best results on every use.
Field Upgrade: When new cameras or firmware updates to existing cameras are introduced, they may not work properly with memory cards. Innergize gives you the ability to quickly upgrade firmware in the field for full compatibility, additional performance enhancements, and bug fixes for optimal reliability.
Disconnect in One Click
Safely disconnect multiple drives in a single click. OWC Dock Ejector was designed by OWC hardware and software engineers to ensure all data is written before disconnection, saving time and protecting against data loss. It makes losing your hard-earned work a thing of the past.
Shipping policy
Any items which are in stock, will be dispatched immediately - same day if possible and morning of the following business day at the latest. Items which are not in stock at our local warehouse will be routed to us, and dispatched immediately upon arrival to us. In that case, the estimated dispatch time is noted on the product page.
Note that you are always welcome to email info@dittools.eu or call (+372) 5556 0057 for a more accurate shipping time estimate, as this does vary depending on a number of factors.
Standard shipping
Unless otherwise noted, all items are shipped standard via DPD. We normally ship to European Union countries only – do contact us for possible exceptions, particularly other European mainland countries. Shipping times vary between 1 to 10 business days within Europe – an up to date estimate will be given at checkout.
Express shipping
Our shipping partner for expedited deliveries is DHL Express; please contact us directly for a quote.
Returning an item
If you are not completely satisfied with your purchase, you can return your item(s) for a full refund within 14 days of confirmed delivery.
Special sales, demo items and promotions may have modified return policies. If an item from a bundle is returned for refund, the total bundle discount or the total value of the gifts will get deducted from the returned item prior to issuing a refund. If the bundle discount (or gift value) exceeds the value of the returned item, the difference must be paid to be able to return the item.
Return autorization
If you would like to return any item(s), please contact us by either emailing info@dittools.eu or calling (+372) 5556 0057. We will share with you a Return Merchandise Authorization (RMA) code and ask that you clearly mark this code outside of your shipping box as you ship your item(s) back for a refund.
You will be liable for the shipping and any applicable customs/duty fees returning the item(s).
Incorrect items
If the return is made due to a faulty product, or an incorrectly shipped product, or if you are returning the item(s) due to a defect, or functionality issue, or because it is not the item you have ordered, we will gladly email or mail a return shipping label covering all shipping related expenses. In order to determine whether the return is initiated due to a technical problem, we may ask for you to provide visual support like images or a video on the item(s).
Shipping
Returned merchandise must be in its original packaging, and placed in a decent shipping box, e.g. the same box that we shipped the items to you in. Please make sure to clearly mark the RMA code you have received from us outside on the box.
Do not forget to cover or peel off any existing shipping labels on the box.
DIT Supplies OÜ cannot be held accountable for return shipments that have not reached us or returns made without RMA codes. We strongly advise that if you are returning the item(s) with a carrier of your choice that you use a traceable shipping method.
It may take 4-5 business days for your return to reach us. Once it is received and inspected, your refund will be processed and automatically applied to your credit card or original method of payment within 14 business days. Please note that depending on your credit card company, it may take an additional 2-4 business days after your credit is applied for it to post to your account.
Customs, duties & taxes
There are no customs duties or taxes on orders shipping within the EU. Orders shipped outside of the EU may be subject to import taxes, customs duties and fees collected by the destination country. The recipient of an international shipment may be subject to such import taxes, customs duties and fees, which are collected once a shipment reaches the recipient's country. Additional charges for customs clearance must be paid for by the recipient; we have no control over these charges and cannot predict what they may be. Customs policies vary widely from country to country; and when customs clearance procedures are required, it can cause delays beyond our original delivery estimates. We advise that you contact your local customs office for more information.