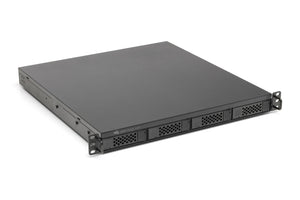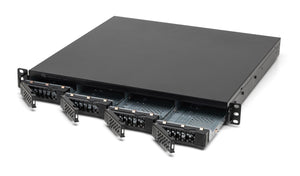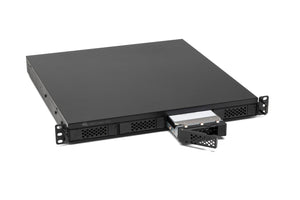 Go Beyond the Desktop with The Most Flexible Storage, Docking, and PCIe Expansion Solution For ANY Rackmount Use.

Use SATA/SAS and U.2/M.2 NVMe drives for up to 128TB of capacity and real-world Thunderbolt speeds up to 2750MB/s.

Swap drives quickly and easily if/when needed.

Utilize U.2 NVMe SSDs - as well as the OWC ecosystem of U.2 drives and adapters - for incredible speed and flash density per bay.

Create, manage, and monitor advanced RAID sets with OWC SoftRAID.

Connect keyboards, mixers, cameras, displays, and mobile devices such as tablets with (2) USB-C 10Gb/s and (3) USB-A 10Gb/s ports.

Connect up to an 8K display to the DisplayPort 1.4 port.

Add a half-length full-height single-width audio/video capture, 10Gb Ethernet, SSD storage, hardware RAID, or I/O card to the PCIe x16 lane (at x4 speed) slot.

Daisy chain up to five devices or add an additional display with the second Thunderbolt (USB-C) port.

Keep your notebook powered with 85W via the upstream Thunderbolt port.
The Rackmount Workflow Game-Changer
Since the launch of the OWC ThunderBay desktop storage line in 2014, computer users across the planet have continued to fall in love with it. They embrace its massively powerful RAID capacity and intense performance fueled by time-tested OWC reliability. Its appeal skyrocketed when it was infused with industry-first FLEXibility to create ThunderBay Flex 8.
Now businesses, institutions, studios, and creatives can go beyond the desktop with the OWC Flex 1U4. This innovative 4-bay rackmount solution is ready to fuel your endeavors with the best combination of storage capacity, Thunderbolt transfer performance, drive flexibility, and device expandability. With FLEX in its name, you can count on Flex 1U4 to be your rackmount workflow game-changer.
Rack Up Workflow Flexibility
You'll turn your expandability and connectivity dreams into reality when you add the OWC Flex 1U4 to your rack or cart. Use a mix of 2.5 or 3.5-inch SATA/SAS and U.2/M.2 NVMe drives with four quick-access, hot-swappable drive bays. Connect mixers, keyboards, cameras, and other gear to your heart's content as well as charge mobile devices with an ample variety of Thunderbolt and USB ports. Add up to an 8K display via DisplayPort. And when you have a custom capture, recording, networking, or storage need, the OWC Flex 1U4 lets you install a PCIe card to conquer specialized tasks.
Future Ready
When your workflow needs change, the "FLEXpandability" of the OWC Flex 1U4 easily adapts. Add new drives, connect different devices, and install a half-length full-height single-width PCIe x16 card of your choice like a 10Gb Ethernet networking card or the blistering fast OWC Accelsior 4M2 SSD for expanded performance storage capacity. By not locking you into an inflexible single-task design, the OWC Flex 1U4 extends its useful life and maximizes your investment well into the future.

Do It U.2 It
A hallmark of OWC FLEX technology is the ability to use U.2 NVMe SSDs as well as the OWC ecosystem of U.2 drives and adapters. U.2 NVMe drives are specifically designed to maximize the PCIe bus and when combined with Thunderbolt, you'll blast past fast with up to 2750MB/s real-world transfer speed. Whether you use your rackmount setup to complete massive backups faster, stream content during a live performance, edit large format video, or run high transactional and complex calculation applications, you can do it U.2 to it with the OWC Flex 1U4.

A Complete Swap and Share Ecosystem
The OWC Flex 1U4 goes with the flow when needing to move data outside or beyond the local network. With the OWC U.2 ecosystem, moving and sharing data is fast and easy. Swap out and ship a project from field to post in video production workflows. Move backup data to an offline colocation for backup workflows. The combination of OWC Flex 1U4 and the OWC U.2 ecosystem opens a new dimension to data transfer possibilities.

OWC U2 ShuttleOne: Convert an NVMe M.2 "blade" style SSD into a swappable 2.5-inch U.2 SSD with the peace of mind that your drive – and its content - are protected by the full metal, heat dissipating adapter.

OWC U2 Shuttle: Combine four NVMe M.2 SSDs into the world's first 3.5-inch U.2 carrier shuttle to create a swappable, massive capacity RAID solution.

OWC Helios 3S with Interchange System: Create an external Thunderbolt powered set to post U.2 solution that safeguards your data while lowering shipping costs.

OWC Mercury Pro U.2 Dual: Put blazing fast Thunderbolt powered storage and backup on a desktop with a compact two bay footprint that can use U2 ShuttleOne and U2 Shuttles.

OWC ThunderBay Flex 8: Take control of your media workflow with the world's first 3-in-1 Thunderbolt storage, docking, and PCIe expansion desktop solution. Easily swaps U2 ShuttleOne and U2 Shuttles to/from the Flex 1U4.

RAID Made Easy
Harness the full capability of your OWC Flex 1U4 drive array with the included SoftRAID XT, the most powerful, intuitive RAID management software on the market for macOS and Windows. SoftRAID's RAID creation and management technology has been finely tuned to perfection with over 20 years of development to provide rock solid protection of your data and optimize drive performance. It is packed with features like multiple RAID options, validation and verification of drives, and predictive disk failure with SoftRAID Monitor.
SoftRAID provides a level of storage performance that you simply can't get with hardware RAID and is ideal for anyone who needs to safely store and backup massive amounts of data, including educational institutions, government agencies, businesses, content creators, and M&E professionals. If you need even more power and flexibility, you can upgrade to SoftRAID Pro to spread volumes over two or more disk enclosures – impossible with hardware RAID - for incredible performance!
SPECS
Display Support


Up to two 4K displays @ 60Hz,

or one 8K display @ 60Hz,

or one 4K display @ 120Hz,

or one 5K display @ 60Hz


Display Support by Port


Thunderbolt 3 (Titan Ridge): Up to 8K @ 60Hz or 4K @ 120Hz via a native Thunderbolt 3 display or other display that supports USB-C connections and DisplayPort 1.4

DisplayPort 1.4: Up to 8K @ 60Hz or 4K @ 120Hz



Hot Swap Support
Yes

Hot Plug Support
Yes

Data Transfer Rate (Maximum)
Thunderbolt 3 : Up to 40 Gb/s (or 5000 MB/s)

Plug and Play
Yes


RAID Features
Software RAID


Mac OS Compatibility


macOS 10.15 Catalina

macOS 11.x Big Sur

macOS 12.x Monterey

macOS 13.x Ventura


PC OS Compatibility
Not compatible with Windows PCs


Host Port Requirements
Thunderbolt (USB-C) port (backward compatible with Thunderbolt 2/Thunderbolt)

Power Supply
Internal UL-listed universal auto-switching power supply


AC Input
90-264V, 47-63Hz, 3.5A At 100V (Max.), 1.8A At 240V (Max.)


DC Output
+12V, 25A


Wattage
300W


External Power Adapter
No


Power Delivery


One Thunderbolt 3 port with 85W power delivery

One Thunderbolt 3 port with 15W power delivery

Two USB-C ports with 15W power delivery


Number of Bays
4


Drive Bays


4 bays supporting: 2.5-inch SATA drives, 3.5-inch SATA drives, 2.5-inch U.2 drives, 3.5-inch U.2 drives, M.2 drives (with M.2 to U.2 adapter), 2.5-inch SAS drives (with SAS drive controller card), 3.5-inch SAS drives (with SAS drive controller card)

Bays 1-2 each support x4 lanes PCIe, bays 3-4 each support x1 lane PCIe

Expansion Slots
(1) Full-height, half-length PCIe 3.0 x16 (physical) slot running at PCIe 3.0 x4 lane performance

Device Ports


(1) Host Port - Thunderbolt 3 (USB-C) up to 40 Gb/s (5000 MB/s)

(1) Thunderbolt 3 (USB-C) Port

(2) USB 3.2 Gen 2 Type-C Ports up to 10Gb/s (1250MB/s) - USB 2.0/3.0 backwards compatible

(3) USB 3.2 Gen 2 Type-A Ports up to 10Gb/s (1250MB/s) - USB 2.0/3.0 backwards compatible

(1) DisplayPort Port


Cooling
(3) cooling fans


Security Slot
No


Power Button
Yes


Housing Color
Black


Dimensions
Height: 4.4 cm (1.7 in)
Length: 45.6 cm (18.0 in)
Width: 43.0 cm (16.9 in)


Weight (Empty)
7.4 kg (16.31 lbs) 


Rack Space
1U


Certifications
CE, FCC, VCCI, RCM, BSMI


Ambient Temperature


Operating: 50°F to 95°F (10°C to 35°C)

Non-Operating: -40°F to 149°F (-40°C to 65°C)


Humidity


Operating: 8% to 90% non-condensing

Non-Operating: 5% to 95% non-condensing

Shipping policy
Any items which are in stock, will be dispatched immediately - same day if possible and morning of the following business day at the latest. Items which are not in stock at our local warehouse will be routed to us, and dispatched immediately upon arrival to us. In that case, the estimated dispatch time is noted on the product page.
Note that you are always welcome to email info@dittools.eu or call (+372) 5556 0057 for a more accurate shipping time estimate, as this does vary depending on a number of factors.
Standard shipping
Unless otherwise noted, all items are shipped standard via DPD. We normally ship to European Union countries only – do contact us for possible exceptions, particularly other European mainland countries. Shipping times vary between 1 to 10 business days within Europe – an up to date estimate will be given at checkout.
Express shipping
Our shipping partner for expedited deliveries is DHL Express; please contact us directly for a quote.
Returning an item
If you are not completely satisfied with your purchase, you can return your item(s) for a full refund within 14 days of confirmed delivery.
Special sales, demo items and promotions may have modified return policies. If an item from a bundle is returned for refund, the total bundle discount or the total value of the gifts will get deducted from the returned item prior to issuing a refund. If the bundle discount (or gift value) exceeds the value of the returned item, the difference must be paid to be able to return the item.
Return autorization
If you would like to return any item(s), please contact us by either emailing info@dittools.eu or calling (+372) 5556 0057. We will share with you a Return Merchandise Authorization (RMA) code and ask that you clearly mark this code outside of your shipping box as you ship your item(s) back for a refund.
You will be liable for the shipping and any applicable customs/duty fees returning the item(s).
Incorrect items
If the return is made due to a faulty product, or an incorrectly shipped product, or if you are returning the item(s) due to a defect, or functionality issue, or because it is not the item you have ordered, we will gladly email or mail a return shipping label covering all shipping related expenses. In order to determine whether the return is initiated due to a technical problem, we may ask for you to provide visual support like images or a video on the item(s).
Shipping
Returned merchandise must be in its original packaging, and placed in a decent shipping box, e.g. the same box that we shipped the items to you in. Please make sure to clearly mark the RMA code you have received from us outside on the box.
Do not forget to cover or peel off any existing shipping labels on the box.
DIT Supplies OÜ cannot be held accountable for return shipments that have not reached us or returns made without RMA codes. We strongly advise that if you are returning the item(s) with a carrier of your choice that you use a traceable shipping method.
It may take 4-5 business days for your return to reach us. Once it is received and inspected, your refund will be processed and automatically applied to your credit card or original method of payment within 14 business days. Please note that depending on your credit card company, it may take an additional 2-4 business days after your credit is applied for it to post to your account.
Customs, duties & taxes
There are no customs duties or taxes on orders shipping within the EU. Orders shipped outside of the EU may be subject to import taxes, customs duties and fees collected by the destination country. The recipient of an international shipment may be subject to such import taxes, customs duties and fees, which are collected once a shipment reaches the recipient's country. Additional charges for customs clearance must be paid for by the recipient; we have no control over these charges and cannot predict what they may be. Customs policies vary widely from country to country; and when customs clearance procedures are required, it can cause delays beyond our original delivery estimates. We advise that you contact your local customs office for more information.