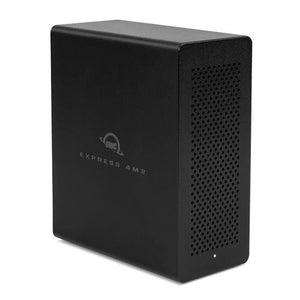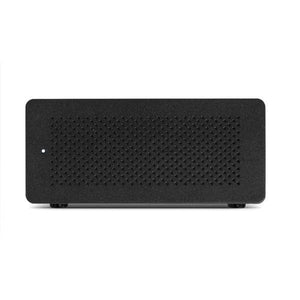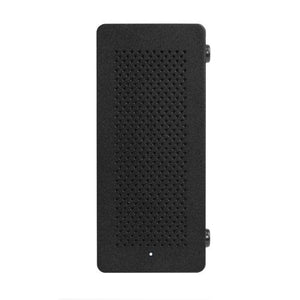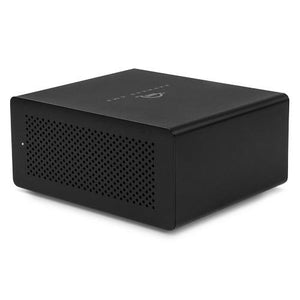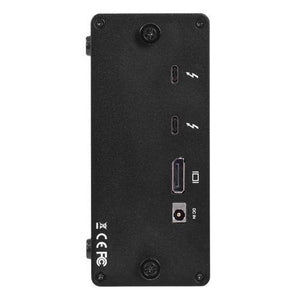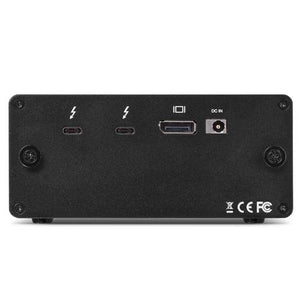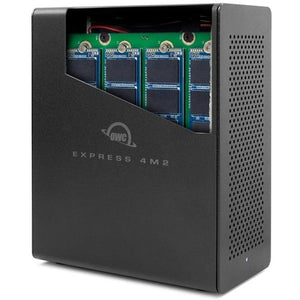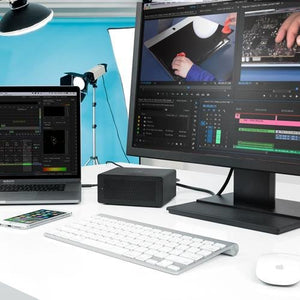 INFINITELY CONFIGURABLE. INFINITELY RECONFIGURABLE
Four NVMe M.2 SSD bays - Add up to 32TB of storage
Up to 2800MB/s
Compact design
Thunderbolt Certified for Mac and Windows
Includes Thunderbolt 3 cable
1 Year OWC Limited Warranty
PINT-SIZED POWERHOUSE
Small in stature. Big on capability. The OWC Express 4M2 is ready to serve with four easy-to-access M.2 NVMe SSD slots customizable for any workflow with vibration damping feet that allow for vertical or horizontal orientation. Install up to 16TB of capacity and experience up to 2800MB/s of mind-bending performance via Thunderbolt 3. The Express 4M2 is an amazingly small digital workhorse with world-renowned OWC quality and award-winning support built in.
Ingest and duplicate dailies at breakneck speeds, work with higher resolutions, smoothly scrub through demanding timelines, and plow through thousands of photos with ease. The OWC Express 4M2 is one seriously fast drive to have by your side to take your digital capabilities to a new level.
BUILT SMALLER AND FASTER FROM INPUT BY PROS LIKE YOU.
The OWC Express 4M2 is designed with superior ease-of-use in mind. We worked with award-winning creatives and listened to the kudos they heaped onto the OWC ThunderBay mini, and we put all that shared knowledge to good use when we set out to build the next-gen Thunderbolt 3 multi-bay drive. The result is the 57% smaller and 2.5x faster OWC Express 4M2.
It's smaller and easier to fit into your workflow, studio and on stage. It's faster with four easy-access M.2 slots so you can swap, upgrade or expand your Express 4M2 to configure and reconfigure it to serve any project need.
GAME-CHANGING NVME SSD PERFORMANCE
NVMe (Non-Volatile Memory Express) is a hyper-efficient communications interface protocol built from the ground up to properly take advantage of SSD technology and high-performance connection buses like PCIe. The result is exponentially faster and efficient SSD storage, and the OWC Express 4M2 has room for four NVMe SSDs.
PRO-TIPS: DAISY-CHAINING WITH THUNDERBOLT DEVICES
With the ability to run up to six devices per port, Thunderbolt ports amplify your laptop or desktop with peripheral power. Learn the basics of daisy-chaining Thunderbolt devices for maximum performance in this handy infographic. View Infographic
MECHANISMS SUPPORTED
NVMe M.2 SSD (2280 Form Factor, M-key)
DISPLAY SUPPORT
Up to one 4K display @ 60Hz,
or one 4K display @ 30Hz,
or two 4K displays @ 60Hz
DISPLAY SUPPORT BY PORT
Mini DisplayPort 1.2: Up to 4K @ 60Hz
BOOTABLE
All four drive bays are bootable on macOS. SSDs with 512 byte sectors require macOS 10.13 or later.
HOT PLUG SUPPORT
CHIPSET
(1) Thunderbolt 3 - Alpine Ridge DSL6540
CERTIFICATIONS
DATA TRANSFER RATE (MAXIMUM)
Thunderbolt 3 : Up to 40 Gb/s (or 5000 MB/s)
RAID CAPABLE
RAID FEATURES
MTBF (MEAN TIME BETWEEN FAILURES)
Varies depending on drive mechanism installed
CONTACT START STOPS
Varies depending on drive mechanism installed
MAC OS COMPATIBILITY
macOS 10.12 Sierra
macOS 10.13 High Sierra
macOS 10.14 Mojave
macOS 10.15 Catalina
macOS 11.x Big Sur
macOS 12.x Monterey
PC OS COMPATIBILITY
Windows 10 32-bit Edition
Windows 10 64-bit Edition
Windows Server 2016
OTHER REQUIREMENTS
When using one or more SSDs with 512 byte sectors, macOS 10.13 or later is required.
HOST PORT REQUIREMENTS
DRIVER REQUIRED
POWER SUPPLY
External UL-listed universal auto-switching power supply
Need an additional power supply? Secondary/replacement power supplies are also available.
AC INPUT
DC OUTPUT
WATTAGE
EXTERNAL POWER ADAPTER
POWER DELIVERY
Two Thunderbolt 3 ports with 15W power delivery each.
REPLACEMENT ADAPTER PART NUMBER
OWCPWR12V6A (sold separately)
NUMBER OF BAYS
DEVICE PORTS
(2) Thunderbolt 3 (USB-C) Ports
(1) DisplayPort Port
COOLING
(1) 60mm 2,800RPM None cooling fan
SECURITY SLOT
POWER/ACTIVITY LED
HOUSING COLOR
HOUSING MATERIAL
DIMENSIONS
Height: 6.0 cm (2.4 in)
Length: 11.3 cm (4.4 in)
Width: 13.6 cm (5.4 in)
WEIGHT
AMBIENT TEMPERATURE
Operating: 32°F to 104°F (0°C to 40°C)
Non-Operating: -4°F to 158°F (-20°C to 70°C)
ALTITUDE
Operating: -304.8 m to 3,048.0 m (-1,000 ft to 10,000 ft)
Non-Operating: -304.8 m to 12,192.0 m (-1,000 ft to 40,000 ft)
Shipping policy
Any items which are in stock, will be dispatched immediately - same day if possible and morning of the following business day at the latest. Items which are not in stock at our local warehouse will be routed to us, and dispatched immediately upon arrival to us. In that case, the estimated dispatch time is noted on the product page.
Note that you are always welcome to email info@dittools.eu or call (+372) 5556 0057 for a more accurate shipping time estimate, as this does vary depending on a number of factors.
Standard shipping
Unless otherwise noted, all items are shipped standard via DPD. We normally ship to European Union countries only – do contact us for possible exceptions, particularly other European mainland countries. Shipping times vary between 1 to 10 business days within Europe – an up to date estimate will be given at checkout.
Express shipping
Our shipping partner for expedited deliveries is DHL Express; please contact us directly for a quote.
Returning an item
If you are not completely satisfied with your purchase, you can return your item(s) for a full refund within 14 days of confirmed delivery.
Special sales, demo items and promotions may have modified return policies. If an item from a bundle is returned for refund, the total bundle discount or the total value of the gifts will get deducted from the returned item prior to issuing a refund. If the bundle discount (or gift value) exceeds the value of the returned item, the difference must be paid to be able to return the item.
Return autorization
If you would like to return any item(s), please contact us by either emailing info@dittools.eu or calling (+372) 5556 0057. We will share with you a Return Merchandise Authorization (RMA) code and ask that you clearly mark this code outside of your shipping box as you ship your item(s) back for a refund.
You will be liable for the shipping and any applicable customs/duty fees returning the item(s).
Incorrect items
If the return is made due to a faulty product, or an incorrectly shipped product, or if you are returning the item(s) due to a defect, or functionality issue, or because it is not the item you have ordered, we will gladly email or mail a return shipping label covering all shipping related expenses. In order to determine whether the return is initiated due to a technical problem, we may ask for you to provide visual support like images or a video on the item(s).
Shipping
Returned merchandise must be in its original packaging, and placed in a decent shipping box, e.g. the same box that we shipped the items to you in. Please make sure to clearly mark the RMA code you have received from us outside on the box.
Do not forget to cover or peel off any existing shipping labels on the box.
DIT Supplies OÜ cannot be held accountable for return shipments that have not reached us or returns made without RMA codes. We strongly advise that if you are returning the item(s) with a carrier of your choice that you use a traceable shipping method.
It may take 4-5 business days for your return to reach us. Once it is received and inspected, your refund will be processed and automatically applied to your credit card or original method of payment within 14 business days. Please note that depending on your credit card company, it may take an additional 2-4 business days after your credit is applied for it to post to your account.
Customs, duties & taxes
There are no customs duties or taxes on orders shipping within the EU. Orders shipped outside of the EU may be subject to import taxes, customs duties and fees collected by the destination country. The recipient of an international shipment may be subject to such import taxes, customs duties and fees, which are collected once a shipment reaches the recipient's country. Additional charges for customs clearance must be paid for by the recipient; we have no control over these charges and cannot predict what they may be. Customs policies vary widely from country to country; and when customs clearance procedures are required, it can cause delays beyond our original delivery estimates. We advise that you contact your local customs office for more information.