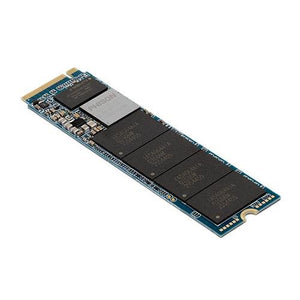 Aura P12 Pro NVMe M.2 SSD gears up your system for media heavy projects or breakthroughs in your favorite hardware-punishing games. Using NVMe technology designed for flash memory, Aura P12 Pro provides a perfectly optimized blend of speed and reliability features to reach speeds up to 3400MB/s, so you can stream high-res video and graphics files without a glitch. With a built-in SLC caching technique, the drive delivers ultra-fast write speeds up to 3000MB/s optimized to endure your render queue.
Inside-Out Versatility
Aura P12 Pro is a versatile SSD that's at home in an enclosure or loaded on your PC's motherboard. In an external drive, Aura P12 Pro offers dependable speed and data protection for on-location downloads of large media files – 8K video, high-res photo, and audio files. With faster data transfer in the field, you can quickly get to the next phase of your project.

Internally, Aura P12 Pro adds a new performance dimension to your PC that can equate to faster previews, renders and processing in audio and VFX programs. Gaming with Aura P12 Pro creates a new realm of speed and responsiveness, giving you an extra edge on the competition.

Built to Outlast
Engineered with fail-safes, Aura P12 Pro is optimized for the best and longest working life, especially in write-intensive workflows. From running double checks on data and correcting errors to ensuring the uniform use of its flash media, this SSD is calibrated for endurance as a factory pre-set.
Aura P12 Pro is overprovisioned at 7%, meaning it has extra NAND cells on standby to increase longevity and preserve performance.
Service and Support
OWC is proud to introduce Aura P12 Pro to its lineup of industry leading SSDs. Optimized for work and play, Aura P12 Pro is backed by OWC's industry-leading warranty and free USA-based lifetime support. Our support teams are available to answer questions, troubleshoot, and help you get the most from your new SSD.
Capacity

3840GB Useable Capacity
Total Flash Memory Components: 4096GB
256GB Allocated to real-time data redundancy and error correction

Format

Controller

Phison E12S with 7% over-provisioning

NAND Flash Components

Toshiba Synchronous Triple-Level Cell (TLC) 3D NAND Flash

S.M.A.R.T. Attributes

Standard attributes supported

Native Command Queuing (NCQ)

Up to 32 simultaneous commands

Sequential Read (Average)

Sequential Write (Average)

Nonrecoverable Read Errors

MTBF (Mean Time Between Failures)

Endurance

6820TB total bytes written (TBW), equal to 2670 GB per day for 7 years

Mac OS Compatibility

Requires additional hardware, please see the 'Other Requirements' section for more details.

Other Requirements

Requires a compatible external enclosure. Not a compatible replacement for the internal drive in any Mac computer.

 

Dimensions

Height: 0.3 cm (0.1 in)
Length: 8.0 cm (3.1 in)
Width: 2.2 cm (0.9 in)

Ambient Temperature

Operating: 32°F to 158°F (0°C to 70°C)
Non-Operating: -40°F to 185°F (-40°C to 85°C)

Altitude

Operating: -304.8 m to 3,048.0 m (-1,000 ft to 10,000 ft)
Non-Operating: -304.8 m to 12,192.0 m (-1,000 ft to 40,000 ft)

Humidity

Operating: 0% to 90% non-condensing
Non-Operating: 0% to 93% non-condensing

Shock

Non-Operating: 1500 G max

Applications

Select PCs
Select External Enclosures
Select PCIe Host Cards
Creative Apps
Productivity Apps
Gaming
Shipping policy
Any items which are in stock, will be dispatched immediately - same day if possible and morning of the following business day at the latest. Items which are not in stock at our local warehouse will be routed to us, and dispatched immediately upon arrival to us. In that case, the estimated dispatch time is noted on the product page.
Note that you are always welcome to email info@dittools.eu or call (+372) 5556 0057 for a more accurate shipping time estimate, as this does vary depending on a number of factors.
Standard shipping
Unless otherwise noted, all items are shipped standard via DPD. We normally ship to European Union countries only – do contact us for possible exceptions, particularly other European mainland countries. Shipping times vary between 1 to 10 business days within Europe – an up to date estimate will be given at checkout.
Express shipping
Our shipping partner for expedited deliveries is DHL Express; please contact us directly for a quote.
Returning an item
If you are not completely satisfied with your purchase, you can return your item(s) for a full refund within 14 days of confirmed delivery.
Special sales, demo items and promotions may have modified return policies. If an item from a bundle is returned for refund, the total bundle discount or the total value of the gifts will get deducted from the returned item prior to issuing a refund. If the bundle discount (or gift value) exceeds the value of the returned item, the difference must be paid to be able to return the item.
Return autorization
If you would like to return any item(s), please contact us by either emailing info@dittools.eu or calling (+372) 5556 0057. We will share with you a Return Merchandise Authorization (RMA) code and ask that you clearly mark this code outside of your shipping box as you ship your item(s) back for a refund.
You will be liable for the shipping and any applicable customs/duty fees returning the item(s).
Incorrect items
If the return is made due to a faulty product, or an incorrectly shipped product, or if you are returning the item(s) due to a defect, or functionality issue, or because it is not the item you have ordered, we will gladly email or mail a return shipping label covering all shipping related expenses. In order to determine whether the return is initiated due to a technical problem, we may ask for you to provide visual support like images or a video on the item(s).
Shipping
Returned merchandise must be in its original packaging, and placed in a decent shipping box, e.g. the same box that we shipped the items to you in. Please make sure to clearly mark the RMA code you have received from us outside on the box.
Do not forget to cover or peel off any existing shipping labels on the box.
DIT Supplies OÜ cannot be held accountable for return shipments that have not reached us or returns made without RMA codes. We strongly advise that if you are returning the item(s) with a carrier of your choice that you use a traceable shipping method.
It may take 4-5 business days for your return to reach us. Once it is received and inspected, your refund will be processed and automatically applied to your credit card or original method of payment within 14 business days. Please note that depending on your credit card company, it may take an additional 2-4 business days after your credit is applied for it to post to your account.
Customs, duties & taxes
There are no customs duties or taxes on orders shipping within the EU. Orders shipped outside of the EU may be subject to import taxes, customs duties and fees collected by the destination country. The recipient of an international shipment may be subject to such import taxes, customs duties and fees, which are collected once a shipment reaches the recipient's country. Additional charges for customs clearance must be paid for by the recipient; we have no control over these charges and cannot predict what they may be. Customs policies vary widely from country to country; and when customs clearance procedures are required, it can cause delays beyond our original delivery estimates. We advise that you contact your local customs office for more information.