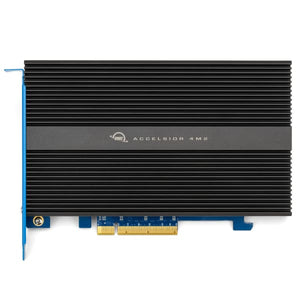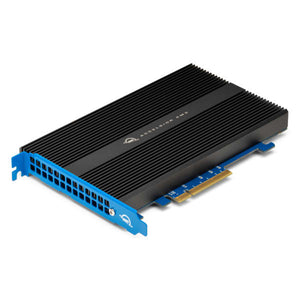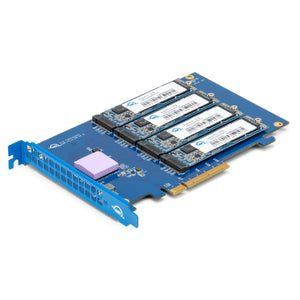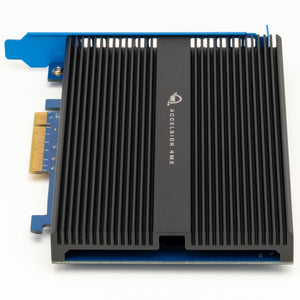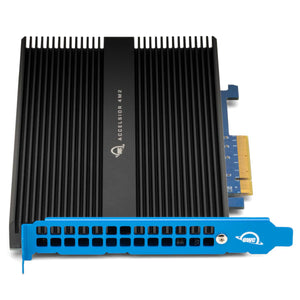 High-Performance PCIe M.2 NVMe SSD Solution
Work Faster: over 6,000MB/s real world speed in RAID 01
Supercharges Mac and PC: ideal for Mac Pro 2019, Mac Pro 2012 or 2010, and PC towers
Highly Versatile: installs into a full-height, half-length x8 or x16 PCIe 3.0 or 2.0 slot2
Slot-Powered: no extra power cables needed
Includes SoftRAID: robust software for creating, monitoring, and managing advanced RAID sets
Work Faster Than Ever
Accelsior 4M2 NVMe SSD is one of OWC's fastest SSDs, with over 6,000MB/s speed for large format video editing, VR/AR/MR environments, extreme gaming, and other high bandwidth needs. Available in capacities up to 32TB, Accelsior 4M2 raises the performance bar for Mac Pro 2019, Mac Pro 2012 and 2010, and PC towers.
It offers silent cooling via a finned heat sink cover and installation versatility with a half-length x8/x16 design. If a Mac/PC doesn't have an open or compatible PCIe slot but is Thunderbolt 3-equipped, Accelsior 4M2 can be used externally in the OWC
WORK FASTER
over 6,000MB/s real world speed in RAID 01
SUPERCHARGES MAC AND PC
ideal for Mac Pro 2019, Mac Pro 2012 or 2010, and PC towers
HIGHLY VERSATILE
installs into a full-height, half-length x8 or x16 PCIe 3.0 or 2.0 slot2
SLOT-POWERED
no extra power cables needed
SILENT COOLING
finned heat sink cover for fanless operation
DEPLOYMENT READY
pre-configured solutions undergo performance verification
BOOTABLE
start working in seconds4
WORRY-FREE
up to 5 Year OWC Limited Warranty5
The Performance Advantage of NVMe
Non-Volatile Memory Express (NVMe) is a communication standard specifically built to optimize the performance of modern flash technology. It enables significantly faster SSD performance vs an SSD using the SATA interface, a communication protocol that was originally designed for hard disk drives. With NVMe SSDs powering its heartbeat, Accelsior 4M2 delivers extreme data rates that will change the way you work or play.
More Lanes = Faster Throughput
Accelsior 4M2 was designed with a PCIe switch to let your computer address each of the M.2 NVMe drives at full x4 PCIe speeds instead of hard-limiting each drive to x2 PCIe speeds. When running in JBOD, where all four drives are typically not accessed at the same time, each drive has the unlocked capability to run at full speed.
2 to the Second Power
When over 6,000MB/s real world speed and 32TB of capacity isn't enough to satisfy your needs, you can RAID two Accelsior 4M2 cards together to experience out-of-this-world performance.
RAID Made Easy
Harness the full capability of your OWC drive array with the included SoftRAID XT, the most powerful, intuitive RAID management software on the market for macOS and Windows. SoftRAID's RAID creation and management technology has been finely tuned to perfection with over 20 years of development to provide rock solid protection of your data and optimize drive performance.
Packed with Features
SoftRAID XT provides an unbeatable combination of speed, protection, and compatibility:
Advanced: Create RAID 0/1/4/5/1+0 (10) arrays1
Protected: SoftRAID Monitor constantly watches your disks and alerts you if problems are detected
Validated: Volume validation ensures sectors can be read and parity is correct
Certified: Checks disks before use to ensure they are safe for data storage
Vigilant: Error prediction helps protect against unexpected failure
Universal: Move SoftRAID arrays seamlessly between Mac and PC2 with built-in OWC MacDrive technology
Beyond Hardware RAID
SoftRAID provides a level of storage performance that you simply can't get with hardware RAID. Software RAID gives you increased power and control over your RAID drives and disks that hardware RAID can't deliver and doesn't lock you into technology that you can't upgrade or expand.
Shipping policy
Any items which are in stock, will be dispatched immediately - same day if possible and morning of the following business day at the latest. Items which are not in stock at our local warehouse will be routed to us, and dispatched immediately upon arrival to us. In that case, the estimated dispatch time is noted on the product page.
Note that you are always welcome to email info@dittools.eu or call (+372) 5556 0057 for a more accurate shipping time estimate, as this does vary depending on a number of factors.
Standard shipping
Unless otherwise noted, all items are shipped standard via DPD. We normally ship to European Union countries only – do contact us for possible exceptions, particularly other European mainland countries. Shipping times vary between 1 to 10 business days within Europe – an up to date estimate will be given at checkout.
Express shipping
Our shipping partner for expedited deliveries is DHL Express; please contact us directly for a quote.
Returning an item
If you are not completely satisfied with your purchase, you can return your item(s) for a full refund within 14 days of confirmed delivery.
Special sales, demo items and promotions may have modified return policies. If an item from a bundle is returned for refund, the total bundle discount or the total value of the gifts will get deducted from the returned item prior to issuing a refund. If the bundle discount (or gift value) exceeds the value of the returned item, the difference must be paid to be able to return the item.
Return autorization
If you would like to return any item(s), please contact us by either emailing info@dittools.eu or calling (+372) 5556 0057. We will share with you a Return Merchandise Authorization (RMA) code and ask that you clearly mark this code outside of your shipping box as you ship your item(s) back for a refund.
You will be liable for the shipping and any applicable customs/duty fees returning the item(s).
Incorrect items
If the return is made due to a faulty product, or an incorrectly shipped product, or if you are returning the item(s) due to a defect, or functionality issue, or because it is not the item you have ordered, we will gladly email or mail a return shipping label covering all shipping related expenses. In order to determine whether the return is initiated due to a technical problem, we may ask for you to provide visual support like images or a video on the item(s).
Shipping
Returned merchandise must be in its original packaging, and placed in a decent shipping box, e.g. the same box that we shipped the items to you in. Please make sure to clearly mark the RMA code you have received from us outside on the box.
Do not forget to cover or peel off any existing shipping labels on the box.
DIT Supplies OÜ cannot be held accountable for return shipments that have not reached us or returns made without RMA codes. We strongly advise that if you are returning the item(s) with a carrier of your choice that you use a traceable shipping method.
It may take 4-5 business days for your return to reach us. Once it is received and inspected, your refund will be processed and automatically applied to your credit card or original method of payment within 14 business days. Please note that depending on your credit card company, it may take an additional 2-4 business days after your credit is applied for it to post to your account.
Customs, duties & taxes
There are no customs duties or taxes on orders shipping within the EU. Orders shipped outside of the EU may be subject to import taxes, customs duties and fees collected by the destination country. The recipient of an international shipment may be subject to such import taxes, customs duties and fees, which are collected once a shipment reaches the recipient's country. Additional charges for customs clearance must be paid for by the recipient; we have no control over these charges and cannot predict what they may be. Customs policies vary widely from country to country; and when customs clearance procedures are required, it can cause delays beyond our original delivery estimates. We advise that you contact your local customs office for more information.