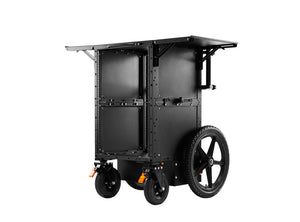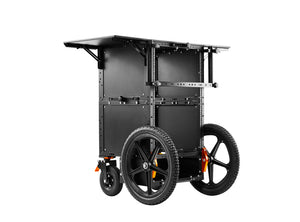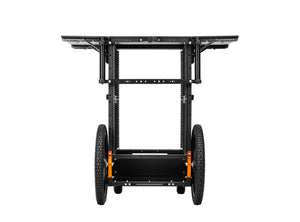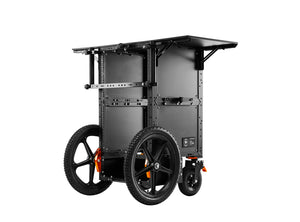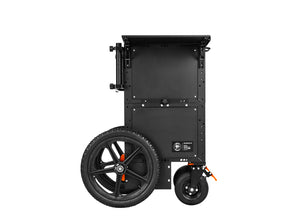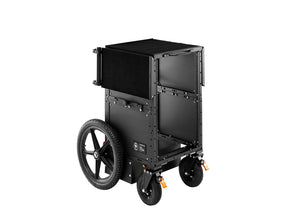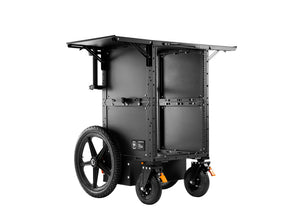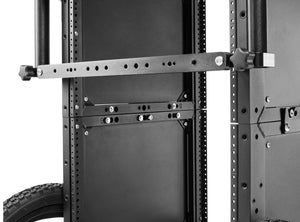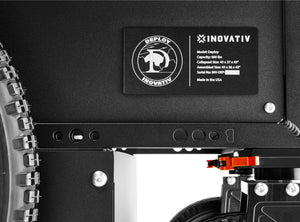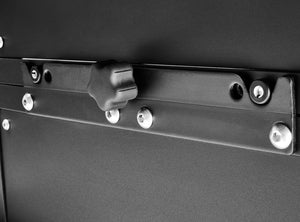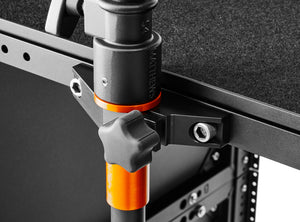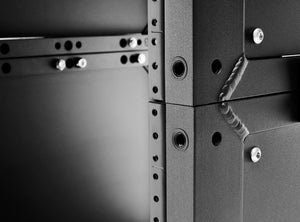 4-6 weeks lead time
Inovativ Deploy Gen IV without bottom drawer
Deploy Gen IV is the crème de la crème when it comes to rack-mountable vertical workstations. With its split design configuration the two equal halves allow you to separate for transport. There are 8U's on top and 8U's on the bottom, with a total of 16U's of usable rack-mountable space.
Deploy was created by Matt Conrad, a Los Angeles based Digital Imaging Technician, who recognized the need for a vertical workstation with a smaller footprint. The Gen IV is Deploy's newest line of vertical carts that have been redesigned by INOVATIV from the ground up to be lighter in weight, easier to move around, and include all of the benefits and features of using INOVATIV's long line of integrated accessories.  The Gen IV uses premium materials, has impeccable build quality, and is accompanied with INOVATIV's 5 year limited manufacturers warranty and customer service and support that extends through your products lifetime.
The Gen IV has four removable aluminum side panels that reduce dust penetration to the inside of the workstation and provide easy access to rack mounted components in case any necessary adjustments need to be made. 
The top surface of the Gen IV is aluminum, is equipped with a 2.5″ cable pass through hole for improved cable management, and is finished INOVATIV's signature black outdoor marine carpet.
The Gen IV was designed with INOVATIV's reliable and lightweight 8" EVO Dovetail Wheel System in the front and standard 20" Skyway wheels in the back to improve its capability for easy curb assistance and accessing stairs. 
Another key feature is the two aluminum handles it comes with for easier mobility. One handle is located in the front, at the top of the workstation, and the second handle is located at the back of the workstation on the bottom, to be used as a stepping plate to easily pull the workstation over cables, curbs, and uneven surfaces.
For easier access through narrow halls and entryways, the Gen IV has collapsible side wings. When fully extended, the side wings provide an additional 24″ of workspace.
Gen IV also includes an accessory mount on the back side of the workstation to allow for use of monitor mounting and accessories that won't take up or limit your workstation space. 
In addition to all of the updated features, the aluminum frame design includes several new threaded mounting points to support a variety of tools and accessories. These include receiver tubes that accept INOVATIV's fixed Insight Monitor Mount System, INOVATIV Corner Baby Pin Plug, and Two-Stage Corner Risers that are most commonly used on the Apollo workstations. 
Additionally you'll find the Center Mast Bracket mounted in the rear of the cart on the top frame, dead center, that is used as an additional mounting point for accessories. Think of the Center Mast Bracket as a hub for mounting transceivers, receivers, boom polls and more. 
ADDITIONAL INFORMATION
| | |
| --- | --- |
| WEIGHT | 120 lbs |
| DIMENSIONS | 43 × 26.5 × 27 in |
Shipping policy
Any items which are in stock, will be dispatched immediately - same day if possible and morning of the following business day at the latest. Items which are not in stock at our local warehouse will be routed to us, and dispatched immediately upon arrival to us. In that case, the estimated dispatch time is noted on the product page.
Note that you are always welcome to email info@dittools.eu or call (+372) 5556 0057 for a more accurate shipping time estimate, as this does vary depending on a number of factors.
Standard shipping
Unless otherwise noted, all items are shipped standard via DPD. We normally ship to European Union countries only – do contact us for possible exceptions, particularly other European mainland countries. Shipping times vary between 1 to 10 business days within Europe – an up to date estimate will be given at checkout.
Express shipping
Our shipping partner for expedited deliveries is DHL Express; please contact us directly for a quote.
Returning an item
If you are not completely satisfied with your purchase, you can return your item(s) for a full refund within 14 days of confirmed delivery.
Special sales, demo items and promotions may have modified return policies. If an item from a bundle is returned for refund, the total bundle discount or the total value of the gifts will get deducted from the returned item prior to issuing a refund. If the bundle discount (or gift value) exceeds the value of the returned item, the difference must be paid to be able to return the item.
Return autorization
If you would like to return any item(s), please contact us by either emailing info@dittools.eu or calling (+372) 5556 0057. We will share with you a Return Merchandise Authorization (RMA) code and ask that you clearly mark this code outside of your shipping box as you ship your item(s) back for a refund.
You will be liable for the shipping and any applicable customs/duty fees returning the item(s).
Incorrect items
If the return is made due to a faulty product, or an incorrectly shipped product, or if you are returning the item(s) due to a defect, or functionality issue, or because it is not the item you have ordered, we will gladly email or mail a return shipping label covering all shipping related expenses. In order to determine whether the return is initiated due to a technical problem, we may ask for you to provide visual support like images or a video on the item(s).
Shipping
Returned merchandise must be in its original packaging, and placed in a decent shipping box, e.g. the same box that we shipped the items to you in. Please make sure to clearly mark the RMA code you have received from us outside on the box.
Do not forget to cover or peel off any existing shipping labels on the box.
DIT Supplies OÜ cannot be held accountable for return shipments that have not reached us or returns made without RMA codes. We strongly advise that if you are returning the item(s) with a carrier of your choice that you use a traceable shipping method.
It may take 4-5 business days for your return to reach us. Once it is received and inspected, your refund will be processed and automatically applied to your credit card or original method of payment within 14 business days. Please note that depending on your credit card company, it may take an additional 2-4 business days after your credit is applied for it to post to your account.
Customs, duties & taxes
There are no customs duties or taxes on orders shipping within the EU. Orders shipped outside of the EU may be subject to import taxes, customs duties and fees collected by the destination country. The recipient of an international shipment may be subject to such import taxes, customs duties and fees, which are collected once a shipment reaches the recipient's country. Additional charges for customs clearance must be paid for by the recipient; we have no control over these charges and cannot predict what they may be. Customs policies vary widely from country to country; and when customs clearance procedures are required, it can cause delays beyond our original delivery estimates. We advise that you contact your local customs office for more information.