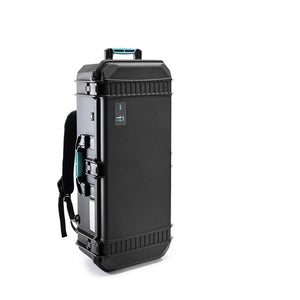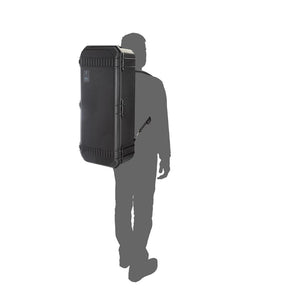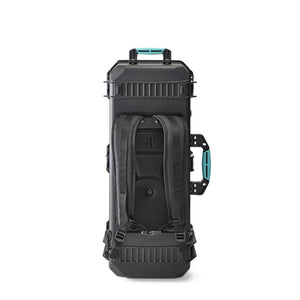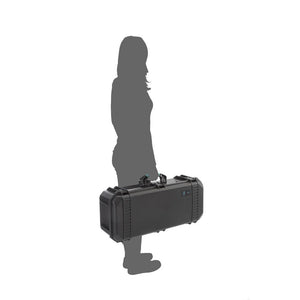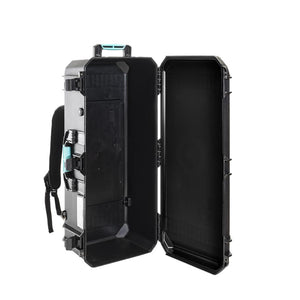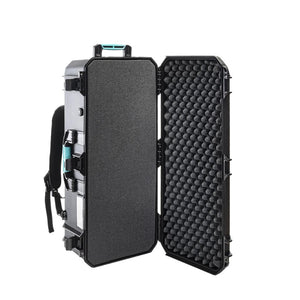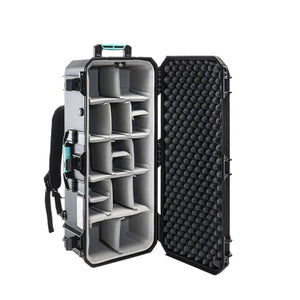 Give your case a personal touch! At the check-out, you can ask for a laser-engraved logo, design or text to be added.
HPRC5200R is the first and only protective case that becomes a backpack in a matter of seconds.
On the bottom of the case, a removable panel that can be easily replaced with soft padding. The kit to quickly and easily transform the case into a backpack includes: shoulder straps, plate, backrest, screws and Allen key. Everything you need, ready for use.
The case can be purchased empty, with pre-cubed foam or with Second Skin.
In both versions, case and backpack, the high performance characteristics of the entire HPRC range are not only maintained, but improved. HPRC cases are guaranteed for life and thanks to their durability they can be reused over and over again without weighing on the environment. Furthermore, each case and all its parts and components can be entirely recycled.
The fields of application and the instruments that can be housed in the case are the most varied:
bird watching
telescopes / spotting scopes with tripod
tubular lights, imaging lights, long optics, stands/tripods
small weather stations
measuring instruments (such as diopters / tachometers with support)
musical instruments (sax, violin to name a few)
equipment / tools developed horizontally of any industrial sector
The backpack version can be a great convenience, especially if the equipment must be transported in inaccessible places or if the hands must be free.
Technical features:
Materials: the case structure is made of TTX01®, a patented material composed of a polypropylene-based compound containing mineral fillers and elastomer. The use of this compound allows to keep the case strength unaltered while increasing the elasticity, and ensures a very high resistance to impacts, falls and pressures. There is more: The case gains in lightness, having a weight up to 20% less than the competition.
Certifications:
The HPRC collection has undergone stringent testing based on national and international regulations / standards, including
STANAG 4280 (NATO Defence Standard: horizontal and vertical drop impact test, Europe)
DS 81-41 (DEF STAN 81-41: horizontal and vertical drop impact test, USA)
IP67 (watertight)
ATA 300 (construction of the case as required by the Air Transport Association)
HPRC cases used at extreme temperatures do not lose their distinctive characteristics. Guaranteed temperature range is - 40°C to + 80°C (40°F up to + 176°F)
UV resistance of the material and color (the pigments used have maximum UV resistance)
Ergonomic handle
UL-94 V-0 (Flame retardant: fire resistance classification according to the standards established by Underwriters Laboratories, on request)
Rounded corners: the 4 reinforced corners, both in the upper and lower part of the case, have also been rounded to ensure better protection from shocks while giving the case a touch of originality.
TSA: The housings for the TSA locks are coated in metal, for a longer life.
Handles: there are two handles made of PP and SEBS, with ergonomic and scratch-resistant grips. Maximum comfort, optimal handling and secure grip, even at low temperatures and in the presence of water or humidity.
Lid: with integral closure, offers maximum protection to the stored equipment. The internal O-ring, which runs along the entire perimeter of the lid, is made of expanded EPDM and guarantees the case's watertight qualities.
Closing latches: extremely sturdy, they are equipped with a two-step opening / closing system which ensures fluidity of movement and prevents the hooks from opening in the event of a fall.
Automatic valve: as in all HPRC cases, also this model features is an automatic valve that regulates the air pressure inside the case.
Name plate: large, with a renewed design that allows immediacy of reading and better resistance during use.
In addition to withstanding falls, impacts and extreme temperatures, being watertight, like the entire HPRC range, the case is also dust, sand and acids-proof: a means of transport that guarantees unparalleled protection.
Shipping policy
Any items which are in stock, will be dispatched immediately - same day if possible and morning of the following business day at the latest. Items which are not in stock at our local warehouse will be routed to us, and dispatched immediately upon arrival to us. In that case, the estimated dispatch time is noted on the product page.
Note that you are always welcome to email info@dittools.eu or call (+372) 5556 0057 for a more accurate shipping time estimate, as this does vary depending on a number of factors.
Standard shipping
Unless otherwise noted, all items are shipped standard via DPD. We normally ship to European Union countries only – do contact us for possible exceptions, particularly other European mainland countries. Shipping times vary between 1 to 10 business days within Europe – an up to date estimate will be given at checkout.
Express shipping
Our shipping partner for expedited deliveries is DHL Express; please contact us directly for a quote.
Returning an item
If you are not completely satisfied with your purchase, you can return your item(s) for a full refund within 14 days of confirmed delivery.
Special sales, demo items and promotions may have modified return policies. If an item from a bundle is returned for refund, the total bundle discount or the total value of the gifts will get deducted from the returned item prior to issuing a refund. If the bundle discount (or gift value) exceeds the value of the returned item, the difference must be paid to be able to return the item.
Return autorization
If you would like to return any item(s), please contact us by either emailing info@dittools.eu or calling (+372) 5556 0057. We will share with you a Return Merchandise Authorization (RMA) code and ask that you clearly mark this code outside of your shipping box as you ship your item(s) back for a refund.
You will be liable for the shipping and any applicable customs/duty fees returning the item(s).
Incorrect items
If the return is made due to a faulty product, or an incorrectly shipped product, or if you are returning the item(s) due to a defect, or functionality issue, or because it is not the item you have ordered, we will gladly email or mail a return shipping label covering all shipping related expenses. In order to determine whether the return is initiated due to a technical problem, we may ask for you to provide visual support like images or a video on the item(s).
Shipping
Returned merchandise must be in its original packaging, and placed in a decent shipping box, e.g. the same box that we shipped the items to you in. Please make sure to clearly mark the RMA code you have received from us outside on the box.
Do not forget to cover or peel off any existing shipping labels on the box.
DIT Supplies OÜ cannot be held accountable for return shipments that have not reached us or returns made without RMA codes. We strongly advise that if you are returning the item(s) with a carrier of your choice that you use a traceable shipping method.
It may take 4-5 business days for your return to reach us. Once it is received and inspected, your refund will be processed and automatically applied to your credit card or original method of payment within 14 business days. Please note that depending on your credit card company, it may take an additional 2-4 business days after your credit is applied for it to post to your account.
Customs, duties & taxes
There are no customs duties or taxes on orders shipping within the EU. Orders shipped outside of the EU may be subject to import taxes, customs duties and fees collected by the destination country. The recipient of an international shipment may be subject to such import taxes, customs duties and fees, which are collected once a shipment reaches the recipient's country. Additional charges for customs clearance must be paid for by the recipient; we have no control over these charges and cannot predict what they may be. Customs policies vary widely from country to country; and when customs clearance procedures are required, it can cause delays beyond our original delivery estimates. We advise that you contact your local customs office for more information.