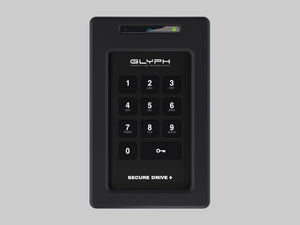 Security Made Simple
Feel at ease when your data is protected by the Glyph SecureDrive+. A hardware encrypted, rugged, and portable drive with wireless unlocking via secure Bluetooth.
Powerful Encryption
Featuring industry leading XTS-AES 256-bit hardware encryption, integrated brute-force prevention and anti-hacking protection, as well as secure wireless pairing to your phone for dual-factor authentication, FaceID / TouchID unlock and password retrieval. SecureDrive+ lets you safeguard your most precious asset, your data.
Easy to Unlock, For You
Encrypted Bluetooth pairs the SecureDrive+ to your phone, allowing you to unlock with a single press. There is also support for FaceID and TouchID as well as Android biometric unlocking.
Universal Compatibility
Glyph SecureDrive+ features a versatile USB 3.2,Gen1 Type-microB port, with all the cables you need to connect to any host included in the box. Compatible with USB 3.1, 3.0, Type-C, and Thunderbolt 3.
Reliable HDD or Fast Solid State
Configure your SecureDrive+ with up to 5TB of HDD or up to 8TB solid state.
Formatted in ExFAT, Compatible with almost any OS
Out of the box SecureDrive+ is formatted in ExFAT ti maximize compatibility with virtually any host. A simple reformat is all you need to optimize for either Mac or Windows operation.
Remote Management Ready
RM allows an admin to manage drive access remotely to view users, enable geo- and time-fencing, and perform remote password reset. All performed software-free through a web portal. Remote Management is a powerful tool for medium to large scale organizations.
*RM is available through separate subscription that can be added at any time after purchase.
Full Specifications
Connectivity     
USB 3.2, Gen 1
(Compatible with USB 3.0, 2.0, and Thunderbolt 3)
Transfer Speed 
Up to 140 MB/s (HDD)
Up to 360 MB/s (SSD)
Capacities         
Up to 5TB (HDD)
Up to 8TB (SSD)
Power  
Bus-powered
Compatibility    
Formatted in ExFAT
Works with: MacOS, Windows, Linus, Chrome, Thin Clients, Embedded systems, VMWare, Citrix (no software drivers needed)
In The Box         
Glyph SecureDrive+
USB-MicroB to USB-C
USB-MicroB to USB-A
Rugged Carry Case
Rugged Removable Sleeve
Security Module Validation        
FIPS 140-2 Level-3 Validated
Authentication Method
Wireless Bluetooth Mobile app (Android and iOS)
Authentication Mode    
User authentication via mobile phone / SecureData Lock app - iOS/Android (FaceID, TouchID)
Data Protection
Real time military-grade XTS-AES 256-bit full disk hardware encryption
Tamper Proof   
Protected with epoxy compound to prevent subversive physical access to the device.
Brute Force Defense     
Erases all data after 10 consecutive, incorrect PIN entry attempts
Immune to Bad USB      
Yes; firmware updates not allowed
Roles / Permissions       
1 User
Read Only Mode            
Yes
Inactivity Auto Lock       
Predefined times between 1 and 60 minutes
Step Away Auto Lock     
Drive will disappear from File explorer / Finder when the iOS / Android device is moved 3M+ away from the drive for longer than 5 seconds
Regulatory Approvals   
RoHS, FCC, CE, FIPS 140-2 Level 3
Shipping policy
Any items which are in stock, will be dispatched immediately - same day if possible and morning of the following business day at the latest. Items which are not in stock at our local warehouse will be routed to us, and dispatched immediately upon arrival to us. In that case, the estimated dispatch time is noted on the product page.
Note that you are always welcome to email info@dittools.eu or call (+372) 5556 0057 for a more accurate shipping time estimate, as this does vary depending on a number of factors.
Standard shipping
Unless otherwise noted, all items are shipped standard via DPD. We normally ship to European Union countries only – do contact us for possible exceptions, particularly other European mainland countries. Shipping times vary between 1 to 10 business days within Europe – an up to date estimate will be given at checkout.
Express shipping
Our shipping partner for expedited deliveries is DHL Express; please contact us directly for a quote.
Returning an item
If you are not completely satisfied with your purchase, you can return your item(s) for a full refund within 14 days of confirmed delivery.
Special sales, demo items and promotions may have modified return policies. If an item from a bundle is returned for refund, the total bundle discount or the total value of the gifts will get deducted from the returned item prior to issuing a refund. If the bundle discount (or gift value) exceeds the value of the returned item, the difference must be paid to be able to return the item.
Return autorization
If you would like to return any item(s), please contact us by either emailing info@dittools.eu or calling (+372) 5556 0057. We will share with you a Return Merchandise Authorization (RMA) code and ask that you clearly mark this code outside of your shipping box as you ship your item(s) back for a refund.
You will be liable for the shipping and any applicable customs/duty fees returning the item(s).
Incorrect items
If the return is made due to a faulty product, or an incorrectly shipped product, or if you are returning the item(s) due to a defect, or functionality issue, or because it is not the item you have ordered, we will gladly email or mail a return shipping label covering all shipping related expenses. In order to determine whether the return is initiated due to a technical problem, we may ask for you to provide visual support like images or a video on the item(s).
Shipping
Returned merchandise must be in its original packaging, and placed in a decent shipping box, e.g. the same box that we shipped the items to you in. Please make sure to clearly mark the RMA code you have received from us outside on the box.
Do not forget to cover or peel off any existing shipping labels on the box.
DIT Supplies OÜ cannot be held accountable for return shipments that have not reached us or returns made without RMA codes. We strongly advise that if you are returning the item(s) with a carrier of your choice that you use a traceable shipping method.
It may take 4-5 business days for your return to reach us. Once it is received and inspected, your refund will be processed and automatically applied to your credit card or original method of payment within 14 business days. Please note that depending on your credit card company, it may take an additional 2-4 business days after your credit is applied for it to post to your account.
Customs, duties & taxes
There are no customs duties or taxes on orders shipping within the EU. Orders shipped outside of the EU may be subject to import taxes, customs duties and fees collected by the destination country. The recipient of an international shipment may be subject to such import taxes, customs duties and fees, which are collected once a shipment reaches the recipient's country. Additional charges for customs clearance must be paid for by the recipient; we have no control over these charges and cannot predict what they may be. Customs policies vary widely from country to country; and when customs clearance procedures are required, it can cause delays beyond our original delivery estimates. We advise that you contact your local customs office for more information.