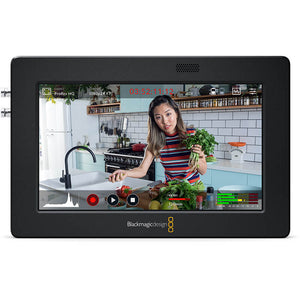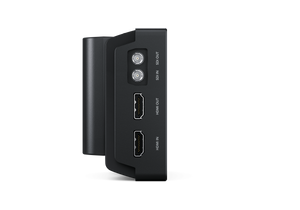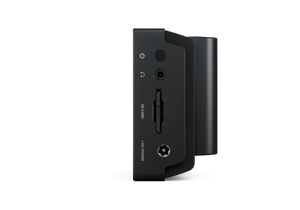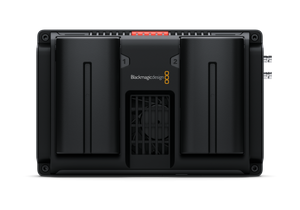 MODERN DESIGN WITH LATEST TECHNOLOGY AND AMAZING SCREENS
All Video Assist models are dominated by a large touch screen with all controls for recording, playback of clips, viewing scopes and setting focus assist features. Both 7" models are large enough to include analogue inputs for audio and two SD card slots so you get continuous recording, with automatic recording to the second card. Both of the 12G models include 12G-SDI and Ultra HD HDMI connections and USB-C for recording direct to external flash media disks. All models include a rear tally light, a front panel speaker for clip playback and a headphone jack. Video Assist uses Sony L-Series batteries, and with 2 battery slots, you can change batteries without interrupting recording.
TRANSFORMS CAMERA
 USABILITY WITH VIDEO ASSIST
Traditional cameras are designed for shoulder mounted operation, so are a compromise. Hours spent leaning into a viewfinder for long tripod mounted shoots can be tough. Video Assist will transform your shooting style with an on-board rigged screen. It's much more comfortable using a screen rigged to a position best suited for a shooting setup. Plus you get better situational awareness for the operator, assistant or director. With both 5" and 7" models, you choose the size of a rigged monitor that suits you best. Plus you're also adding fantastic features such as focus zoom, focus peaking, zebras, histogram, false colour, scopes, frame markers, frame guides, touch screen and more.
CUSTOMIZE YOUR
 TOUCHSCREEN TOOLS AND FEATURES
With large and bright 5 and 7" touchscreens, Video Assist makes it incredible easy to frame shots and accurately focus. The touchscreen displays critical information while you're shooting including the timecode, transport control, audio meters and a histogram for exposure. You can also customize the LCD to add or remove overlays such as current filename, focus peaking, zebra, false colour, frame guides, 3D LUTs and more. 3D LUTs support allows monitoring shots with the desired colour and look, plus you can even "bake in" the LUT if you want to record it into the file. If you're using Blackmagic RAW, the 3D LUT is only added into the metadata so it can be disabled in post production.
DUAL MEDIA RECORDERS FOR UNINTERRUPTED RECORDING
Video Assist uses commonly available SD card media, so you can record to flash memory cards that are easy to obtain. The files are small enough to allow long recordings on standard SD cards or the faster UHS-II cards. The larger Video Assist 12G 7" model even includes 2 SD card slots so you can swap out any full cards even during recording, allowing infinite length recording. Standard SD cards or the faster UHS-II cards are perfect for broadcast because they are small, high speed and affordable.
RECORDING FOR DIGITAL CAMERAS
Blackmagic Video Assist is an ideal upgrade for cameras, as its bright display is bigger than the tiny displays found on consumer cameras, plus you're also adding professional focus assist features and better quality file formats. Video Assist is also a great solution for professional cameras because you can use it to upgrade older broadcast cameras to modern file formats used on the latest editing software. You get support for all editing software as you can record in Apple ProRes and Avid DNx. You can even use Blackmagic RAW on supported cameras. With both HDMI and SDI inputs you can connect it to any consumer camera, broadcast camera or even DSLR cameras.
POST PRODUCTION FRIENDLY FILE FORMATS.
Video Assist records using standard open file formats so you don't have to waste time transcoding media. Files are compatible with all post production software so you can work with the software of your choice, including DaVinci Resolve Studio. Recording works in industry standard 10-bit ProRes or DNx files in all formats and from all HDMI or SDI cameras, as well as 12-bit Blackmagic RAW on the 12G-SDI HDR models when connected to supported cameras. Blackmagic RAW is the fastest growing RAW format and developers can download and use the free Blackmagic RAW SDK to add support to their applications. Best of all media files work on all operating systems.
BUILT IN SCOPES ENSURE COMPLIANCE TO STANDARDS
Video Assist features scopes for accurate exposure on cameras and compliance to broadcast standards. That means it's also a great portable waveform monitoring solution. The waveform display provides a traditional luminance (brightness) level view of the video inputs or the playback signal. The vectorscope allows you to see the intensity of colour at 100% SDI reference levels. You also get a RGB parade display which is ideal for colour correction. Histogram shows the distribution of white to black detail in your images and highlights or shadows clipping. The built in scopes can even be overlaid on live video, or as a small picture in picture view at the top right of the scope.
LOAD CUSTOM 3D LUTS TO RECREATE FILM LOOKS
Some cameras can output logarithmic colourspace to preserve the dynamic range, which is great for later post production, however when these files are viewed on a monitor they can look flat and washed out. 3D LUTs solve this problem because they allow you to apply a "look" to the monitor so you get an idea of how the finished images will look like when editing. LUTs can be applied temporarily for monitoring only, or they can be burned into files for use in editing when capturing Blackmagic RAW. Video Assist works with industry standard 17 and 33 point 3D LUT files, or you can work with the built in LUTs such as Extended Video, Film to Video and more.
DIRECT METADATA
 ENTRY FOR FASTER EDITING
The advanced digital slate and metadata features make it extremely fast to add metadata to any shot. Simply swipe left or right from the edge of the screen to bring up the digital slate. You can even select for take numbers to be automatically incremented when you start and stop recording, so you don't have to enter them manually for each shot. You can also set reel numbers to increment each time you format a card. All metadata is saved with the files and available in post production with software such as DaVinci Resolve.
PROFESSIONAL MULTI CHANNEL SDI AND ANALOG AUDIO
Blackmagic Video Assist includes a built in professional audio recorder that's much better quality than the audio found in most cameras, eliminating the need to carry around extra audio equipment. When working in SDI formats, you can record 2, 4, 8 or 16 channels of audio. For connecting microphones the 7" models have 2 XLR analog audio inputs with phantom power and high definition audio sample rates of 192 kHz at 16 and 24 bit per sample. The audio meters can even be changed between VU or PPM ballistics. Blackmagic Video Assist 12G features the latest audio technology to ensure low noise floor and very low distortion so you can use it for digital cinema and broadcast work.
LOCALIZED FOR 11 POPULAR LANGUAGES
Multiple languages are fully supported so you don't need to learn another language to use it. Support is included for English, Chinese, Japanese, Korean, Spanish, German, French, Russian, Italian, Portuguese and Turkish. At first start, Video Assist will display a menu for selecting a language, plus you can switch languages in the menus. When a language is selected, the on screen text overlays will change to the selected language, as well as overlays on the video outputs when enabled. All this means Video Assist is perfect for doing international location work with different crews because you can just go into the menu and change the language any time you need.
WORKS WITH THE WORLD'S MOST POPULAR VIDEO SOFTWARE
The files from Blackmagic Video Assist are common and are compatible with all operating systems or in most video software. Media can be formatted using ExFAT or HFS+ so you can easily access the media on computers and access the files like regular disks. DaVinci Resolve is perfect for using with Video Assist as it features editing, colour correction, audio post production and visual effects all in one software application. Plus you can download DaVinci Resolve free of charge for Mac, Windows and Linux. You can also use recorded files in other popular software such as Premiere Pro and Final Cut Pro X. With Video Assist, your media is common so your files will remain readable in the future.
5" LCD monitor with 3G‑SDI and HDMI connections
Supports video formats up to 1080p60
Large 5" LCD with focus peaking, zebra and false colour
Include a rear tally light, a front panel speaker for clip playback and a headphone jack
Features include WFM, vector, histogram and RGB parade scopes plus 3D LUTs
Includes a single SD Card recorder for ProRes recording
The advanced digital slate and metadata features make it extremely fast to add metadata to any shot
Includes a built in professional audio recorder
Localized for 11 Popular Languages
The files from Blackmagic Video Assist are common and are compatible with all operating systems or in most video software
Shipping policy
Any items which are in stock, will be dispatched immediately - same day if possible and morning of the following business day at the latest. Items which are not in stock at our local warehouse will be routed to us, and dispatched immediately upon arrival to us. In that case, the estimated dispatch time is noted on the product page.
Note that you are always welcome to email info@dittools.eu or call (+372) 5556 0057 for a more accurate shipping time estimate, as this does vary depending on a number of factors.
Standard shipping
Unless otherwise noted, all items are shipped standard via DPD. We normally ship to European Union countries only – do contact us for possible exceptions, particularly other European mainland countries. Shipping times vary between 1 to 10 business days within Europe – an up to date estimate will be given at checkout.
Express shipping
Our shipping partner for expedited deliveries is DHL Express; please contact us directly for a quote.
Returning an item
If you are not completely satisfied with your purchase, you can return your item(s) for a full refund within 14 days of confirmed delivery.
Special sales, demo items and promotions may have modified return policies. If an item from a bundle is returned for refund, the total bundle discount or the total value of the gifts will get deducted from the returned item prior to issuing a refund. If the bundle discount (or gift value) exceeds the value of the returned item, the difference must be paid to be able to return the item.
Return autorization
If you would like to return any item(s), please contact us by either emailing info@dittools.eu or calling (+372) 5556 0057. We will share with you a Return Merchandise Authorization (RMA) code and ask that you clearly mark this code outside of your shipping box as you ship your item(s) back for a refund.
You will be liable for the shipping and any applicable customs/duty fees returning the item(s).
Incorrect items
If the return is made due to a faulty product, or an incorrectly shipped product, or if you are returning the item(s) due to a defect, or functionality issue, or because it is not the item you have ordered, we will gladly email or mail a return shipping label covering all shipping related expenses. In order to determine whether the return is initiated due to a technical problem, we may ask for you to provide visual support like images or a video on the item(s).
Shipping
Returned merchandise must be in its original packaging, and placed in a decent shipping box, e.g. the same box that we shipped the items to you in. Please make sure to clearly mark the RMA code you have received from us outside on the box.
Do not forget to cover or peel off any existing shipping labels on the box.
DIT Supplies OÜ cannot be held accountable for return shipments that have not reached us or returns made without RMA codes. We strongly advise that if you are returning the item(s) with a carrier of your choice that you use a traceable shipping method.
It may take 4-5 business days for your return to reach us. Once it is received and inspected, your refund will be processed and automatically applied to your credit card or original method of payment within 14 business days. Please note that depending on your credit card company, it may take an additional 2-4 business days after your credit is applied for it to post to your account.
Customs, duties & taxes
There are no customs duties or taxes on orders shipping within the EU. Orders shipped outside of the EU may be subject to import taxes, customs duties and fees collected by the destination country. The recipient of an international shipment may be subject to such import taxes, customs duties and fees, which are collected once a shipment reaches the recipient's country. Additional charges for customs clearance must be paid for by the recipient; we have no control over these charges and cannot predict what they may be. Customs policies vary widely from country to country; and when customs clearance procedures are required, it can cause delays beyond our original delivery estimates. We advise that you contact your local customs office for more information.