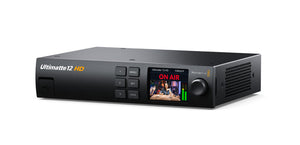 The new Ultimatte 12
The all new Ultimatte 12 is more than the world's best keyer, it's an advanced real time compositing processor designed for the next generation of broadcast graphics. Ultimatte 12 features entirely new algorithms and color science that deliver true photorealistic composites. You get incredible edge handling, greater color separation, amazing color fidelity and better spill suppression than ever before, even in dark shadow areas or through transparent objects such as windows! Ultimatte 12 is available in 4 amazing models, with HD, Ultra HD and even native 8K support! Imagine presenting the weather, sports, news and entertainment in a cinematic quality environment, all composited in real time.
Description
Ultimatte 12 HD is an advanced real time compositing processor designed for keying live action video with next generation broadcast graphics, virtual sets and more. Ultimatte 12 HD features new algorithms and color science, incredible edge handling and color separation, amazing color fidelity, and better spill suppression than ever before. The high performance 3G-SDI design gives you the power to work in HD with sub pixel processing for an amazing image.
Add an Ultimatte 12 to Each Camera!
When you're working live with multiple cameras shooting from different angles, it's common for the green screens to suffer from variations. Plus the keyers built into live production switchers often have to be shared between cameras, which complicates keying because each camera sees the green screen a little differently. The new Ultimatte 12 eliminates these problems because you get incredible technology at an affordable price, allowing each camera to have a separate Ultimatte. That means each Ultimatte can be tuned to a specific camera's view! With a dedicated Ultimatte on each camera, your compositions can go well beyond what's possible with set design, so you can create whole new worlds!
Generate Live Virtual
Environments for Broadcast!
Whether you're working in broadcast news, sports, film production, or magazine style entertainment programming, Ultimatte 12 has the quality for incredibly life like composites that place your talent into any scene! Plus the new Ultimatte 12  models include built in frame stores so you don't need live video sources for all inputs. You can also use Ultimatte 12 to layer computer generated augmented reality foreground objects into a scene, complete with realistic transparency that your talent can walk behind! Ultimatte 12 is also perfect for on set pre visualization in film production because it lets actors and directors watch the scene while they're shooting.
Create Realistic
Fixed Camera Virtual Sets
Now you can create a massive broadcast set, even in small apartments or a basement! That's because all Ultimatte 12 models have frame stores so you can load pre rendered still frames from a 3D modeled broadcast set. This is a revolution in live production because you can now use a virtual set even if you don't have the space for a physical broadcast set! Plus without any external equipment! Just use multiple cameras, each with an Ultimatte 12 and a background frame loaded. As the backgrounds are pre rendered, they can be more photorealistic than a traditional virtual set. If the cameras don't move, the backgrounds will look perfect! Plus Ultimatte 12 is low cost, so you can use more cameras!
Ultimatte 12 HD Mini
Unique Ultimatte 12 with HDMI connections so you get the world's most advanced keyer with consumer cameras! Get full Ultimatte 12 processing and frame stores to create virtual sets at no extra cost!
Ultimatte 12 HD
The world's most advanced chroma keyer in an affordable HD model. Full Ultimatte 12 quality processing gives you next generation edge handling, amazing color separation and better spill suppression.
Ultimatte 12 4K
The world's most advanced chroma keyer with 12G-SDI connections for HD and Ultra HD work. Ultimatte 12 includes next generation edge handling, amazing color separation and better spill suppression.
Ultimatte 12 8K
The world's most advanced chroma keyer with Quad Link 12G-SDI for HD, Ultra HD and 8K! The future proof design has full Ultimatte 12 processing in 8K for next generation broadcast and film production.
New Algorithms and
Expanded Color Space!
All Ultimatte 12 models, even Ultimatte 12 HD Mini, have the same incredibly advanced image processing algorithms and a huge internal color space! This means all models produce identical quality compositions! The processing automatically generates internal mattes so different parts of the image are processed separately based on the colors in each area. It's like having the power of multiple Ultimatte keyers all working together on the same image! You get fine edge detail where it's needed the most, like on hair, and smoother transitions between colors or other objects in the scene. Everything is handled by new math and sub pixel processing that's designed for incredible quality and clarity.
Automatic Scene
Analysis for One Touch Keying
When it comes to live production, you need to work fast. Ultimatte 12 features one touch keying technology that analyzes a scene and automatically sets over a 100 parameters so you get great keys without having to do a lot of extra work! The first step is to ensure your scene is well lit and that the cameras are properly white balanced, then you simply activate the auto key and Ultimatte will do all the work for you! Plus all models include Screen Correction to compensate for unevenly lit green/blue screens. One touch keying is dramatically faster and helps you accurately pull a key with minimum effort. That leaves you free to focus on the program, while Ultimatte 12 takes care of the rest!
Add Translucent Layers
and Broadcast Graphics
Adding additional translucent objects, such as colored or tinted glass and computer graphics, is virtually impossible with a traditional keyer. That's because you can't subtract a blue or green screen out of a semi-transparent colored object without changing the object's original color. Now, with Ultimatte 12, you get a revolutionary new layer compositing mode that lets you add tinted objects on top of the foreground image. That allows a whole new generation of realistic translucent glass looks in broadcast graphics! This means that when you look through the object, or your talent walks behind it, the tinted colors are accurately preserved, making the shot look completely realistic!
Connections
SDI Video Inputs
5
SDI Video Outputs
4
SDI Video Loop Outputs
1
reclocked SD or HD Camera FG.
SDI Rates
270Mb, 1.5G, 3G.
Video Input Re-Sync
On all inputs.
Reference Connections
1 x BNC In, 1 x BNC Out.
Tri-Sync or Black Burst.
GPIO
DE15
Ethernet
Up to 1Gb/s for device control and loading stills into Media Pool.
Computer Interface
1 x USB-C 3.0 for device configuration and software updates.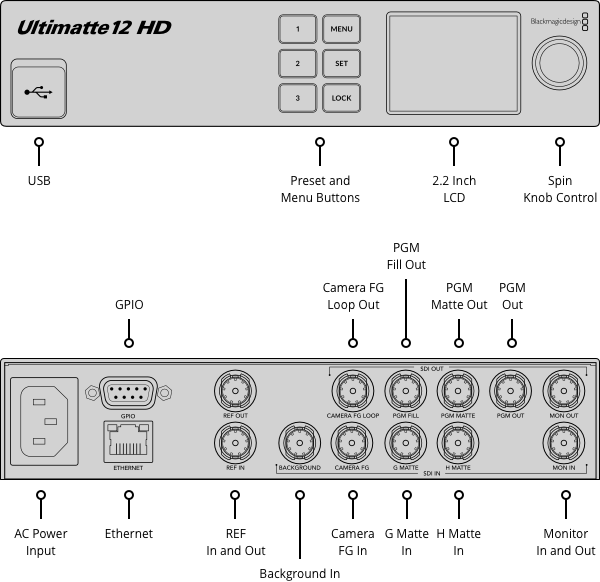 Standards
SD Video Standards
525i59.94 NTSC, 625i50 PAL

HD Video Standards
720p50, 720p59.94, 720p60
1080i50, 1080i59.94, 1080i60
1080p23.98, 1080p24, 1080p25, 1080p29.97, 1080p30, 1080p50, 1080p59.94, 1080p60
1080PsF23.98, 1080PsF24, 1080PsF25, 1080PsF29.97, 1080PsF30

SDI Compliance
SMPTE 259M, SMPTE 292M, SMPTE 296M, SMPTE 424M, SMPTE 425M level A and B.
Video Sampling
4:2:2
Color Precision
10-bit
Color Space
REC 601, REC 709, REC 2020.
Multiple Rate Support
Auto detection of SD and HD.
Composite Sources
Foreground
1 x 3G-SDI In with Loop Out
Background
1 x 3G-SDI In
Still from Media Pool
Background Matte
Internal Window
Still from Media Pool
Garbage Matte
1 x 3G-SDI In
Internal Window
Still from Media Pool
Holdout Matte
1 x 3G-SDI In
Internal Window
Still from Media Pool
Layer
Still from Media Pool
Layer Matte
Internal Window
Still from Media Pool
Composite Outputs
Fill
1 x 3G-SDI
Matte
1 x 3G-SDI
Program
1 x 3G-SDI
Monitor
Monitor In
1 x 3G-SDI
Monitor Out
1 x 3G-SDI
For monitoring Program, Foreground Input, Background Input, Combined Matte, Internal Matte, Fill Out, Layer Input, Background Matte Input, Garbage Matte Input, Holdout Matte Input, Layer Matte Input, Processed Layer Matte, Processed Holdout Matte, Processed Garbage Matte, Processed Background Matte, Screen Correction.
Media Pool
Background Still Image Formats
TGA, TIFF, BMP, PNG, JPG.
Background with Alpha Still Image Formats
TGA, TIFF, BMP.
Layer Image Still Image Formats
TGA, TIFF, BMP, PNG, JPG.
Layer with Alpha Still Image Formats
TGA, TIFF, BMP.
Garbage Matte Still Image Formats
TIFF, BMP, PNG, JPG.
Holdout Matte Still Image Formats
TIFF, BMP, PNG, JPG.
Media Pool Memory
6GB non-volatile internal storage.
Displays
Built in 2.2 inch color display for device name, video preview, video standard audio meters, status and menus.
Control
Front Panel
2.2 inch color display, 3 preset buttons, 3 menu buttons and spin knob.
Control Connection
Network or direct Ethernet connection to a computer running Ultimatte Software Control or Ultimatte Smart Remote 4.
Software Control
Ultimatte Software Control
supported on Mac™ or Windows™ computers.
Hardware Control Panel
Ultimatte Smart Remote 4
Custom Control
Ethernet protocol and GPIO pin out included in the  Ultimatte instruction manual.
Shipping policy
Any items which are in stock, will be dispatched immediately - same day if possible and morning of the following business day at the latest. Items which are not in stock at our local warehouse will be routed to us, and dispatched immediately upon arrival to us. In that case, the estimated dispatch time is noted on the product page.
Note that you are always welcome to email info@dittools.eu or call (+372) 5556 0057 for a more accurate shipping time estimate, as this does vary depending on a number of factors.
Standard shipping
Unless otherwise noted, all items are shipped standard via DPD. We normally ship to European Union countries only – do contact us for possible exceptions, particularly other European mainland countries. Shipping times vary between 1 to 10 business days within Europe – an up to date estimate will be given at checkout.
Express shipping
Our shipping partner for expedited deliveries is DHL Express; please contact us directly for a quote.
Returning an item
If you are not completely satisfied with your purchase, you can return your item(s) for a full refund within 14 days of confirmed delivery.
Special sales, demo items and promotions may have modified return policies. If an item from a bundle is returned for refund, the total bundle discount or the total value of the gifts will get deducted from the returned item prior to issuing a refund. If the bundle discount (or gift value) exceeds the value of the returned item, the difference must be paid to be able to return the item.
Return autorization
If you would like to return any item(s), please contact us by either emailing info@dittools.eu or calling (+372) 5556 0057. We will share with you a Return Merchandise Authorization (RMA) code and ask that you clearly mark this code outside of your shipping box as you ship your item(s) back for a refund.
You will be liable for the shipping and any applicable customs/duty fees returning the item(s).
Incorrect items
If the return is made due to a faulty product, or an incorrectly shipped product, or if you are returning the item(s) due to a defect, or functionality issue, or because it is not the item you have ordered, we will gladly email or mail a return shipping label covering all shipping related expenses. In order to determine whether the return is initiated due to a technical problem, we may ask for you to provide visual support like images or a video on the item(s).
Shipping
Returned merchandise must be in its original packaging, and placed in a decent shipping box, e.g. the same box that we shipped the items to you in. Please make sure to clearly mark the RMA code you have received from us outside on the box.
Do not forget to cover or peel off any existing shipping labels on the box.
DIT Supplies OÜ cannot be held accountable for return shipments that have not reached us or returns made without RMA codes. We strongly advise that if you are returning the item(s) with a carrier of your choice that you use a traceable shipping method.
It may take 4-5 business days for your return to reach us. Once it is received and inspected, your refund will be processed and automatically applied to your credit card or original method of payment within 14 business days. Please note that depending on your credit card company, it may take an additional 2-4 business days after your credit is applied for it to post to your account.
Customs, duties & taxes
There are no customs duties or taxes on orders shipping within the EU. Orders shipped outside of the EU may be subject to import taxes, customs duties and fees collected by the destination country. The recipient of an international shipment may be subject to such import taxes, customs duties and fees, which are collected once a shipment reaches the recipient's country. Additional charges for customs clearance must be paid for by the recipient; we have no control over these charges and cannot predict what they may be. Customs policies vary widely from country to country; and when customs clearance procedures are required, it can cause delays beyond our original delivery estimates. We advise that you contact your local customs office for more information.