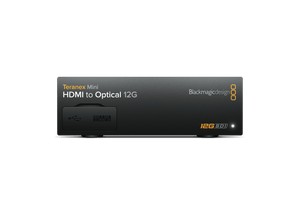 The Teranex Mini HDMI to Optical 12G Converter from Blackmagic Design allows you to convert an HDMI signal to a 12G-SDI output, or install an optional optical fiber module and convert an HDMI signal to fiber. In either case, the output will automatically match the HDMI input resolution. Up to DCI 4K (4096 x 2160) 60p resolution is supported on both input and output. 
An optical fiber module is not included but is supported on the rear. 3G and 6G modules are currently available (models # ADPT-3GBI/OPT and ADPT-6GBI/OPT), and 12G modules are in the works.
The Teranex Mini HDMI to Optical 12G Converter also features full-size XLR inputs that are switchable between balanced analog and AES/EBU digital audio, and which allow you to connect separate audio. The converter also has an Ethernet port that allows you to manage the converter remotely from a Mac or Windows computer using the included Converter Utility software. This capability is especially useful when you're in a larger facility using numerous converters.
The Ethernet port can alternatively be used for Power-over-Ethernet (PoE). If you don't want to use PoE, you won't have to deal with cumbersome power supplies, as the Teranex Mini features a built-in 90-240V power supply, and all you'll need is a standard IEC power cable, sold separately.
The Teranex Mini can be used rack-mounted, concealed in cable ducts, or desktop-mounted. Its compact size makes it useful for portable racks at live events or in broadcast trucks. Up to three units can easily be installed in an optional 1 RU 19" rack tray.
The standard front panel can be replaced with an optional Smart Panel that offers a spin knob, color LCD, and six control buttons, including a menu button. The substantially large LCD will show you the video conversion in progress and will also let you monitor audio levels and verify timecode. The standard front panel simply comes off and the Smart Panel easily attaches in its place. When you're using the standard front panel, you'll have access to an array of mini switches that will let you change settings instantly in correspondence with a diagram printed on the converter. If you swap in the optional Smart Panel, you'll instead be able to use simple on-screen menus while seeing exactly what you're converting.
The Teranex Mini is designed with intelligent heat dissipation that prevents overheating. What makes this feature so effective is a smart thermal design with crossflow cooling that achieves the optimal heat dissipation even when you have units rack-mounted side-by-side one another. An intelligent thermal subsystem and internal heat pipe assist with cooling and keep the air flowing at all times while minimizing noise. Moreover, if the Teranex Mini gets too hot, you'll instantly receive a notification through the remote control Ethernet utility and on the front panel. When multiple units are rack-mounted side by side, each Teranex Mini works together to pull air through the rack, keeping all units cool and providing redundancy for each one.
Key Features
Convert an HDMI signal to a 12G-SDI output
Convert HDMI to optical fiber via optional fiber module
Supports up to DCI 4K (4096 x 2160) 60p signals on input and output
Full-size XLR inputs switchable between balanced analog and AES/EBU audio
Ethernet port supporting PoE or remote control via included Mac/Windows software
Built-in 90-240V power supply (optional standard IEC power cable required)
Can be installed in 19" racks (up to 3 units side-by-side), cable ducts, or desktop-mounted
Front panel is replaceable with an optional LCD Smart Panel
Intelligent thermal heat dissipation
Full SDI re-clocking and low jitter
Shipping policy
Any items which are in stock, will be dispatched immediately - same day if possible and morning of the following business day at the latest. Items which are not in stock at our local warehouse will be routed to us, and dispatched immediately upon arrival to us. In that case, the estimated dispatch time is noted on the product page.
Note that you are always welcome to email info@dittools.eu or call (+372) 5556 0057 for a more accurate shipping time estimate, as this does vary depending on a number of factors.
Standard shipping
Unless otherwise noted, all items are shipped standard via DPD. We normally ship to European Union countries only – do contact us for possible exceptions, particularly other European mainland countries. Shipping times vary between 1 to 10 business days within Europe – an up to date estimate will be given at checkout.
Express shipping
Our shipping partner for expedited deliveries is DHL Express; please contact us directly for a quote.
Returning an item
If you are not completely satisfied with your purchase, you can return your item(s) for a full refund within 14 days of confirmed delivery.
Special sales, demo items and promotions may have modified return policies. If an item from a bundle is returned for refund, the total bundle discount or the total value of the gifts will get deducted from the returned item prior to issuing a refund. If the bundle discount (or gift value) exceeds the value of the returned item, the difference must be paid to be able to return the item.
Return autorization
If you would like to return any item(s), please contact us by either emailing info@dittools.eu or calling (+372) 5556 0057. We will share with you a Return Merchandise Authorization (RMA) code and ask that you clearly mark this code outside of your shipping box as you ship your item(s) back for a refund.
You will be liable for the shipping and any applicable customs/duty fees returning the item(s).
Incorrect items
If the return is made due to a faulty product, or an incorrectly shipped product, or if you are returning the item(s) due to a defect, or functionality issue, or because it is not the item you have ordered, we will gladly email or mail a return shipping label covering all shipping related expenses. In order to determine whether the return is initiated due to a technical problem, we may ask for you to provide visual support like images or a video on the item(s).
Shipping
Returned merchandise must be in its original packaging, and placed in a decent shipping box, e.g. the same box that we shipped the items to you in. Please make sure to clearly mark the RMA code you have received from us outside on the box.
Do not forget to cover or peel off any existing shipping labels on the box.
DIT Supplies OÜ cannot be held accountable for return shipments that have not reached us or returns made without RMA codes. We strongly advise that if you are returning the item(s) with a carrier of your choice that you use a traceable shipping method.
It may take 4-5 business days for your return to reach us. Once it is received and inspected, your refund will be processed and automatically applied to your credit card or original method of payment within 14 business days. Please note that depending on your credit card company, it may take an additional 2-4 business days after your credit is applied for it to post to your account.
Customs, duties & taxes
There are no customs duties or taxes on orders shipping within the EU. Orders shipped outside of the EU may be subject to import taxes, customs duties and fees collected by the destination country. The recipient of an international shipment may be subject to such import taxes, customs duties and fees, which are collected once a shipment reaches the recipient's country. Additional charges for customs clearance must be paid for by the recipient; we have no control over these charges and cannot predict what they may be. Customs policies vary widely from country to country; and when customs clearance procedures are required, it can cause delays beyond our original delivery estimates. We advise that you contact your local customs office for more information.