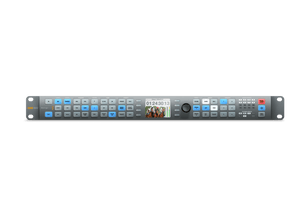 Product Highlights
Dual SD/HD/3G/6G/12G-SDI I/O
Quad-Link SDI Output
HDMI 2.0 Input and Output
Supports SD, HD, 2K, and UHD 4K
Automatic Input Signal Detection
Redundant SDI Input & Looped SDI Output
24-Bit, 48 kHz Audio
XLR Audio Inputs and RCA Audio Outputs
Front Panel Controls
Software Control via RJ45 Ethernet
The Blackmagic Design Teranex AV is specifically designed with new features for live events and professional AV installations, as well as broadcast and post production workflows. You get 1,089 up, down, cross and standards conversions for all formats up to 2160p60, along with Teranex's patented algorithms and legendary image quality. Teranex AV offers low latency, and features a still store for adding logos and graphics, a live freeze frame and can generate a reference signal. You get professional 12G-SDI and quad SDI connections which can be used simultaneously, consumer HiFi, XLR audio, HDMI in, loop and outputs, and more! There are even metal brackets at the rear to prevent cables and connections from getting damaged when installed in tight locations!
Teranex AV features low latency that's as low as 67 milliseconds, which means that customers can convert any HDMI or SDI video format instantaneously to a different format and output it for projection in sync with the live event. For example, if you use Teranex AV at a concert can project a close up of a virtuoso pianist as their fingers fly across the keys on a big screen projector in synchronisation with the live performance.
In addition, customers get advanced HDMI 2.0a processing with input, loop through and output connections. This lets customers convert HDMI to SDI without any additional hardware. They can loop the HDMI signal out to a big screen projector while simultaneously converting it and and sending it to downstream equipment like decks and monitors.
For audio, Teranex AV also features 2 channel consumer HiFi connections, as well as XLR connections for 4 channels of AES/EBU or 2 channels of balanced analog audio. The consumer HiFi connections are critical for professional AV customers because they allow lapel microphones, laptop computers and other devices with consumer audio connections to be used with Teranex AV. Now customers can connect virtually any audio source to Teranex AV and use it to embed the audio with the video and output the signal in any format.
Teranex AV also features a still store that can capture a video frame in any format and hold it in memory, even when the power is cycled. You can preload corporate logos or graphics to display between presenters at conferences, or for outputting sponsor logos at concerts and events between acts. Plus, Teranex AV has built in resynchronization, so customers always get clean switches between the still store and live feeds for professional looking presentations.
There's even a live freeze frame feature that temporarily holds any current frame on the screen until Teranex AV is switched to another video output, a black frame, or the still store. This is ideal for conferences and events where customers might need to hold a slide on screen while the presenter makes changes to their presentation in the background. The freeze frame and still store make it possible to always have something on screen at all times.
In addition to HDMI and 12G-SDI connections, Teranex AV also includes quad link 3G-SDI outputs, making it compatible with a wide range of older Ultra HD monitors and projectors that only support quad link SDI 1080 HD inputs. This also makes Teranex AV a great video wall processor because it can split Ultra HD into 4 HD screens, or it can scale regular HD up, split it and output it onto 4 large screens for a tiled video wall. That means you can create massive multi-screen outdoor displays and digital signs that will amaze the crowd at live events!
Also featuring BNC input and output connections for generating or receiving reference signals. The built in ethernet connection allows for remote control, and an optical fiber cage is available for adding optional SMPTE fiber optic modules so customers can send video and audio over massive distances. Teranex AV even has rear brackets to protect cables and connectors from damage during portable, outside broadcast, or field work.
With Teranex AV, customers get 1089 up, down, cross and standards conversions for all formats up to 2160p60 in full 10-bit quality. Like all Teranex processors, Teranex AV features patented algorithms and powerful processing that give customers visually transparent conversions that are indistinguishable from the original. Conversions use optical quality scaling, have advanced de-interlacing, noise reduction, automatic 3:2 cadence detection, removal and insertion, and retain timecode, ancillary data, audio and more.
Features
Aspect Ratio Conversion
Real-time variable and fixed aspect ratio conversions
Real-Time Video Processing
Includes noise reduction, cadence detection with insertion/removal, scene cut detection, color correction, and proc amp control
Format Conversion
Real-time color space conversion, up conversion, down conversion , cross conversion and SD/HD/Ultra HD standards conversion
Still Store
Capture a video frame into non-volatile memory from the current input signal
Freeze Frame
Temporarilly freeze incoming live video
Test Patterns
SMPTE 75% Bars
Full-field color bars 75%
Convergence grid
Multi-burst
Black-burst
Output Switching
Output may be switched between the input video, internal black, user still frame or a freeze frame from the input video
Shipping policy
Any items which are in stock, will be dispatched immediately - same day if possible and morning of the following business day at the latest. Items which are not in stock at our local warehouse will be routed to us, and dispatched immediately upon arrival to us. In that case, the estimated dispatch time is noted on the product page.
Note that you are always welcome to email info@dittools.eu or call (+372) 5556 0057 for a more accurate shipping time estimate, as this does vary depending on a number of factors.
Standard shipping
Unless otherwise noted, all items are shipped standard via DPD. We normally ship to European Union countries only – do contact us for possible exceptions, particularly other European mainland countries. Shipping times vary between 1 to 10 business days within Europe – an up to date estimate will be given at checkout.
Express shipping
Our shipping partner for expedited deliveries is DHL Express; please contact us directly for a quote.
Returning an item
If you are not completely satisfied with your purchase, you can return your item(s) for a full refund within 14 days of confirmed delivery.
Special sales, demo items and promotions may have modified return policies. If an item from a bundle is returned for refund, the total bundle discount or the total value of the gifts will get deducted from the returned item prior to issuing a refund. If the bundle discount (or gift value) exceeds the value of the returned item, the difference must be paid to be able to return the item.
Return autorization
If you would like to return any item(s), please contact us by either emailing info@dittools.eu or calling (+372) 5556 0057. We will share with you a Return Merchandise Authorization (RMA) code and ask that you clearly mark this code outside of your shipping box as you ship your item(s) back for a refund.
You will be liable for the shipping and any applicable customs/duty fees returning the item(s).
Incorrect items
If the return is made due to a faulty product, or an incorrectly shipped product, or if you are returning the item(s) due to a defect, or functionality issue, or because it is not the item you have ordered, we will gladly email or mail a return shipping label covering all shipping related expenses. In order to determine whether the return is initiated due to a technical problem, we may ask for you to provide visual support like images or a video on the item(s).
Shipping
Returned merchandise must be in its original packaging, and placed in a decent shipping box, e.g. the same box that we shipped the items to you in. Please make sure to clearly mark the RMA code you have received from us outside on the box.
Do not forget to cover or peel off any existing shipping labels on the box.
DIT Supplies OÜ cannot be held accountable for return shipments that have not reached us or returns made without RMA codes. We strongly advise that if you are returning the item(s) with a carrier of your choice that you use a traceable shipping method.
It may take 4-5 business days for your return to reach us. Once it is received and inspected, your refund will be processed and automatically applied to your credit card or original method of payment within 14 business days. Please note that depending on your credit card company, it may take an additional 2-4 business days after your credit is applied for it to post to your account.
Customs, duties & taxes
There are no customs duties or taxes on orders shipping within the EU. Orders shipped outside of the EU may be subject to import taxes, customs duties and fees collected by the destination country. The recipient of an international shipment may be subject to such import taxes, customs duties and fees, which are collected once a shipment reaches the recipient's country. Additional charges for customs clearance must be paid for by the recipient; we have no control over these charges and cannot predict what they may be. Customs policies vary widely from country to country; and when customs clearance procedures are required, it can cause delays beyond our original delivery estimates. We advise that you contact your local customs office for more information.