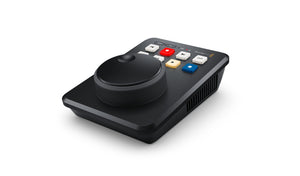 The desktop HyperDeck that's the perfect live production clip player and master recorder!
HyperDeck Shuttle HD is a recorder and player that's designed to be used on the desktop! That means it's more than a master recorder as it can also be used as a clip player. The large search dial is perfect for scrolling through lots of media to find the clip you want to play. You get support for ProRes, DNx and H.264 files in NTSC, PAL, 720p and 1080p video formats. The HDMI connections allow connection to switchers, cameras and monitors. Plus SD cards, UHS-II cards and USB-C external disks can be used for recording and playing media. HyperDeck Shuttle HD uses the same design as ATEM Mini Extreme, so it's a perfect combination to use as a media player. It even has a built in teleprompter!
Elegantly Designed
Professional Broadcast Deck
HyperDeck Shuttle HD is perfectly designed for the desktop. This means the front panel can be operated with a single hand! The gentle angle allows your hand to rest on the search dial, and the control buttons are positioned under your fingertips. The design is the same depth and angle as ATEM Mini Extreme, so they match perfectly when used together! Scrolling media is fast as the machined metal search dial has a natural inertia, and the soft rubber surface feels nice to the touch. That's perfect when you're searching through lots of media. Plus, the buttons are the same design as traditional broadcast decks. The rear panel includes all video, power, network and control connections.
Mastering Recorder
With support for H.264, ProRes and DNx files, you can record true broadcast masters! You can even select between PCM or AAC audio. That's perfect for higher quality mastering when used with ATEM Mini switchers. You get everything needed to send shows to broadcasters and for uploading to YouTube.
Media Player
The large search dial lets you visually browse your clip library. Then you can use the previous clip button to cue to the start of the clip. After playing, you can use the clip button to stop the playback at the end of the clip. ATEM switchers can even remote control HyperDeck Shuttle via Ethernet!
Traditional Broadcast Deck Controls
HyperDeck Shuttle includes a control panel that's very fast to use. The buttons are similar to a traditional broadcast deck. Simply press the record button and you instantly start recording the video input to a file! It will record in the file format that has been set in the record menu. There are other buttons for playback, to cue to the start of the clip and to move to the next clip. The buttons have been custom designed by Blackmagic Design for the highest quality. The large machined metal search dial supports shuttle, jog and scroll so you can find clips fast. Plus all deck control functions can be triggered remotely using the Ethernet network.
Supports
SD Cards and UHS-II Cards
HyperDeck Shuttle supports recording to common SD cards and UHS-II cards so you don't need expensive custom media. SD cards are the perfect choice for broadcast media because they are small and very affordable. Plus, you can even record to external USB disks! When using USB disks, if you use a USB hub, or Blackmagic MultiDock, you can even record on multiple disks for non stop recording! When using H.264, the files are so incredibly small you get very long recordings even on smaller low cost cards. This means you can record up to 157 hours of H.264 in 1080p59.94 on a 1 TB card. That's over 6 days of recording in HD using a single 1 TB card!
Record to
External USB-C Media Disks
If recording to other types of media is required, the USB-C expansion port lets you plug in an external flash disk for recording. USB-C flash disks have unlimited capacity because they can be physically larger than an SD card or SSD. Plus, it's even possible to record to a disk array you'll use for editing, so you don't need to waste time copying files before starting post production. Just move the disk over to a computer and instantly start editing! You can even add a Blackmagic MultiDock 10G that has 4 separate SSD media slots, so you can add compatibility with SSD media to the HyperDeck Shuttle! There are also options for managing external disks in the settings menu.
Popular ProRes,
DNx and H.264 Files!
HyperDeck Shuttle HD supports the most popular codecs in use today! You get broadcast quality DNx and ProRes file formats. However you also get space saving H.264 when recording in NTSC, PAL, 720p, 1080p plus even true 1080i interlaced formats. That means you get tight 60:1 to 285:1 compression ratios for very small files at full broadcast quality. Plus you can choose uncompressed PCM audio, or even AAC audio when uploading files to YouTube. HyperDeck Shuttle HD supports both ExFAT used on Windows and HFS+ used on Mac disk formatting standards, so disks can be mounted and read on both platforms. You also get support for recording long duration events into a single video file.
Powerful Video
and Control Connections!
For such a small design, HyperDeck Shuttle has powerful connections. The HDMI input can be connected to cameras and switchers such as ATEM Mini, and the HDMI output can be connected to monitors for presentations or ATEM Mini switchers as a long form media player. Imagine playing commercials, promos or music videos into ATEM Mini switchers from HyperDeck Shuttle! The rear panel also includes a 12V DC power input and a power supply is included. The 1G Ethernet connection allows control and remote file uploads. The USB-C expansion port can be used to record to large external disks, for software updates or as a webcam output. The SD card slot supports both SD cards and UHS-II cards.
HDMI is Perfect
for ATEM Mini Switchers!
With built in HDMI input and output, you can connect to consumer cameras, monitors, televisions, video projectors and even ATEM Mini switchers! The HDMI connections will automatically switch video standards to handle both SD and HD equipment. SD formats include NTSC and PAL. 720p HD standards include 720p50 and 720p59.94. 1080i HD interlaced formats include 1080i50 and 1080i59.94. 1080p HD formats include 1080p23.98, 24, 25, 29.97, 30, 50, 59.94 and 60p. HyperDeck Shuttle can even support 1080 PsF formats!
Built In Teleprompter
With such a large search dial, HyperDeck Shuttle HD can be used as a teleprompter! Simply change to teleprompter in the record menu and it will read standard RTF text files as scripts. You don't need weird custom software as scripts can be written in simple text editors such as TextEdit. You can move between multiple scripts with the previous and next clip buttons. If you press both jog and scroll buttons, you can live scroll the script like a traditional teleprompter! Even the size, color, font weight and alignment will be read from the RTF script file. Best of all, you can write your scripts in standard 12 point size and HyperDeck will scale them up for the prompter display automatically.
Network File Transfers
HyperDeck Shuttle allows media files to be uploaded remotely, using simple FTP client software. With 1G Ethernet built into the HyperDeck Shuttle, file transfers are very fast, and sometimes faster than the SD card media disk! For remote deck control, all models use an easy to learn text based protocol, so you can use a simple terminal app like Telnet to test control commands. Simply log into the HyperDeck and then type "play" or "record" and it will execute the command. It's that simple! If you combine the control protocol and file transfers with a HyperDeck connected to a large USB-C disk array, you get a fantastic broadcast server for ingest, media management and play out.
Powered by Blackmagic OS
The innovative Blackmagic OS has been designed for high performance film and broadcast products and it manages all functions on HyperDeck Shuttle. Only Blackmagic OS provides instant power on, while including powerful features such as video recording, timecode, audio, menu overlays, fast networking, multi-disk media management and even localization. The menus are overlaid on the video output and include settings to customize your HyperDeck Shuttle HD, plus the menus can be changed to display in either light or dark mode! Blackmagic OS provides world leading network performance to ensure HyperDeck Shuttle HD can sustain high speed network transfers using it's 1G Ethernet connection!
Connections
HDMI Video Inputs
1
HDMI Video Outputs
1
HDMI Audio Inputs
8 channels embedded audio.
HDMI Audio Outputs
8 channels embedded audio.
Recorder Configuration
Via user interface on HDMI Out orBlackmagic HyperDeck Ethernet Protocol.
Ethernet
1Gb/s
Computer Interface
1 x USB Type-C 3.0 (up to 5Gb/s) forexternal drive recording,software configuration and updates.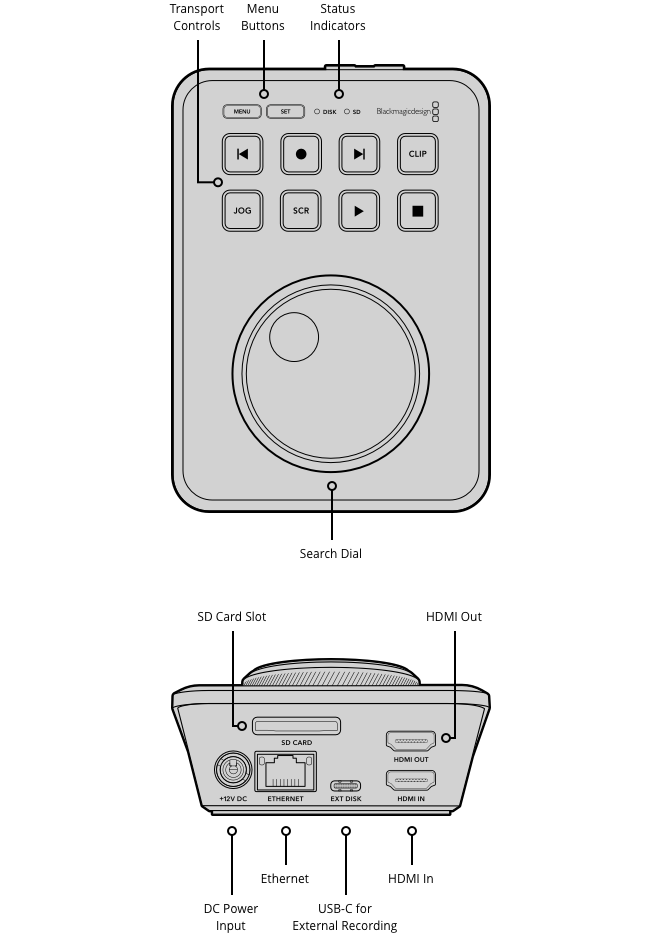 Standards
SD Video Standards
525i59.94 NTSC, 625i50 PAL
HD Video Standards
720p50, 720p59.94, 720p60
1080i50, 1080i59.94, 1080i60
1080p23.98, 1080p24, 1080p25, 1080p29.97, 1080p30, 1080p50, 1080p59.94, 1080p60

2K DCI Video Standards
2Kp23.98 DCI, 2Kp24 DCI, 2Kp25 DCI, 2Kp29.97 DCI, 2Kp30 DCI

Audio Sampling
Television standard 24‑bit, 48 kHz sample rate.
Video Sampling
4:2:2 YUV
Color Precision
10‑bit
Color Space
REC 601, REC 709.
Multi Rate Support
Auto detection of SD and HD.
Media
Media
1 x SD card slot
1 x USB-C 3.0 expansion port for external
recording of SD, HD and 2K DCI.
Media Type
UHS-I and UHS-II SD cards.
Media Format
Can format media to ExFAT (Windows/Mac)or HFS+ (Mac) file systems.
Supported Codecs
ProRes HQ QuickTime, ProRes 422 QuickTime, ProRes LT QuickTime, ProRes Proxy QuickTime for all formats up to 1080p60.
DNxHD 220x, DNxHD 220x MXF, DNxHD 145, DNxHD 145 MXF, DNxHD 45, DNxHD 45 MXF for 720p and 1080p HD formats up to 60fps.
H.264 High 4:2:0 8‑bit, H.264 Medium 4:2:0 8‑bit, H.264 Low 4:2:0 8‑bit for all formats up to 1080p60.
Control
Built in Control Panel
10 buttons for transport and device control plus metal search dial.
External Control
HDMI start/stop, timecode run. Includes Blackmagic HyperDeck Ethernet Protocol.Supports remote FTP file upload.
Teleprompter
Multi Rate Support
Outputs 23.98p, 24p, 25p, 29.97p, 30p, 50p, 59.94p, 60p defaulting to the highest rate.
Supported File Formats
Rich text (.rtf) with support for most rich text formatting. Plain text (.txt)
Shipping policy
Any items which are in stock, will be dispatched immediately - same day if possible and morning of the following business day at the latest. Items which are not in stock at our local warehouse will be routed to us, and dispatched immediately upon arrival to us. In that case, the estimated dispatch time is noted on the product page.
Note that you are always welcome to email info@dittools.eu or call (+372) 5556 0057 for a more accurate shipping time estimate, as this does vary depending on a number of factors.
Standard shipping
Unless otherwise noted, all items are shipped standard via DPD. We normally ship to European Union countries only – do contact us for possible exceptions, particularly other European mainland countries. Shipping times vary between 1 to 10 business days within Europe – an up to date estimate will be given at checkout.
Express shipping
Our shipping partner for expedited deliveries is DHL Express; please contact us directly for a quote.
Returning an item
If you are not completely satisfied with your purchase, you can return your item(s) for a full refund within 14 days of confirmed delivery.
Special sales, demo items and promotions may have modified return policies. If an item from a bundle is returned for refund, the total bundle discount or the total value of the gifts will get deducted from the returned item prior to issuing a refund. If the bundle discount (or gift value) exceeds the value of the returned item, the difference must be paid to be able to return the item.
Return autorization
If you would like to return any item(s), please contact us by either emailing info@dittools.eu or calling (+372) 5556 0057. We will share with you a Return Merchandise Authorization (RMA) code and ask that you clearly mark this code outside of your shipping box as you ship your item(s) back for a refund.
You will be liable for the shipping and any applicable customs/duty fees returning the item(s).
Incorrect items
If the return is made due to a faulty product, or an incorrectly shipped product, or if you are returning the item(s) due to a defect, or functionality issue, or because it is not the item you have ordered, we will gladly email or mail a return shipping label covering all shipping related expenses. In order to determine whether the return is initiated due to a technical problem, we may ask for you to provide visual support like images or a video on the item(s).
Shipping
Returned merchandise must be in its original packaging, and placed in a decent shipping box, e.g. the same box that we shipped the items to you in. Please make sure to clearly mark the RMA code you have received from us outside on the box.
Do not forget to cover or peel off any existing shipping labels on the box.
DIT Supplies OÜ cannot be held accountable for return shipments that have not reached us or returns made without RMA codes. We strongly advise that if you are returning the item(s) with a carrier of your choice that you use a traceable shipping method.
It may take 4-5 business days for your return to reach us. Once it is received and inspected, your refund will be processed and automatically applied to your credit card or original method of payment within 14 business days. Please note that depending on your credit card company, it may take an additional 2-4 business days after your credit is applied for it to post to your account.
Customs, duties & taxes
There are no customs duties or taxes on orders shipping within the EU. Orders shipped outside of the EU may be subject to import taxes, customs duties and fees collected by the destination country. The recipient of an international shipment may be subject to such import taxes, customs duties and fees, which are collected once a shipment reaches the recipient's country. Additional charges for customs clearance must be paid for by the recipient; we have no control over these charges and cannot predict what they may be. Customs policies vary widely from country to country; and when customs clearance procedures are required, it can cause delays beyond our original delivery estimates. We advise that you contact your local customs office for more information.