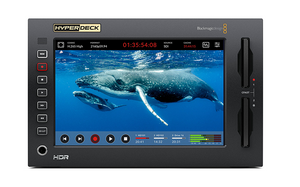 HyperDeck Extreme
HyperDeck Extreme features the trusted reliability of HyperDeck combined with new innovations such as space saving H.265 files, optional internal cache, 3D LUTs and HDR support! With the ability to record up to native 8K in H.265, you get reduced storage costs and amazing image quality. The large touch screen ensures a perfect view of your recording as well as control over all deck settings. You can then add HyperDeck Extreme Control to transform it into a traditional broadcast deck! This means HyperDeck Extreme is the perfect solution for the next generation of broadcast, live production and digital signage!
Extreme 4K HDR
Powerful Ultra HD touchscreen HyperDeck records and plays H.265 and ProRes files in all SD, HD and Ultra HD standards up to 2160p60. Includes scopes, upgradable cache plus SDI, HDMI and analog video.
Modern Design with Traditional Controls
HyperDeck Extreme has an innovative touch screen user interface with deck controls as well as a large screen to view your recording. Then add a HyperDeck Extreme Control for traditional broadcast deck controls and a large shuttle knob that feels incredibly luxurious to use! You can even rack mount the HyperDeck and the controller! HyperDeck Extreme also includes 2 media slots, 12G‑SDI, analog connections for archiving, USB‑C external disk recording, plus a front panel speaker and headphone jack! There's also an optional cache that eliminates dropped frames if your media becomes full or is too slow. Both AC and DC power connections are also included for studio or on location use.
Perfect for Live Production,
Digital Signage and Archive
With its amazing versatility, HyperDeck Extreme is also great for live production as a master recorder, clip player and for recording ISO cameras. The analog inputs allow you to record from old video tapes, so legacy programming can be used on the latest streaming services or for use in editing. Digital signage is easy with HyperDeck Extreme as it has 10G Ethernet for fast media uploads, plus it features a simple remote control protocol. You can even use it as a field recorder as it includes HDMI, SDI and analog inputs with built in scopes and 3D LUTs! The scopes also help you QA masters to ensure compliance with broadcast standards before streaming and broadcast!
Convert Legacy Programming for Streaming
As streaming services have become common, preserving cultural diversity through maintaining localized content is increasingly important. The solution is to get each country's legacy programs onto streaming services at an affordable cost. HyperDeck Extreme Control lets you connect to legacy broadcast decks, set an in and an out point, then edit. Just add HyperDeck Extreme and HyperDeck Extreme Control to each legacy deck to keep them all archiving constantly with just one operator. It's even possible to edit across formats by using Teranex Express to convert tapes from SD to HD in one step. You can control a wide range of decks, including Digital Betacam, 1 inch C format, and Betacam SP.
Connections
SDI Video Inputs
1
SDI Video Outputs
3  (12G-SDI A and B plus 3G-SDI Monitor Out)
SDI Rates
270Mb, 1.5G, 3G, 6G, 12G.
HDMI 2.0 Video Inputs
1
HDMI 2.0 Video Outputs
1
Analog Video Inputs
1 x Component YUV on 3 BNCs,
1 x Composite NTSC/PAL on 1 BNC.
Analog Video Outputs
None
Analog Audio Inputs
4 Channels of professional balanced analog audio via XLR connectors and 2 channels of consumer unbalanced via RCA connectors.
Built in Speaker
Mono
Screen
7 inch 1920 x 1200. 2000 nit DCI-P3 100% HDR LCD
Timecode Connections
1 x XLR in and 1 x XLR out.
Reference Input
Tri-Sync or Black Burst.
SDI Audio Inputs
16 channels embedded audio.
SDI Audio Outputs
16 channels embedded audio.
HDMI Audio Inputs
8 channels embedded audio.
HDMI Audio Outputs
8 channels embedded audio.
Remote Control
1 x RS-422 In, 1 x RS-422 Out.
Recorder Configuration
Via user interface or Blackmagic HyperDeck Ethernet Protocol.
Ethernet
10Gb/s
External Recording
1 x USB-C 3.1 Gen 2 (up to 10Gb/s) for external disk recording.
Computer Interface
1 x USB-C for software updates.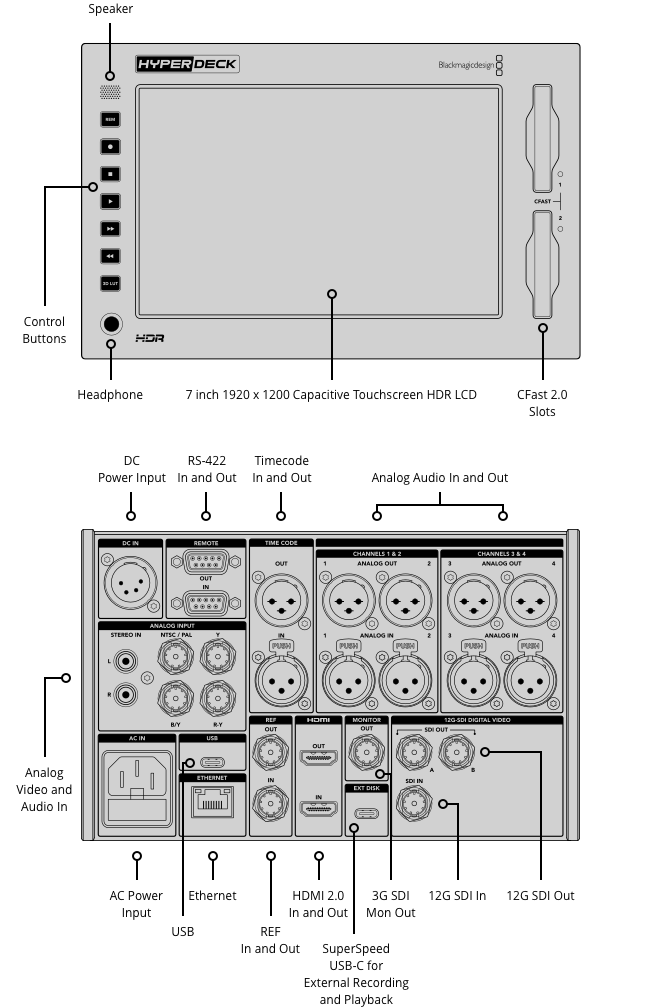 Standards
SD Video Standards
525i59.94 NTSC, 625i50 PAL

HD Video Standards
720p50, 720p59.94, 720p60
1080i50, 1080i59.94, 1080i60
1080p23.98, 1080p24, 1080p25, 1080p29.97, 1080p30, 1080p50, 1080p59.94, 1080p60
1080PsF23.98, 1080PsF24, 1080PsF25, 1080PsF29.97, 1080PsF30

2K DCI Video Standards
1080p23.98 DCI, 1080p24 DCI, 1080p25 DCI
1080PsF23.98 DCI, 1080PsF24 DCI, 1080PsF25 DCI

Ultra HD Video Standards
2160p23.98, 2160p24, 2160p25, 2160p29.97, 2160p30, 2160p50, 2160p59.94, 2160p60

4K DCI Video Standards
2160p23.98 DCI, 2160p24 DCI, 2160p25 DCI

SDI Compliance
SMPTE 259M, SMPTE 292M, SMPTE 296M, SMPTE 424M, SMPTE 425M Level A and B, SMPTE 2081-1, SMPTE 2081-10, SMPTE 2082-1, SMPTE 2082-10 and SMPTE 2084.

SDI Metadata Support
HD RP188 and closed captioning CEA-708. HDR Metadata supported on SDI.
Audio Sampling
Television standard 24-bit, 48 kHz sample rate.
Video Sampling
4:2:2 YUV
Color Precision
10-bit
Color Space
REC 601, REC 709, REC 2020. 33 point 3D LUTS can be applied via the LUTS menu tab.
Multi Rate Support
Auto detection of SD, HD, 6G‑SDI, and 12G-SDI.
Copy Protection
HDMI input is unable to capture from copy protected HDMI sources. Always confirm copyright ownership before capture or distribution of content.
Media
Cache Recording
Slot for optional M.2 PCIe NVMe card for cache recording up to 16Gb/s. 60mm 80mm and 110mm supported.
Media
2 x CFast 2.0 card slots and 1 x USB-C 3.1 Gen 2 expansion port for external recording of SD, HD, and Ultra HD.
Media Type
CFast card and external USB-C flash drives.
Media Format
Can format media to ExFAT (Windows/Mac) or HFS+ (Mac) file systems.
Supported Codecs
ProRes HQ QuickTime, ProRes 422 QuickTime, ProRes LT QuickTime for all formats up to 2160p60. Playback only of ProRes 4444 QuickTime up to 2160p60 with auto routing of fill and key over SDI A and B outputs. H.265 High, H.265 Medium, H.265 Low for all progressive formats up to 2160p60.
Scopes
Scopes
Waveform, RGB Parade, Vector and Histogram scopes in broadcast quality 10-bit.
Viewing Modes
Picture in picture, picture overlay with opacity control. Waveform and RGB parade with standard and HDR graticules and Vector with zoom.
Control
Built in Control Panel
Integrated capacitive touchscreen LCD with onscreen controls for settings and navigating menus.
External Control
RS-422 deck control, SDI start/stop, timecode run. Includes Blackmagic HyperDeck Ethernet Protocol.
Software
Software Included
Blackmagic OS
Blackmagic HyperDeck Setup
Internal Software Upgrade
Loaded at system start, or via Blackmagic HyperDeck Setup using USB port.
Displays
Built in LCD for video, audio and timecode monitoring and menu settings.
Power Requirements
Power Supply
1 x Internal 100 - 240V AC.
1 x 4 pin XLR 12V DC IN for external power or battery use.
Power Usage
190W max.
Accessories
Optional Accessories
HyperDeck Extreme Control
HyperDeck Extreme Rack Kit
Physical Installation
3 rack units height, half rack width.
Physical Specifications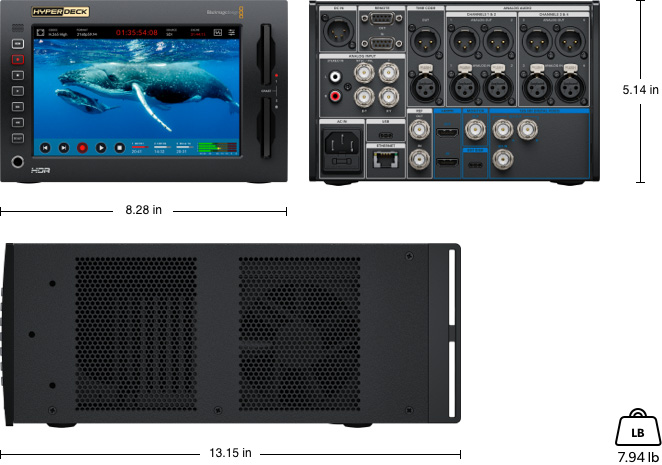 Environmental Specifications
Operating Temperature
0° to 40° C (32°to 104° F)
Storage Temperature
-20° to 60° C (-4° to 140° F)
Relative Humidity
0% to 90% non-condensing
What's Included
HyperDeck Extreme 4K HDR
Welcome wallet with QR code for software download
Warranty
12 Month Limited Manufacturer's Warranty.
Shipping policy
Any items which are in stock, will be dispatched immediately - same day if possible and morning of the following business day at the latest. Items which are not in stock at our local warehouse will be routed to us, and dispatched immediately upon arrival to us. In that case, the estimated dispatch time is noted on the product page.
Note that you are always welcome to email info@dittools.eu or call (+372) 5556 0057 for a more accurate shipping time estimate, as this does vary depending on a number of factors.
Standard shipping
Unless otherwise noted, all items are shipped standard via DPD. We normally ship to European Union countries only – do contact us for possible exceptions, particularly other European mainland countries. Shipping times vary between 1 to 10 business days within Europe – an up to date estimate will be given at checkout.
Express shipping
Our shipping partner for expedited deliveries is DHL Express; please contact us directly for a quote.
Returning an item
If you are not completely satisfied with your purchase, you can return your item(s) for a full refund within 14 days of confirmed delivery.
Special sales, demo items and promotions may have modified return policies. If an item from a bundle is returned for refund, the total bundle discount or the total value of the gifts will get deducted from the returned item prior to issuing a refund. If the bundle discount (or gift value) exceeds the value of the returned item, the difference must be paid to be able to return the item.
Return autorization
If you would like to return any item(s), please contact us by either emailing info@dittools.eu or calling (+372) 5556 0057. We will share with you a Return Merchandise Authorization (RMA) code and ask that you clearly mark this code outside of your shipping box as you ship your item(s) back for a refund.
You will be liable for the shipping and any applicable customs/duty fees returning the item(s).
Incorrect items
If the return is made due to a faulty product, or an incorrectly shipped product, or if you are returning the item(s) due to a defect, or functionality issue, or because it is not the item you have ordered, we will gladly email or mail a return shipping label covering all shipping related expenses. In order to determine whether the return is initiated due to a technical problem, we may ask for you to provide visual support like images or a video on the item(s).
Shipping
Returned merchandise must be in its original packaging, and placed in a decent shipping box, e.g. the same box that we shipped the items to you in. Please make sure to clearly mark the RMA code you have received from us outside on the box.
Do not forget to cover or peel off any existing shipping labels on the box.
DIT Supplies OÜ cannot be held accountable for return shipments that have not reached us or returns made without RMA codes. We strongly advise that if you are returning the item(s) with a carrier of your choice that you use a traceable shipping method.
It may take 4-5 business days for your return to reach us. Once it is received and inspected, your refund will be processed and automatically applied to your credit card or original method of payment within 14 business days. Please note that depending on your credit card company, it may take an additional 2-4 business days after your credit is applied for it to post to your account.
Customs, duties & taxes
There are no customs duties or taxes on orders shipping within the EU. Orders shipped outside of the EU may be subject to import taxes, customs duties and fees collected by the destination country. The recipient of an international shipment may be subject to such import taxes, customs duties and fees, which are collected once a shipment reaches the recipient's country. Additional charges for customs clearance must be paid for by the recipient; we have no control over these charges and cannot predict what they may be. Customs policies vary widely from country to country; and when customs clearance procedures are required, it can cause delays beyond our original delivery estimates. We advise that you contact your local customs office for more information.