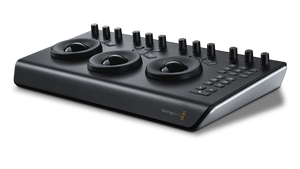 What's Included
DaVinci Resolve Micro Panel
DaVinci Resolve Studio activation key
The DaVinci Resolve Micro Panel from Blackmagic Design is a portable control surface that provides more control and a faster workflow to DaVinci Resolve software than working with a keyboard and mouse alone. Suitable for editors and colorists that need a portable control surface. It features three high-resolution, weighted trackballs and 12 control knobs for accessing essential primary color-correction tools in the Resolve software. Eighteen dedicated keys on the right side also give you access to the most commonly used grading features and playback controls.
The Micro Panel uses a USB 3.0 Type-C interface that allows you to connect to a computer or laptop and power the panel, alleviating the need for a separate power supply. It also interfaces with Mac, Windows, or select Linux systems. For the panel to work with Resolve, your computer must be running DaVinci Resolve 12.5.5 or DaVinci Resolve Studio 12.5.5 or later. An included USB 3.0 Type-A to USB Type-C cable provides backward compatibility for systems that have USB 3.0 Type-A ports.
Small enough to take with you, so you can bring it to any Resolve system (12.5.5 or later) and do color correction on location or at the editor's suite
Shares basic layout with Mini and Advanced Panels
Interfaces with and controls software
Three track balls with outer control rings
Log and Offset color-correction selection buttons
Custom control knobs with 4096 steps per rotation and push-button reset
Primary Correction Creative Control Knobs
Control knobs are grouped into four sets of three knobs
Luminance
Y lift Control: Adjust the contrast of the image in the darker areas, specifically in the Y (luminance) channel only. This adjustment allows changing the black point without changing saturation.
Y Gamma Control: Adjust the contrast of the image in the mid-tone areas, specifically in the Y (luminance) channel only. This control helps add depth and extra vibrancy to shots.
Contrast
Contrast Control: Increase contrast to make the blacks darker and the whites brighter, or decrease contrast to do the opposite.
Pivot: Change the center of tonality about which dark and bright parts of the image are stretched or narrowed during a contrast adjustment.
Mid-Tone Detail: Affect the contrast of regions of the image with high edge detail to increase or decrease the perception of image sharpness and definition. Often used for softening facial features making it popular for beauty shots.
Detail
Color Boost Control: Raise the saturation in regions of the image with low saturation while leaving properly saturated areas alone. Also known as a vibrance operation, this is useful for adding color without over saturating the image.
Shadow Control: Selectively lighten or darken shadow detail without affecting your images mid-tones.
Highlight Control: Enable retrieving blown out highlight detail in high dynamic range media by lowering this parameter. This allows you to achieve a smooth blend between the retrieved highlights and unadjusted mid tones for a natural-looking image.
Saturation
Increases or decreases overall image saturation, you can turn your color image into a grayscale image with this control.
Hue Control: Rotate all hues of the image around 360° of the color wheel. The default setting is 50, which retains the original distribution of hues.
Luminance Mix Control: Control the balance between the YRGB adjustments and Y only adjustments made using the Y channel lift, gamma, and gain controls.
Shipping policy
Any items which are in stock, will be dispatched immediately - same day if possible and morning of the following business day at the latest. Items which are not in stock at our local warehouse will be routed to us, and dispatched immediately upon arrival to us. In that case, the estimated dispatch time is noted on the product page.
Note that you are always welcome to email info@dittools.eu or call (+372) 5556 0057 for a more accurate shipping time estimate, as this does vary depending on a number of factors.
Standard shipping
Unless otherwise noted, all items are shipped standard via DPD. We normally ship to European Union countries only – do contact us for possible exceptions, particularly other European mainland countries. Shipping times vary between 1 to 10 business days within Europe – an up to date estimate will be given at checkout.
Express shipping
Our shipping partner for expedited deliveries is DHL Express; please contact us directly for a quote.
Returning an item
If you are not completely satisfied with your purchase, you can return your item(s) for a full refund within 14 days of confirmed delivery.
Special sales, demo items and promotions may have modified return policies. If an item from a bundle is returned for refund, the total bundle discount or the total value of the gifts will get deducted from the returned item prior to issuing a refund. If the bundle discount (or gift value) exceeds the value of the returned item, the difference must be paid to be able to return the item.
Return autorization
If you would like to return any item(s), please contact us by either emailing info@dittools.eu or calling (+372) 5556 0057. We will share with you a Return Merchandise Authorization (RMA) code and ask that you clearly mark this code outside of your shipping box as you ship your item(s) back for a refund.
You will be liable for the shipping and any applicable customs/duty fees returning the item(s).
Incorrect items
If the return is made due to a faulty product, or an incorrectly shipped product, or if you are returning the item(s) due to a defect, or functionality issue, or because it is not the item you have ordered, we will gladly email or mail a return shipping label covering all shipping related expenses. In order to determine whether the return is initiated due to a technical problem, we may ask for you to provide visual support like images or a video on the item(s).
Shipping
Returned merchandise must be in its original packaging, and placed in a decent shipping box, e.g. the same box that we shipped the items to you in. Please make sure to clearly mark the RMA code you have received from us outside on the box.
Do not forget to cover or peel off any existing shipping labels on the box.
DIT Supplies OÜ cannot be held accountable for return shipments that have not reached us or returns made without RMA codes. We strongly advise that if you are returning the item(s) with a carrier of your choice that you use a traceable shipping method.
It may take 4-5 business days for your return to reach us. Once it is received and inspected, your refund will be processed and automatically applied to your credit card or original method of payment within 14 business days. Please note that depending on your credit card company, it may take an additional 2-4 business days after your credit is applied for it to post to your account.
Customs, duties & taxes
There are no customs duties or taxes on orders shipping within the EU. Orders shipped outside of the EU may be subject to import taxes, customs duties and fees collected by the destination country. The recipient of an international shipment may be subject to such import taxes, customs duties and fees, which are collected once a shipment reaches the recipient's country. Additional charges for customs clearance must be paid for by the recipient; we have no control over these charges and cannot predict what they may be. Customs policies vary widely from country to country; and when customs clearance procedures are required, it can cause delays beyond our original delivery estimates. We advise that you contact your local customs office for more information.