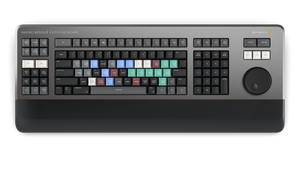 What's Included
DaVinci Resolve Editor Keyboard
DaVinci Resolve Studio activation key
Blackmagic Design DaVinci Resolve Editor Keyboard

The DaVinci Resolve Editor Keyboard is designed for professional editors who need to work faster and turn around work quickly. More than just a simple keyboard, the DaVinci Resolve Editor Keyboard has been designed as an alternative way to edit that's much faster than a mouse because you can simultaneously use both hands at the same time! You also get an integrated search dial built right into the keyboard. Simply plug the keyboard into any USB‑C computer and you are ready to go! While most keys will work as a standard USB keyboard, the DaVinci Resolve Editor Keyboard has been designed for DaVinci Resolve 16 to enable an editing experience that's dramatically faster than previously possible.
Premium Metal Design
The all metal design is more robust because it's been designed for professional editors who spend hours each day editing and demand a premium keyboard solution. Unlike modern keyboards with flat keys, the keys have a tiered profile so it's easy to feel your way around. The key switches are the same type used by eSports keyboards and each key is certified for over a million operations. The integrated search dial is machined from solid metal and allows very precise transport and trimming control. There's even a hand rest with a soft feel to help reduce fatigue. Plus the keys caps, hand rest and key switches are all available as spare parts so the keyboard can be refreshed and repaired over time.
The FastestEditing Physically Possible!
The reason the DaVinci Resolve Editor Keyboard is so fast is you can use both hands when editing. Unlike a mouse, you can use your right hand to control the position in a clip, while your left hand is setting in and out points as well as applying edits. This means you can move, mark in and out points, apply an edit, then move again, repeatedly, one after the other, again and again. It's an extremely fast way to work, using both hands at once. You can even select points and use the search dial to live trim. The search dial is big, so trimming is very accurate. There are also transition selection buttons that let you change between a cut, dissolve and smooth cut, instantly.
Integrated
 

Search Dial Control
The integrated search dial is machined metal with rubber coating so it feels very nice to use and you always feel you have a solid control over DaVinci Resolve's clip or timeline. There's an integrated electronic clutch that creates end stops when used for shuttle and position, all under software control. With multiple roller bearings, the search dial is very smooth and it can be spun in jog mode to allow a natural timeline scroll. The jog control allows free movement for precise positioning of the playback point. Shuttle uses the clutch and you can rotate forward and reverse wind to move up and down the timeline. Scroll allows scrolling up and down a long edit to navigate quickly.
Fast Source Tape
 

Allows Scrolling Clips

Traditional NLE software uses thousands of clips to organize media, which requires lots of drag and drop of clips which is too slow for fast turn around work such as TVCs, news, promos and training videos. Traditional tape editing allowed all media to be on a single tape for fast access to your media by shuttling up and down the tape. The innovative source button instantly creates a "source tape" of all the clips in your bin. Now you can simply scroll up and down all your media and there's no need to navigate thousands of clips. The clip being viewed is also highlighted in the bin in real time. Plus switching between the source tape and timeline is instant.
Instantly Re-sortBin and Source Tape
The source tape uses your bin's sort order so you get lots of control over how shots are organized. This gives you the flexibility to find shots by time, camera, duration or even clip name. The moment one of the bin sort buttons is selected, the source tape will be regenerated in that bin's sort order. Simply scroll up and down the source tape to find the shots needed. Sort by timecode to see all the bin media sorted by time, which is perfect for content shot in time order, such as live events. You can also sort by camera which is great for multi camera shoots where you lay down the wide shot first and then look for cut-aways on other cameras. You can even sort by duration and the clip name!
Fast In and Out Points
Entering edit points is one of the most used functions in editing, so we designed the in and out point buttons larger in size, and to include a small space above to allow locating them by feel. That helps when doing transport control with your right hand and punching in and out points using your left hand. When selecting in and out points in the new DaVinci Resolve cut page, you are also trimming clips with these buttons! Then once the in and out points are set, just reach your fingers up to the edit buttons. The in and out points can also be used to contract the source tape to limit the clips included. Then you can change the source tape back to the whole bin by pressing the escape key.
New IntelligentKeyboard Edit Modes
The editing functions are located just above the in and out keys, to allow a simple movement of your fingers to activate the edit you require. Because editing with a keyboard is quite different to editing on a computer's user interface, the editing functions have been optimized to take advantage of the speed of a keyboard. Most edits can be performed on the source clip without needing to place edit points on the timeline itself. That's much faster as it eliminates time wasted switching between source and timeline. The edit points can automatically locate the nearest timeline edit, or even match timecode. A good example is smart insert, which locates the nearest edit and inserts at that point.
Smart Insert
Smart insert is similar to the traditional insert edit function, however it's smarter as it eliminates the need to switch to the timeline and place an in point. All you need to do is select smart insert and it will locate the nearest edit in the timeline and insert the clip in that location!
Append to end is fantastic for building edits fast. Simply select an in and out point and then append to end will add the clip to the end of the edit and increase the timeline duration. Append to end is fantastic when adding shots to an edit from content that's been shot in time order.
Ripple overwrite is a popular edit function and it lets you replace shots extremely quickly. When applied, it will replace the clip in thetimeline with the selected clip and if the clip is a different length, it will adjust the space to accommodate the new clip and ripple the timeline duration.
Close up is best for creating two camera angles from the one camera. Simply shoot your subject with a wide or mid shot, and then when close up is applied, it will create a slightly zoomed in version of the same camera shot and place it on top of the timeline. Plus you can also apply it to a clip in the timeline.
Place on top is similar to traditional edit functions and this edit mode will place the clip on top of the background layer that's already in the timeline. If the timeline doesn't have a layer above the background layer, it will add a new timeline track and then place the clip on top.
Source overwrite is a faster alternative to multi-cam. It automatically matches source timecode to the source timecode of the clip in the timeline and places the clip on top. If you shoot with multiple cameras and sync timecode, you can lay other camera angles on a base wide shot layer.
Search Dial Live Trimming
With a high quality search dial built in, you get an extremely accurate and fast way to do trimming of edit points. The roll buttons allow the keyboard to take control of the search dial and very precisely adjust edit trimming. You can select the trim mode with your left hand while adjusting the trim with your right. Using roll trimming is easy and is operated by pressing and holding one of the roll buttons, depending on the type of trim you need to do, while then rotating the search dial. There's also a trim editor button on the numeric keypad that allows a direct switch to trim mode, so you can scroll up and down the edit points in a timeline to allow locating and adjusting multiple edits fast.
Roll In
Roll in is very similar to adjusting trim in on the software however it's a modifier key on the keyboard. Using roll in on a transition adjusts the in point of the destination clip, while adjusting roll in on a clip adjusts its in point. All adjustments will ripple the timeline duration.
Roll Out
Roll out is very similar to adjusting trim out on the software however it's a modifier key on the keyboard. Using roll out on a transition adjusts the out point of the source clip, while adjusting roll out on a clip adjusts its out point. All adjustments will ripple the timeline duration.
Roll Transition
The roll transition is similar to the roll edit. It works by rolling the transition between 2 clips and has the same affect as simultaneously adjusting the in point on the destination clip while adjusting the out point on the source clip! Roll edit does not affect timeline duration.
Roll Source
Roll source is the same as slipping the source clip and it will move the shot up and down within the current clip's in and out points. Roll source allows slipping the clip within the same duration so it won't affect the overall timeline duration.
Roll Destination
Roll destination is the same as slipping the destination clip and it will move the shot up and down within the current clip's in and out points. Roll destination allows slipping the clip within the same duration so it won't affect the overall timeline duration.
Roll Duration
Roll duration is designed to allow you to change the transition length of any effect that has been applied to an edit point. When selected, adjusting the search dial will interactively adjust the duration of the transition. Because you can select the transition type, you can use roll duration to get the transition perfect.
elect and
 


Change
Transitions Instantly
Editing software is slow at adding transitions because it requires using drag and drop to place a transition, or a keyboard shortcut for only one transition type. With DaVinci Resolve Editor Keyboard you can press a key and add or remove a transition with a single button press! The cut key will remove any transition on an edit point and leave it as a simple edit between the 2 clips. Pressing dissolve will add a 1 second dissolve between the two clips, and using roll duration will set the desired transition length! Plus if there is already a dissolve on the edit, then the key will be ignored. There's also a smooth cut button to allow jump cuts to be removed at the press of a button!
Improved DaVinci Keyboard
The new DaVinci Resolve Editor Keyboard also includes a revised qwerty key layout that's been updated using feedback from professional editors. However you still get all the traditional editing features for both the cut and edit pages in DaVinci Resolve, so the core qwerty part of the keyboard still operates in a familiar way. All the standard edit modes are included on the main keyboard. Plus you get JKL trimming when you want to do playback and trimming via the keyboard and not the search dial. But you still get new features in the revised layout, such as a viewer button to allow instant change to full screen view, and it's even possible to edit from the keyboard in full screen view!
Direct TimecodeEntry Keypad
When entering edit points and durations numerically, there's a keypad specifically designed for timecode entry. The F/TC button allows switching between timecode or frames. Just press the F/TC button and entry changes to frames. When typing longer timecode values, there's also a double zero button so you don't have to press the standard zero key as often. The plus and minus keys allow time values as offsets to current values vs absolute entry. A dedicated duration entry button allows you to numerically define the duration of a clip. Numeric duration entry is one of the most used functions! For example, if you need to set a 100 frame duration on a clip, just press DUR, F/TC and 100!
Designed for
 

the
Desktop or

 

Inset into a Console!
Although the DaVinci Resolve Editor Keyboard has been designed with a modern aesthetic, there's also function to the form! The subtle edge created by the mating of the top keyboard surface and the lower chassis has a pinstripe feel to the design that allows the DaVinci Resolve Editor Keyboard to look good on a desktop. The keyboard is a fantastic match to an iMac Pro and has a subtle energy when placed on your desk. There's even fold out rear feet to increase the keyboard tilt. However the flange has a functional benefit as you can install the keyboard in a cutout of a desk or console. The keyboard will then sit almost perfectly flat on the desk surface. This creates an amazing console look.
Shipping policy
Any items which are in stock, will be dispatched immediately - same day if possible and morning of the following business day at the latest. Items which are not in stock at our local warehouse will be routed to us, and dispatched immediately upon arrival to us. In that case, the estimated dispatch time is noted on the product page.
Note that you are always welcome to email info@dittools.eu or call (+372) 5556 0057 for a more accurate shipping time estimate, as this does vary depending on a number of factors.
Standard shipping
Unless otherwise noted, all items are shipped standard via DPD. We normally ship to European Union countries only – do contact us for possible exceptions, particularly other European mainland countries. Shipping times vary between 1 to 10 business days within Europe – an up to date estimate will be given at checkout.
Express shipping
Our shipping partner for expedited deliveries is DHL Express; please contact us directly for a quote.
Returning an item
If you are not completely satisfied with your purchase, you can return your item(s) for a full refund within 14 days of confirmed delivery.
Special sales, demo items and promotions may have modified return policies. If an item from a bundle is returned for refund, the total bundle discount or the total value of the gifts will get deducted from the returned item prior to issuing a refund. If the bundle discount (or gift value) exceeds the value of the returned item, the difference must be paid to be able to return the item.
Return autorization
If you would like to return any item(s), please contact us by either emailing info@dittools.eu or calling (+372) 5556 0057. We will share with you a Return Merchandise Authorization (RMA) code and ask that you clearly mark this code outside of your shipping box as you ship your item(s) back for a refund.
You will be liable for the shipping and any applicable customs/duty fees returning the item(s).
Incorrect items
If the return is made due to a faulty product, or an incorrectly shipped product, or if you are returning the item(s) due to a defect, or functionality issue, or because it is not the item you have ordered, we will gladly email or mail a return shipping label covering all shipping related expenses. In order to determine whether the return is initiated due to a technical problem, we may ask for you to provide visual support like images or a video on the item(s).
Shipping
Returned merchandise must be in its original packaging, and placed in a decent shipping box, e.g. the same box that we shipped the items to you in. Please make sure to clearly mark the RMA code you have received from us outside on the box.
Do not forget to cover or peel off any existing shipping labels on the box.
DIT Supplies OÜ cannot be held accountable for return shipments that have not reached us or returns made without RMA codes. We strongly advise that if you are returning the item(s) with a carrier of your choice that you use a traceable shipping method.
It may take 4-5 business days for your return to reach us. Once it is received and inspected, your refund will be processed and automatically applied to your credit card or original method of payment within 14 business days. Please note that depending on your credit card company, it may take an additional 2-4 business days after your credit is applied for it to post to your account.
Customs, duties & taxes
There are no customs duties or taxes on orders shipping within the EU. Orders shipped outside of the EU may be subject to import taxes, customs duties and fees collected by the destination country. The recipient of an international shipment may be subject to such import taxes, customs duties and fees, which are collected once a shipment reaches the recipient's country. Additional charges for customs clearance must be paid for by the recipient; we have no control over these charges and cannot predict what they may be. Customs policies vary widely from country to country; and when customs clearance procedures are required, it can cause delays beyond our original delivery estimates. We advise that you contact your local customs office for more information.