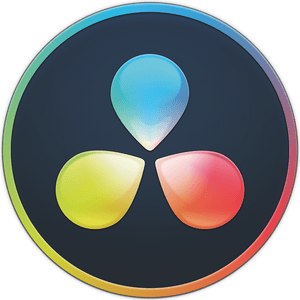 Blackmagic Design DaVinci Resolve Studio is a renowned advanced color correction software and now also a full-fledged, non-linear editing system — it even allows to you to import projects from other NLEs, such as from Premiere Pro, as XML files. You can edit, color correct, finish, and deliver all from one system. Moreover, Resolve is highly sophisticated and oriented at the same time toward the individual user, large collaborative teams, and the growing studio owner. It's completely scalable and resolution independent, so it can be used on set, in a small studio, or integrated into large production pipelines. Your order provides you with an activation card carrying the code for activating the software on up to two computers.
Resolve is a node-based color grading system — nodes being similar layers — where each node can have color correction, isolated areas (power windows), and effects, and in which unlimited numbers of nodes can be joined together sequentially or in parallel. In all, you can combine grades, effects, mixers, keys, and plug-ins in any order to create limitless color effects and unique looks. This is the core of Resolve's color grading functionality, and there are hundreds of advanced features and capabilities in addition, such as grading from raw Files, automatic color matching, and 3D tracking.
The editing functionality in Resolve is designed to handle TV dramas, commercials, multi-camera productions, and all other project types from the smallest to largest. The trimming tool is context sensitive, meaning that based on where you position the mouse cursor on the timeline, Resolve will automatically switch to the trimming function you need, so you can ripple, roll, slip, slide, or extend and shorten your footage without having to manually switch tools. As for collaborative support, Resolve allows multiple people to work together on the same timeline at the same time. This is a major time benefit when each user is assigned a specific task. As with the grading side, the editing side also has hundreds of other features and capabilities.
Resolve is scalable and supports multiple GPUs all working together. You can use multi-GPU systems such as the Mac Pro or build a dedicated Windows system with up to 3 GPUs. Resolve also features advanced media management tools designed for editorial and color workflows. You can move, copy, consolidate, relink, and archive media, timelines, or entire projects. Resolve's clone tool will back up your valuable camera files on location so you can copy camera files to multiple destinations with checksum validation for safekeeping while you're still on set.
Resolve is also capable of editing metadata, syncing sound, and prepping footage for editing, grading, or visual effects. Resolve supports almost any format, and also includes powerful delivery options for versioning, finishing, and delivery at any resolution and format, so you can export for various destination types. Resolve works from your camera originals so your finished master is a first-generation graded copy of the original camera raw files. Additionally, exporting can take advantage of remote rendering, using another Resolve on the network to render the job.
All image processing is at 32-bit floating point and Resolve uses a unique YRGB color space for grading. These two features combine to give you a dramatically wider color correction range, and you'll be able to adjust the luminance gain of your video without rebalancing the color of your whites, mids, or blacks.
Resolve was designed with the ability to integrate with dozens of other applications so that you can focus more on your project. Resolve can share sequences and round-trip projects with Final Cut Pro X, Media Composer, Premiere Pro, and other editing, audio, and VFX and motion graphics software. You can edit your project on any system, then link back to your full quality camera raw files using XML, AAF, or EDL and finish in greater bit depth with Resolve. You can also use AAF export to send a project to ProTools with discreet audio clips and a single layer video mix down for audio finishing. Get support for multiple GPUs, 4K output, motion blur effects, temporal and spatial noise reduction, 3D tools, remote and multi-user collaboration tools, and more with DaVinci Resolve Studio. For an even more enhanced workflow, you can incorporate the optional Resolve Advanced Panel, which is an award-winning control surface for more precise color correction.
Note: Your purchase will provide you with the most recent version of Resolve Studio. Resolve Studio is compatible with Linux only when an optional Resolve Advanced Control Panel is incorporated. In such case, dedicated Linux features will also be available.
Shipping policy
Any items which are in stock, will be dispatched immediately - same day if possible and morning of the following business day at the latest. Items which are not in stock at our local warehouse will be routed to us, and dispatched immediately upon arrival to us. In that case, the estimated dispatch time is noted on the product page.
Note that you are always welcome to email info@dittools.eu or call (+372) 5556 0057 for a more accurate shipping time estimate, as this does vary depending on a number of factors.
Standard shipping
Unless otherwise noted, all items are shipped standard via DPD. We normally ship to European Union countries only – do contact us for possible exceptions, particularly other European mainland countries. Shipping times vary between 1 to 10 business days within Europe – an up to date estimate will be given at checkout.
Express shipping
Our shipping partner for expedited deliveries is DHL Express; please contact us directly for a quote.
Returning an item
If you are not completely satisfied with your purchase, you can return your item(s) for a full refund within 14 days of confirmed delivery.
Special sales, demo items and promotions may have modified return policies. If an item from a bundle is returned for refund, the total bundle discount or the total value of the gifts will get deducted from the returned item prior to issuing a refund. If the bundle discount (or gift value) exceeds the value of the returned item, the difference must be paid to be able to return the item.
Return autorization
If you would like to return any item(s), please contact us by either emailing info@dittools.eu or calling (+372) 5556 0057. We will share with you a Return Merchandise Authorization (RMA) code and ask that you clearly mark this code outside of your shipping box as you ship your item(s) back for a refund.
You will be liable for the shipping and any applicable customs/duty fees returning the item(s).
Incorrect items
If the return is made due to a faulty product, or an incorrectly shipped product, or if you are returning the item(s) due to a defect, or functionality issue, or because it is not the item you have ordered, we will gladly email or mail a return shipping label covering all shipping related expenses. In order to determine whether the return is initiated due to a technical problem, we may ask for you to provide visual support like images or a video on the item(s).
Shipping
Returned merchandise must be in its original packaging, and placed in a decent shipping box, e.g. the same box that we shipped the items to you in. Please make sure to clearly mark the RMA code you have received from us outside on the box.
Do not forget to cover or peel off any existing shipping labels on the box.
DIT Supplies OÜ cannot be held accountable for return shipments that have not reached us or returns made without RMA codes. We strongly advise that if you are returning the item(s) with a carrier of your choice that you use a traceable shipping method.
It may take 4-5 business days for your return to reach us. Once it is received and inspected, your refund will be processed and automatically applied to your credit card or original method of payment within 14 business days. Please note that depending on your credit card company, it may take an additional 2-4 business days after your credit is applied for it to post to your account.
Customs, duties & taxes
There are no customs duties or taxes on orders shipping within the EU. Orders shipped outside of the EU may be subject to import taxes, customs duties and fees collected by the destination country. The recipient of an international shipment may be subject to such import taxes, customs duties and fees, which are collected once a shipment reaches the recipient's country. Additional charges for customs clearance must be paid for by the recipient; we have no control over these charges and cannot predict what they may be. Customs policies vary widely from country to country; and when customs clearance procedures are required, it can cause delays beyond our original delivery estimates. We advise that you contact your local customs office for more information.