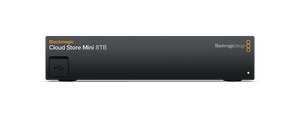 High Performance
Network Storage
with Global Sync
The Blackmagic Cloud Store Mini is a fast network storage solution in a compact rack mount design. It features a high speed 10G Ethernet connection and four internal M.2 flash memory cards operating in parallel RAID 0 for extremely fast file access. It's fast, even with lots of simultaneous users all accessing files at the same time! With Dropbox live sync, files can be distributed between multiple units globally, for very fast local file access, even on lower cost internet connections. Plus you don't need IT consultants as it's easy to use. There's even an HDMI monitor output! Blackmagic Cloud Store Mini is the perfect solution for storing and sharing files on your network!
Designed for Film and Television
Blackmagic Cloud Store Mini is the perfect network storage solution for any use! It's great for film and television where large media files need to be shared between multiple users for editing, color correction, audio post and VFX work. It even handles massive 12K Blackmagic RAW digital cinema files! Each user gets zero latency and they don't need to store files on their local computer. It's the perfect solution for DaVinci Resolve! Dropbox sync allows multiple disks to be synchronized in different locations globally. Then each location gets the fastest editing experience possible. That's critical for multicam editing where multiple media files are playing simultaneously!
Portable and Quiet Design
Blackmagic Cloud Store Mini features a compact rack mount design that's very portable and whisper quiet. Internally it has an array of 4 flash memory cards working in parallel for higher speed. The 10G Ethernet port and the 1G Ethernet port operate as a 2 port network switch. That's great if you don't have a 10G Ethernet network, as you can connect the 10G port directly into your computer and the 1G port to your existing network. If you need to access files quickly, then the USB-C even operates as a network connection, simply by plugging it into your computer. There is also an HDMI monitoring output so you can watch a live graphic view of the storage operating on a TV or monitor.
Flash Memory Allows
Multiple Simultaneous Users
The Blackmagic Cloud Store Mini is available with 8 TB of flash memory, so you have lots of space for your files. That's fantastic for television production, as it's small enough to be portable, but it has enough storage space for lots of video media. M.2 flash memory cards are used for extreme reliability, high access speeds and zero seek times. Plus the four M.2 cards are arranged in a parallel RAID 0 group so they can operate much faster than a single card. That ensures enough speed to keep up with the 10G Ethernet connection. Plus in the future, as new larger M.2 cards are released, the flash memory cards can be replaced with new ones. That ensures a very long life!
Sync to Dropbox
Now you can setup a local cache of your Dropbox files! This makes working much faster because files are instantly available without needing to be downloaded from the internet. Blackmagic Cloud Store Mini will constantly work to stay in sync. You can save space on your computer by moving cached Dropbox files to the Blackmagic Cloud Store Mini so everyone on your network can share them. You can even sync multiple Blackmagic Cloud Store Minis via Dropbox so people in different geographic locations can collaborate without latency because everyone has a local copy of the files. Dropbox is also a fantastic backup solution!
Distribute Files Globally
With support for Dropbox sync, you can use multiple Blackmagic Cloud Store Mini units to share files globally. That's important when working with large datasets or massive digital film and video files. These files need to be constantly accessed dozens of times a second, so most internet connections are too slow to handle it. While the internet has too much latency to access large files remotely, you can use it to sync these files. Syncing the files to local storage totally eliminates delays in accessing them. That's because everyone has a local copy of the files on their network. Blackmagic Cloud Store Mini will constantly sync files, even if your computer is turned off!
Real Time Monitoring
The most exciting feature is the HDMI monitoring output! Simply connect a TV or computer monitor to get a live status of the Blackmagic Cloud Store Mini. The storage map shows a graphic representation of the memory core and real time read and write access happening for the connected users. It's quite mesmerizing to watch! There are also graphs that show you the data transfers on the Ethernet connections. The main space indicator shows you the capacity of the memory core and how much is currently being used. You can also add a custom name to the store! The status for each Dropbox connection is also shown. It's even possible to see connected users and the power supply status.
High Performance 10G Ethernet
The Blackmagic Cloud Store Mini has a high speed 10G Ethernet port, which is only found on expensive workstation computers. With 10G Ethernet, you get 10 times the speed of regular Ethernet. Plus most computers can be upgraded to add 10G Ethernet. The Blackmagic Cloud Store Mini is so fast, it will run the 10G Ethernet port to its maximum capacity. Even when connected to an Ethernet switch with dozens of users accessing files at the same time. The 10G Ethernet port also features very low latency for fast access times. There is also a separate 1G Ethernet port, plus Ethernet on the USB-C port, so you can keep the fast 10G Ethernet port free for a faster computer.
Connect
via USB-C for
Quick File Access
Modern laptop computers are so thin, they often don't even have an Ethernet connection! That means you need an adapter to connect to an Ethernet network. These adapters are annoying and make it harder to just plug your computer into the storage to access a file. Blackmagic Cloud Store Mini has a USB-C to Ethernet adapter built in and you can access it simply by plugging your computer into the USB-C port on the store. Plus USB-C cables are much nicer than stiff Ethernet cables! Once you have connected the Cloud Store Mini's USB-C connection to your computer, you have an Ethernet connection to the store! That means you can just plug in to quickly grab files when you need them urgently!
Repairable
Design for Long Life
Blackmagic Cloud Store Mini is easy to repair by qualified IT engineers. The design is based on a single PCB that attaches to the 4 memory cards and the AC power supply. This means the flash memory cards can be removed and replaced. Plus Blackmagic Cloud Store Mini runs Blackmagic OS so it applies wear leveling, so each M.2 card won't see excessive data writes. You can also see any card faults on the utility and the HDMI monitor output. Plus in future, as new and larger M.2 flash memory cards are released, the Blackmagic Cloud Store Mini can be upgraded so it has much larger capacity. That's possible because M.2 flash memory cards are an open standard and available from any computer dealer.
No Subscription Costs
One of the big advantages of Blackmagic Cloud Store is that it's private storage that you fully control. There are no subscriptions to sign up for. There are no monthly license fees. There is no tracking of your usage or data. You don't even need to log into a web page to maintain the storage settings, because Blackmagic Cloud Store uses a free to download software utility that runs on Mac and Windows. That means you can run a private network, totally disconnected from the internet. This is critical for many security standards where computer networks cannot be connected to the external internet. With Blackmagic Cloud Store, you get enterprise level performance, but with total freedom.
Free Software for
Mac and Windows
When you need to change settings, you can use the Blackmagic Cloud Store utility that's available on Mac and Windows. By default, the Blackmagic Cloud Store is set to DHCP, so you can connect it to your network and start transferring files. In many ways, it plugs in just like a regular hard disk. That means it's so easy to setup, you won't need an IT person to get started! However if you want to customize your network, then the utility software lets you change the network settings in the cloud store. The utility also lets you add Dropbox sync folders. If you ever replace M.2 memory cards, then the utility also lets you run a rebuild on the memory core.
Perfect Multi Camera Video Workflow
Get broadcast quality video workflows by recording from a HyperDeck Studio directly into Blackmagic Cloud Store Mini. Just connect the HyperDeck Studio to the 1G Ethernet port, while the 10G Ethernet port can be connected to a high speed network so multiple DaVinci Resolve workstations can edit the media recorded by the HyperDeck. DaVinci Resolve is a free download and allows you to edit and color the camera files. There is a wide range of HyperDeck Studio recorders and they are the perfect interface between the broadcast video world and the file based world used by editing software. Once the files are recorded, DaVinci Resolve will let you start editing immediately!
Connections
10G Ethernet Ports
1 x Ethernet 100/1000/10G BASE-T
1G Ethernet Ports
1 x 100/1000 BASE-T
USB-C Port
1 x USB 3.0 (up to 5Gb/s). Supports Ethernet Over USB
HDMI Monitor Outputs
1
Computer Interface
USB-C or Ethernet for shared file access, configuration and software updates.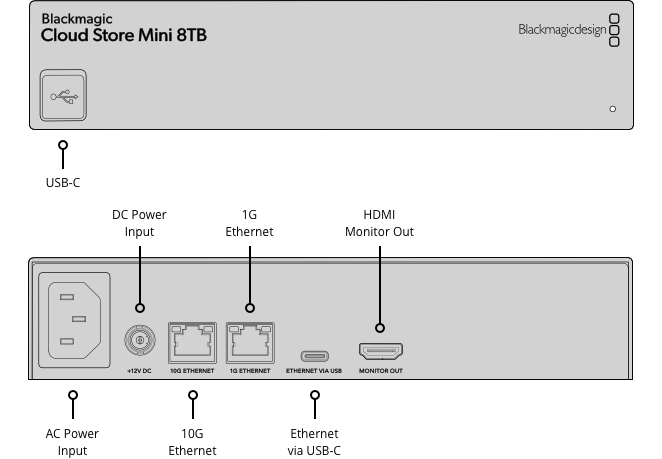 File Sharing Protocol
Protocol
SMB
Computer Connections
50 max.
Cloud Synchronization
Compatible Services
Dropbox
Storage
Storage Type
M.2 NVMe SSD
Total Capacity
8TB
Displays
HDMI Monitor Out Standards
1080p50, 1080p59.94, 1080p60

Monitor Out Displays
Device Name, storage capacity and use, Cloud Sync status, User Activity, Hardware Status, storage map, network data rate graph.
Status Indicator
Front panel LED illuminates white indicating normal operation or red indicating disk fault.
Device Control
External Control
USB-C or Ethernet for configuration and software updates.
Software
Software Included
Blackmagic Cloud Setup Utility
Blackmagic Proxy Generator Lite
Internal software upgrade via Blackmagic Cloud Setup using USB-C port.
Power Requirements
Power Supply
Internal 100 - 240V AC 50/60Hz with IEC C14 mains input.
Power Inputs
1 x IEC C14 mains input.
1 x 12V DC locking 5.5 mm barrel connector.
Power Usage
35W
Physical Specifications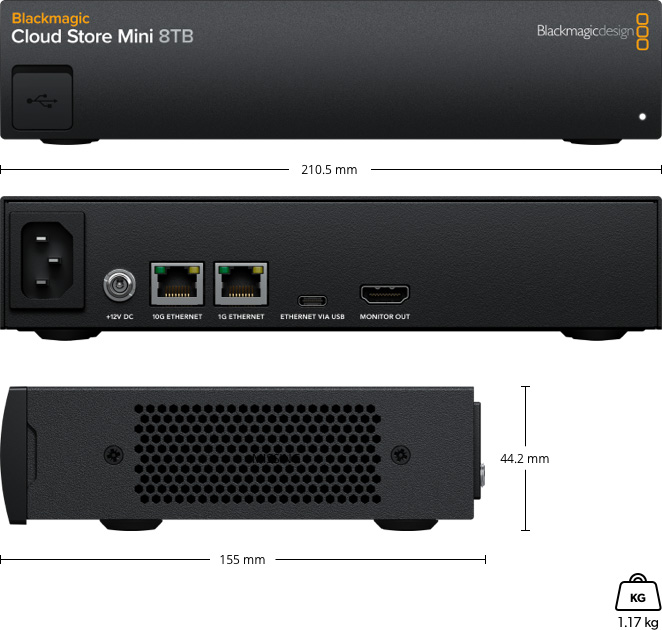 Environmental Specifications
Operating Temperature
0° to 40° C (32°to 104° F)
Storage Temperature
-20° to 60° C (-4° to 140° F)
Relative Humidity
0% to 90% non-condensing
What's Included
Blackmagic Cloud Store Mini 8TB
Welcome wallet with QR code for software download.
Shipping policy
Any items which are in stock, will be dispatched immediately - same day if possible and morning of the following business day at the latest. Items which are not in stock at our local warehouse will be routed to us, and dispatched immediately upon arrival to us. In that case, the estimated dispatch time is noted on the product page.
Note that you are always welcome to email info@dittools.eu or call (+372) 5556 0057 for a more accurate shipping time estimate, as this does vary depending on a number of factors.
Standard shipping
Unless otherwise noted, all items are shipped standard via DPD. We normally ship to European Union countries only – do contact us for possible exceptions, particularly other European mainland countries. Shipping times vary between 1 to 10 business days within Europe – an up to date estimate will be given at checkout.
Express shipping
Our shipping partner for expedited deliveries is DHL Express; please contact us directly for a quote.
Returning an item
If you are not completely satisfied with your purchase, you can return your item(s) for a full refund within 14 days of confirmed delivery.
Special sales, demo items and promotions may have modified return policies. If an item from a bundle is returned for refund, the total bundle discount or the total value of the gifts will get deducted from the returned item prior to issuing a refund. If the bundle discount (or gift value) exceeds the value of the returned item, the difference must be paid to be able to return the item.
Return autorization
If you would like to return any item(s), please contact us by either emailing info@dittools.eu or calling (+372) 5556 0057. We will share with you a Return Merchandise Authorization (RMA) code and ask that you clearly mark this code outside of your shipping box as you ship your item(s) back for a refund.
You will be liable for the shipping and any applicable customs/duty fees returning the item(s).
Incorrect items
If the return is made due to a faulty product, or an incorrectly shipped product, or if you are returning the item(s) due to a defect, or functionality issue, or because it is not the item you have ordered, we will gladly email or mail a return shipping label covering all shipping related expenses. In order to determine whether the return is initiated due to a technical problem, we may ask for you to provide visual support like images or a video on the item(s).
Shipping
Returned merchandise must be in its original packaging, and placed in a decent shipping box, e.g. the same box that we shipped the items to you in. Please make sure to clearly mark the RMA code you have received from us outside on the box.
Do not forget to cover or peel off any existing shipping labels on the box.
DIT Supplies OÜ cannot be held accountable for return shipments that have not reached us or returns made without RMA codes. We strongly advise that if you are returning the item(s) with a carrier of your choice that you use a traceable shipping method.
It may take 4-5 business days for your return to reach us. Once it is received and inspected, your refund will be processed and automatically applied to your credit card or original method of payment within 14 business days. Please note that depending on your credit card company, it may take an additional 2-4 business days after your credit is applied for it to post to your account.
Customs, duties & taxes
There are no customs duties or taxes on orders shipping within the EU. Orders shipped outside of the EU may be subject to import taxes, customs duties and fees collected by the destination country. The recipient of an international shipment may be subject to such import taxes, customs duties and fees, which are collected once a shipment reaches the recipient's country. Additional charges for customs clearance must be paid for by the recipient; we have no control over these charges and cannot predict what they may be. Customs policies vary widely from country to country; and when customs clearance procedures are required, it can cause delays beyond our original delivery estimates. We advise that you contact your local customs office for more information.