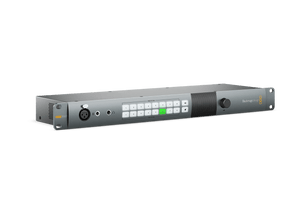 What's Included
ATEM Talkback Converter 4K
SD card with software and manual
Product Highlights
Communicate with up to 8 Cameras
8 x SDI I/O
Camera Talkback via XLR, Mini
Fits in 1 Standard Rack Unit
Supports SDI Tally Output
Camera Talkback
Upgradeable to Accept 8 x Fiber I/O
With 12G-SDI, Blackmagic Design's ATEM Talkback Converter 4K accepts high-resolution video from up to eight studio cameras or ATEM Camera Converters and allows the control room to interact with the camera operators. The 12G-SDI connections can support video with resolutions up to 4096 x 2160 at 60 fps and rout those individual signals to a switcher via SDI outputs, to a program monitor via its own SDI output, and back to the camera operator while carrying talkback audio over a single cable. Talkback audio can be captured via a microphone plugged into the XLR jack on the front, or a headset mic plugged into the appropriate jack, also on the front panel.
This unit can be upgraded to accept fiber optic connections, which carry, bi-directional 4K video, audio, and talkback for up to 28 miles without signal degradation. And because of its 1 RU size, it can easily fit into industry standard rack-mount equipment and furniture.
Optional Optical Fiber Connectors
The ATEM Talkback Converter 4K can be upgraded to use standard single mode optical fiber cable with standard LC connectors to allow you to transmit SD and HD video signals up to 28 miles away. Standard copper wire SDI cables have a limit of several hundred feet before the signal breaks up, converting the SDI signal to optical, and sending it along optical cable greatly increases the distance of your cable runs.
Talkback and Tally
The unit features a built-in speaker and mic inputs, as well as a headphone jack for when you need privacy, or the area is too loud. When connected to the ATEM Camera Converter without needing to worry about walkie talkies. Using the talkback feature, the unit uses audio channels 15 and 16 of the SDI stream for talkback communication.
Camera operators can be selected individually if desired, and communication can be controlled by a push button, or locked open. Mute and un-mute buttons on the front of the unit allow you to control who hears what.
The unit passes SDI Tally signal information back to the cameras along with any SDI Program signal from available switchers.
Precision Signal Processing
The unit features chips that use 10-bit processing, and are switchable between SD and HD, for a clean signal.
The unit features eight independent simultaneous SDI to optical and optical to SDI converters (with the optional fiber terminals), when used in conjunction with the ATEM Camera Converter the unit can also be used as four independent SDI or Fiber to HDMI converters.
Shipping policy
Any items which are in stock, will be dispatched immediately - same day if possible and morning of the following business day at the latest. Items which are not in stock at our local warehouse will be routed to us, and dispatched immediately upon arrival to us. In that case, the estimated dispatch time is noted on the product page.
Note that you are always welcome to email info@dittools.eu or call (+372) 5556 0057 for a more accurate shipping time estimate, as this does vary depending on a number of factors.
Standard shipping
Unless otherwise noted, all items are shipped standard via DPD. We normally ship to European Union countries only – do contact us for possible exceptions, particularly other European mainland countries. Shipping times vary between 1 to 10 business days within Europe – an up to date estimate will be given at checkout.
Express shipping
Our shipping partner for expedited deliveries is DHL Express; please contact us directly for a quote.
Returning an item
If you are not completely satisfied with your purchase, you can return your item(s) for a full refund within 14 days of confirmed delivery.
Special sales, demo items and promotions may have modified return policies. If an item from a bundle is returned for refund, the total bundle discount or the total value of the gifts will get deducted from the returned item prior to issuing a refund. If the bundle discount (or gift value) exceeds the value of the returned item, the difference must be paid to be able to return the item.
Return autorization
If you would like to return any item(s), please contact us by either emailing info@dittools.eu or calling (+372) 5556 0057. We will share with you a Return Merchandise Authorization (RMA) code and ask that you clearly mark this code outside of your shipping box as you ship your item(s) back for a refund.
You will be liable for the shipping and any applicable customs/duty fees returning the item(s).
Incorrect items
If the return is made due to a faulty product, or an incorrectly shipped product, or if you are returning the item(s) due to a defect, or functionality issue, or because it is not the item you have ordered, we will gladly email or mail a return shipping label covering all shipping related expenses. In order to determine whether the return is initiated due to a technical problem, we may ask for you to provide visual support like images or a video on the item(s).
Shipping
Returned merchandise must be in its original packaging, and placed in a decent shipping box, e.g. the same box that we shipped the items to you in. Please make sure to clearly mark the RMA code you have received from us outside on the box.
Do not forget to cover or peel off any existing shipping labels on the box.
DIT Supplies OÜ cannot be held accountable for return shipments that have not reached us or returns made without RMA codes. We strongly advise that if you are returning the item(s) with a carrier of your choice that you use a traceable shipping method.
It may take 4-5 business days for your return to reach us. Once it is received and inspected, your refund will be processed and automatically applied to your credit card or original method of payment within 14 business days. Please note that depending on your credit card company, it may take an additional 2-4 business days after your credit is applied for it to post to your account.
Customs, duties & taxes
There are no customs duties or taxes on orders shipping within the EU. Orders shipped outside of the EU may be subject to import taxes, customs duties and fees collected by the destination country. The recipient of an international shipment may be subject to such import taxes, customs duties and fees, which are collected once a shipment reaches the recipient's country. Additional charges for customs clearance must be paid for by the recipient; we have no control over these charges and cannot predict what they may be. Customs policies vary widely from country to country; and when customs clearance procedures are required, it can cause delays beyond our original delivery estimates. We advise that you contact your local customs office for more information.