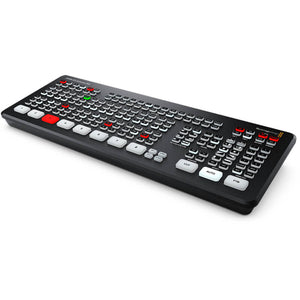 Live production switcher
Fast to set up and easy to use
Designed for broadcasters who need extreme portability
4 SDI inputs on the ATEM SDI and ATEM SDI Pro ISO models and 8 SDI inputs on the ATEM SDI Extreme ISO model
All SDI inputs feature standards converters and re-sync
DVEs for picture in picture effects
USB works as a webcam for connecting video to computers, while the Pro and Extreme models feature built in streaming
For audio the Fairlight mixer includes a compressor, limiter and 6 band parametric EQ on each input
Free ATEM Software Control
ATEM SDI
ATEM SDI is fast to set up and easy to use. It includes 4 standards converted SDI inputs, USB webcam, 2 SDI outputs, Fairlight audio mixer with EQ and dynamics, DVE for picture in picture, transition effects, green screen chroma key, 20 stills media pool for titles and free ATEM Software Control.
ATEM SDI Pro ISO
This model includes the features of ATEM SDI plus it adds built in streaming and recording to 5 video streams in real time! That's a clean feed of all inputs for multi‑cam editing! A DaVinci Resolve project is saved so you can open your live production to edit, remix audio and add colour correction.
ATEM SDI Extreme ISO
This model includes all the features of ATEM SDI Pro ISO model but has 8 SDI inputs and 4 SDI outputs. It can record 9 separate H.264 video streams in real time, allowing capture of all 8 clean feed inputs as well as the program video. A DaVinci Resolve project file is also saved.
About The Blackmagic ATEM SDI
ATEM SDI is fast to set up and easy to use. It includes 4 standards converted SDI inputs, USB webcam, 2 SDI outputs, Fairlight audio mixer with EQ and dynamics, DVE for picture in picture, transition effects, green screen chroma key, 20 stills media pool for titles and free ATEM Software Control.
Introducing ultra portable live production with advanced broadcast features
ATEM SDI is a family of live production switchers designed for broadcasters who need extreme portability! ATEM SDI switchers are very similar to ATEM Mini, however the video connections are 3G-SDI and each model has double the number of video outputs! You get 4 SDI inputs on the ATEM SDI and ATEM SDI Pro ISO models and 8 SDI inputs on the ATEM SDI Extreme ISO model. Plus all SDI inputs feature standards converters and re-sync! You even get DVEs for picture in picture effects! The USB works as a webcam for connecting video to computers, while the Pro and Extreme models feature built in streaming. For audio the Fairlight mixer includes a compressor, limiter and 6 band parametric EQ on each input!
A New Generation of Ultra Portable Live Production!
ATEM SDI gives you the portable design of ATEM Mini, but its SDI connections means you can connect advanced broadcast quality cameras and recorders. This opens up a whole new world of ultra portable live production. The incredibly portable design means you can fit a whole broadcast quality live production system in a small bag or even a backpack! You can use multiple cameras on location and live stream direct to YouTube, or create a broadcast quality link back to a studio with ATEM Streaming Bridge. Unlike single camera remote shoots, ATEM SDI lets you connect multiple cameras so you can create interesting remote interviews with multiple camera angles.
Self Contained Broadcast Quality Switcher
ATEM SDI's compact all in one design includes both a control panel as well as connections. The front panel includes easy to use buttons for selecting sources, video effects and transitions. The source buttons are large so it's possible to use it by feel, letting the presenter do the switching! You even get buttons for audio mixing! The ATEM SDI Pro and Extreme models have buttons for recording and streaming control, as well as output selection buttons that let you change the video output between program, direct camera feeds and the multiview. On the rear panel there are SDI connections for cameras, extra microphone inputs, USB for webcam plus multiple SDI "aux" outputs for program video.
ATEM SDI
ATEM SDI is fast to set up and easy to use. It includes 4 standards converted SDI inputs, USB webcam, 2 SDI outputs, Fairlight audio mixer with EQ and dynamics, DVE for picture in picture, transition effects, green screen chroma key, 20 stills media pool for titles and free ATEM Software Control.
Easy to Use and Fast to Learn!
There's never been a switcher that's easier to use, as you simply press any of the input buttons labelled by number on the front panel to cut between video sources. You can choose between cut or effects transitions by selecting the cut or auto buttons. Unlike cut, the auto button tells ATEM SDI to use a video effect when switching inputs. You can select from exciting transitions such as dissolve, or more dramatic effects such as dip to colour, DVE squeeze and DVE push. Add a DVE effect for picture in picture effects with customized picture positions and background. There are even "media players" which are a still store for titles and graphics that you can load via external software control.
Connect up to 8 Broadcast Cameras
With 4 or 8 video inputs, depending on the model, ATEM SDI lets you connect multiple cameras for different views of the performance. Video cameras with SDI outputs such as Blackmagic Studio Camera or Blackmagic URSA Broadcast G2 are much better quality as they have better low light performance and they use professional lenses. All video sources will re-sync to the switcher, even if they operate at different video standards. Everything just works so setup on location is easy and you don't have to worry about technical problems. Imagine taking advantage of the creative freedom of multi camera live production for interviews, advertorials, theater production, music performances, sports and more!
Outputs Webcam for Video Software!
To ensure maximum compatibility, all ATEM SDI models feature USB that operates as a simple webcam source. That means you can plug into a computer and get working with any video software! The software is tricked into thinking the ATEM SDI is a common webcam, but it's really a live production switcher. That guarantees full compatibility with any video software and in full resolution 1080HD quality. Choose any software you like, such as Zoom, Microsoft Teams or Skype for a new way to do presentations with a professional multi camera broadcast quality style! The ATEM SDI webcam output also works with streaming software such as Open Broadcaster, XSplit Broadcaster and more!
Live Stream via Ethernet on ATEM SDI Pro
ATEM SDI Pro and ATEM SDI Extreme models have a built in hardware streaming engine for live streaming via their ethernet connections. That means you can live stream to YouTube, Facebook and Twitch in better quality, without dropped frames and with simpler settings. Just select the streaming service and enter the streaming key! There are palettes in ATEM Software Control for streaming setup, plus streaming status is also displayed in the multiview. Streaming status is easy to understand as the data rate indicator shows internet speed required for the video format you're using. If you're technically minded, you can update the streaming profiles in an XML settings file to load new services.
Connect 5G or 4G Phones for Mobile Data
If you're doing live production on location then the ATEM SDI Pro and Extreme models support connecting an Apple or Android phone to the USB port to use mobile data! It's also a great backup for the main Ethernet connection. Phone tethering works with the latest high speed 5G phones plus the more common 4G phones! The ATEM switcher will automatically detect when a phone is connected and switch its internet connection to use it, eliminating the need for changing settings. When connected, the phone will power from the USB port so it remains charged from the switcher. By using phone tethering for mobile data, ATEM SDI Pro and ATEM SDI Extreme become the perfect mobile production solutions!
Record Direct to USB Flash Disks with ATEM SDI Pro
The ATEM SDI Pro and Extreme models also support direct recording of your streaming data to USB flash disks! That means you get very long recordings in the same H.264 video files with AAC audio that you streamed, so you can direct upload to any online video site, such as YouTube or Vimeo. Recording to multiple disks is also supported via a USB hub so when a disk fills, recording can continue to a second disk so you get non-stop recording. Record settings and disk selection are set up in ATEM Software Control and you can also display the recording status in the multiview.
Edit Live Production with Separate ISO Recordings!
The ATEM SDI Pro ISO and Extreme ISO models allow you to edit your live event as they can record multiple video streams, including clean feeds of all inputs and program, all at the same time! Media pool images used are also saved with the video files. The video files include metadata tags such as synced timecode and camera numbers. Imagine re-editing your show with new colour grades, effects and graphics! Even the audio sources are all recorded so you can professionally remix your audio!
Edit Live Production in DaVinci Resolve
The ISO models also save a DaVinci Resolve project file, so with a single click you can open your live production as a video edit. All cuts, dissolves and media pool graphics will be loaded. This means you can fine tune edit points or even completely replace shots! The DaVinci Resolve Sync Bin lets you edit shots via a multiview interface, so it's easy to use and fast! All ISO files will be automatically aligned by timecode, so you can scroll along and see all camera angles perfectly synced.
Add Exciting Video Effects
One of the benefits of ATEM SDI is the professional production values that are possible using the range of built in video effects! The cut button ensures an instant cut when switching between sources. The auto button is a professional term that's used on large broadcast switchers to enable video effect transitions. There are duration buttons for video effects allowing 0.5, 1, 1.5 and 2 second settings. You can also select the type of effect you want including mix, which does a smooth transition between sources, and dip which fades via a colour during the transition. Or use fun DVE effects that move the image off screen when transitioning between sources!
Work with Professional Microphones
With two independent 3.5mm stereo audio inputs, you can connect desktop and lapel microphones. You can even connect a music player to generate introduction music after the live stream commences but before the program starts. With 2 extra stereo audio inputs, you can ensure a host and guest both have lapel microphones when doing interviews. All audio inputs to ATEM SDI include buttons on the panel for adjusting audio level and enabling inputs into the audio mixer. Plus all models feature a Fairlight audio mixer with all SDI inputs and both microphone inputs connected to the audio mixer allowing live mixing from all your audio sources. The ATEM SDI Extreme also adds a headphone output.
Automatically Converts Any SDI Input Format
Each 3G-SDI video input features its own dedicated standards converter. That means ATEM SDI will automatically convert 1080p, 1080i and 720p sources to the switcher video standard! By default the switcher will set its video format automatically, however you can also set the switcher to any video standard manually! The SDI outputs are a true "aux" outputs so you can independently customize the source video routed to each SDI output. All outputs can be connected to cameras as they include camera control and tally information. On the more powerful ATEM SDI Pro and ATEM SDI Extreme models, the SDI output can also be selected to display the built in multiview.
Secret Broadcast Features Built In!
While ATEM SDI is easy to use, it also has very powerful high end broadcast features! ATEM SDI is even perfect for training new live production crews as it has the same features as the massive switchers used in large broadcast studios. You get an ATEM Advanced Chroma Key, Fairlight audio mixer, DVE, still store for graphics and much more! Simply run the free ATEM Software Control app on Mac or Windows while connected via USB or Ethernet to access the extended features of the ATEM SDI. With a little experimentation you can learn how to produce broadcast quality live production. Only ATEM SDI is a true broadcast switcher hidden in a tiny and affordable design!
Includes Free ATEM Software Control Panel
The ATEM Software Control app unlocks the hidden power of ATEM SDI and allows access to every feature in the switcher. ATEM Software Control features a visual switcher user interface with parameter palettes for making quick adjustments. Although you can normally connect via USB, if you connect using Ethernet it's possible for multiple users to connect to ATEM SDI using separate copies of ATEM Software Control on different computers! The software lets you access full audio mixing with effects, load still frames and even do advanced macro programming! You can even save the switcher state as an XML file! If you need clip playback, you can even control HyperDeck disk recorders via Ethernet.
DVE for Picture in Picture, Transitions and Effects
One of the most exciting features on ATEM SDI is the built in DVE that allows picture in picture effects and DVE transitions! The DVE lets you create professional picture in picture effects with customizable 3D borders, shadows and lighting. The image quality is the same as high end ATEM switcher models and the DVE supports position, resize and scale, all in real time. The DVE can also be used to create amazing transitions with 16 different DVE squeeze and DVE push effects for adding excitement to your programming. The DVE features a "fly key" so you can use it with custom graphics to create graphic wipe transitions!
Professional Broadcast Transitions!
ATEM SDI includes a wide range of broadcast quality HD native transitions such as mix, dip, wipe and more. All transitions can be customized by adjusting parameters such as duration, border colour, border width, position and direction. You can also use the DVE in transitions, allowing a graphic to be moved over the wipe edge which is called a graphic wipe, and is commonly used in sports programming. To eliminate errors, ATEM SDI has a preview transition feature so you can check your transitions before putting them to air.
Built-in Graphics with Photoshop Plug‑In
The built in "media pool" allows the loading of up to 20 separate broadcast quality RGBA graphics for titles, opening plates and logos. The media player is used to output the selected image so it appears as an extra internal video source for use in graphics and titles. You can even use still frames for complex effects such as graphic wipes. ATEM SDI can also grab stills from video and save them to the internal media pool. Graphics can be loaded via ATEM Software Control or downloaded directly from Photoshop using the ATEM Photoshop plug-in. The Photoshop Plug-in is perfect for graphics that change often, such as scoreboards, as you can download directly into the media player.
Includes New ATEM Advanced Chroma Key
For news or on-set presentation work, ATEM SDI is perfect as it features the powerful ATEM Advanced Chroma Key for green screen keying effects. The chroma keyer is incredibly powerful and features a colour picker to sample background colours for automatic generation of the key parameters. You get precise controls for edge and flare, and there is even a foreground colour corrector so you can match the foreground and background layers for seamless compositions. You can even use it for title overlays by creating graphics with a green or blue background. Plus the ATEM SDI Extreme includes a massive 4 separate ATEM Advanced Chroma Keyers, for a keyer per camera, allowing virtual set production!
Create Amazing Virtual Sets
The ATEM SDI Extreme models include 4 upstream chroma keyers and this allows you to build exciting virtual sets! With 4 independent chroma keyers, you get a keyer per camera so you can build a virtual set for up to 4 cameras. With ATEM SDI Extreme you have 8 inputs, 4 to use for cameras and the other 4 can be connected to a virtual set computer for the rendered backgrounds. Or if you don't need to move your cameras, you can do fixed camera virtual sets by loading pre rendered still image backgrounds from the media players and media pool. You can setup macros to change cameras and load the correct background into the media players!
Powerful SuperSource Processing!
In addition to 2 independent DVEs in the ATEM SDI Extreme models, there's also a powerful SuperSource multi layer processor with 4 extra DVE layers plus a background layer, that all appear to ATEM SDI Extreme as an additional input source. Any ATEM SDI Extreme video input can be used for each SuperSource DVE, then it's all layered together over a media pool custom background. SuperSource is perfect for doing multiple picture in picture displays with people being interviewed because you can set up the effect before putting it to air, still keeping both main DVEs free for other tasks. SuperSource is just like having an extra multi-layer VFX switcher built in!
True Broadcast Style Mix Effects Switching
Although ATEM SDI works in "cut bus" mode when first purchased, it can also be changed to "program/preview" style operation, which is the way broadcasters normally use live production switchers. Cut bus switching is easy and selecting any input will instantly switch to that source. However if you want to operate ATEM SDI like a true professional then you can change the switcher to program/preview using ATEM Software Control settings. Mix effects operation allows a source to be selected but it won't be put on air until you press the cut or auto buttons. That 2 step program/preview process means fewer mistakes.
Monitor Sources and Status with ATEM SDI Pro Multiview!
When doing larger live productions with multiple cameras, it's very useful to see all your video sources at the same time on a single monitor. The ATEM SDI Pro and ATEM SDI Extreme models include a professional multiview that lets you see all video inputs, preview and program on a single SDI monitor! Simply select M/V button on the front panel to select the multiview! Each camera view includes tally indicators so you know when each source is on-air, and each view also has custom labels and audio meters. Plus the ATEM SDI Extreme models allow you to select up to 16 custom views! Multiview even includes status for recording, streaming and the audio mixer!
Built In Audio Mixer with 6 Band EQ, Compressor and Limiter
With a built in Fairlight audio mixer, ATEM SDI makes it possible to do complex live sound mixing. The internal mixer features enough channels for each SDI input so you can mix audio from all sources! That's audio from all SDI sources, plus the 2 stereo mic inputs. Each input channel features the highest quality 6 band parametric EQ and compressor, limiter, expander and noise gate as well as full panning. You can even set up the software to auto mix between inputs as you switch "AFV" or to live mix multiple sources together all at once. All this audio power can be controlled via ATEM Software Control, or you can add a Mackie compatible panel.
Create Broadcast Links with ATEM Streaming Bridge
The ATEM Streaming Bridge is a video converter that lets you receive a H.264 stream from any ATEM SDI Pro or ATEM SDI Extreme and convert it back to video. This means you can send video to remote locations around your local Ethernet network, or via the internet globally! That's possible because it uses an advanced H.264 codec for high quality at very low data rates. This means you can create broadcast quality links back to your studio using the internet, so it's much lower cost. To make setup is easy, the ATEM software utility can create a setup files that you can email to the remote studio. ATEM Streaming Bridge is the perfect way to use ATEM SDI as a remote broadcast studio!
Develop Custom Remote Control Solutions
The Ethernet connection also allows customized control solutions! Even though ATEM SDI includes ATEM Software Control, you can use the Ethernet to control the ATEM remotely, anywhere in the world. A popular workflow is to use the Ethernet to allow the ATEM SDI to be positioned near the cameras, but the control is positioned remotely in a quieter space, such as a control room. Imagine using the switcher from a control room and building a professional broadcasting studio where the control room can be separated away from the performance or interviews. Ethernet allows you to add as many panels as you like all at the same time, or you can build custom solutions using the developer SDK!
Connect a  HDMI Computer
If you need to connect computer graphics to ATEM SDI, then you can use a Micro Converter HDMI to SDI. Because the connection is direct, the quality is amazing! If you create graphics with a green background, then the ATEM Advanced Keyer will allow compositing titles over a live background! Computers also make fantastic media players!
HDMI Computer Connect a HDMI Camera
Connect a Blackmagic Pocket Cinema Camera 4K or 6K by using a Micro Converter BiDirect SDI/HDMI. It will convert the camera HDMI to the switcher SDI input. It can also take an SDI output of the switcher and embed the camera control into the HDMI data link back to the camera. This gives you tally and colour corrector control direct from the switcher
Switch Faster with an ATEM 1 M/E Advanced Panel
With Ethernet built in, ATEM SDI can use hardware control panels for high end workflows that take advantage of the hidden broadcast features in the switcher! The ATEM 1 M/E Advanced Panel features the fast program/preview style with separate source buttons for both program and preview rows. Get direct access to all transitions automatically or manually using the t-bar. For accurate control of the DVE, the joystick provides X, Y positioning with rotation setting the DVE size. You also get LCD menus to control features that don't have dedicated knobs and buttons. You can even program and trigger macros! Plus you can still use the hardware panel if you upgrade to a bigger ATEM switcher later!
Get Industry Standard Professional Camera Control
When working on live production, its critical all cameras are perfectly matched with good colour balance for a consistent look when transitioning between the each camera. The ATEM Camera Control Panel works with ATEM SDI and is the perfect solution for camera control. All control commands are sent to the cameras using the SDI camera control protocol which is supported by cameras such as Blackmagic URSA Broadcast and Blackmagic Studio Cameras. You get dedicated controls including CCU style joystick and controls for RGB camera colour, master gain, black, iris and more. Plus all controls are arranged in a familiar broadcast layout perfect for both experienced and new operators!
Compatible with Blackmagic Cameras, Panels, Decks and More!
ATEM SDI is even more powerful it can be expanded to grow with you. Add an ATEM Advanced Panel to get professional industry standard switcher control. Then add an ATEM Camera Control Panel for fast control and colour balancing of up to four cameras. For cameras, Blackmagic Studio Cameras make great studio cameras as they have tally and control all built into the compact and very portable design. For mastering, Blackmagic HyperDeck Studio recorders are perfect because they include popular file formats such as ProRes, H.264 and DNx. You can even live stream using an UltraStudio or Blackmagic Web Presenter! Then add a Micro Converter SDI to HDMI 3G converter for HDMI monitoring!
1.Blackmagic URSA Broadcast G2
Designed for broadcast and live production, you get a 6K sensor with +36dB of gain, wide dynamic range and B4 lens mount. Includes Blackmagic RAW, ProRes, H.264 and H.265 record file formats.
2.Blackmagic Studio Viewfinder G2
Turn URSA Mini into the ultimate live camera with a professional 7 inch studio viewfinder!
3.Blackmagic Camera Fiber Converter
Connect cameras to live switchers up to 2 km away with video, control and power, all over a single cable!
4.Blackmagic Studio Fiber Converter
Connect to remote cameras up to 2 km away with multiple channels of video, control and power all over a single cable!
5.Blackmagic Studio Camera 4K Pro
Designed for professional SDI switchers, you get all the features of the Plus model, as well as 12G-SDI, professional XLR audio, brighter HDR LCD and 10G Ethernet IP link.
6.HyperDeck Studio HD Mini
Miniaturized deck records H.264, ProRes or DNxHD files onto SD/UHS-II cards or external USB disks in SD/HD formats to 1080p60. Includes timecode and reference generators, 3G-SDI in/out and HDMI out.
7.HyperDeck Studio HD Pro
Includes all the features of the Plus model, and adds 2 SSD slots as well as the 2 SD card slots. Also includes machined metal search dial with clutch, SDI monitor out and XLR timecode connections.
8.ATEM Camera Control Panel
Control up to 4 cameras at one time including iris, shutter speed, white balance, master gain, pedestal, RGB and more!
Connections
Total Video Inputs
8
Total Outputs
6
Total Aux Outputs
4
Total Audio Inputs
2 x 3.5mm stereo mini jack.
Total Audio Outputs
1 x 3.5mm stereo mini jack.
Timecode Connection
None
SDI Video Inputs
8 x 3G-SDI, 10-bit HD switchable.
2 channel embedded audio.
Video Input Re-Sync
On all 8 SDI inputs.
Frame Rate and Format Converters
On all 8 SDI inputs.
SDI Program Outputs
4
Ethernet
Ethernet supports 10/100/1000 BaseT for live streaming, software control, software updates and direct or network panel connection.
Computer Interface
2 x USB Type-C 3.1 Gen 1 for external drive recording, webcam out, software control, software updates and panel connection.
Standards
HD Video Input Standards
720p50, 720p59.94, 720p60
1080p23.98, 1080p24, 1080p25, 1080p29.97, 1080p30, 1080p50, 1080p59.94, 1080p60
1080i50, 1080i59.94, 1080i60
HD Video Output Standards
1080p23.98, 1080p24, 1080p25, 1080p29.97, 1080p30, 1080p50, 1080p59.94, 1080p60
Video Streaming Standards
1080p23.98, 1080p24, 1080p25, 1080p29.97, 1080p30, 1080p50, 1080p59.94, 1080p60
Ultra HD Video Standards
None
Video Sampling
4:2:2 YUV
Color Precision
10-bit
Color Space
Rec 709
Colorspace Conversion
Hardware based real time.
Product Specifics
Upstream Keyers
4
Downstream Keyers
2
Advanced Chroma Keyers
Up to 4
Linear/Luma Keyers
Up to 4
Transition Keyer
DVE only.
Total Number of Layers
9
Pattern Generators
5
Color Generators
2
DVE With Borders and Drop Shadow
2
Interface
Minimum monitor resolution of 1366 x 768.
Audio
Audio Mixer
11 input x 2 channel mixer.
Selectable On/Off/Audio-Follow-Video per channel plus separate gain control per channel.
Level and Peak metering. Plus new Fairlight audio enhancements: Compressor, Gate, Limiter, 6 bands of parametric EQ. Master gain control.
Analog Input
Unbalanced stereo
Analog Input Delay
Up to 8 frames
Input Impedance
1.8k
Max Input Level
+6dBV
Mic Plug In Power
Available on both 3.5mm mini jack connections.
Streaming
Direct Streaming
ATEM SDI Extreme ISO supports direct live streaming using Real Time Messaging Protocol (RTMP) over ethernet or a shared mobile internet connection over USB‑C.
Recording
Direct Recording Video and Audio
USB-C 3.1 Gen 1 expansion port can record directly to external media.
Video Recording
8 x SDI ISO inputs as H.264 .mp4 files at up to 70Mb/s quality at the ATEM video standard with AAC audio.
1 x Program out as H.264 .mp4 file at the Streaming quality setting and at the ATEM video standard with AAC audio.
Audio Recording
10 x 2 channel audio inputs recorded as separate 24‑bit 48KHz .wav files. Including 2 x analog 2 channel audio inputs and 8 x SDI 2 channel embedded audio inputs.
Switching
Program switching recorded as a DaVinci Resolve project .drp file.
Media Format
Supports media formatted ExFAT (Windows/Mac) or HFS+ (Mac) file system.
Multi View Monitoring
Multi View Monitoring
Configurable to 16, 13, 10, 7 or 4 up views including Program, Preview, 8 SDI inputs, SuperSource, Clean Feed, Media Player, Streaming Status, Recording Status and Audio Meters.
Multi View Video Standard
HD
Media Player
Media Players
2
Channels
Fill and key for each Media Player.
Media Pool Still Image Capacity
20 with fill and key.
Media Pool Still Image Format
PNG, TGA, BMP, GIF, JPEG and TIFF.
Control
Control Panel
Built in control panel. Software control panel with camera control included. Supports optional hardware panel.
Control Panel Connection
Ethernet supports 10/100/1000 BaseT. Ethernet used for direct connection between panel and chassis or via network. ATEM SDI Extreme ISO also supports direct USB‑C connection. Ethernet or USB‑C used for updating the software.
Control Panel Compatibility
Includes ATEM Software Control Panel. Also compatible with ATEM 1 M/E Advanced Panel, ATEM 2 M/E Advanced Panel and ATEM 4 M/E Advanced Panel. ATEM SDI Extreme ISO can be configured using Blackmagic Videohub Hardware Panel Setup utility to route sources to destinations using Videohub Smart Control Pro and Videohub Master Control Pro.
Control Panel Included
ATEM Software Control Panel included free for Mac 11.0 Big Sur, Mac 12.0 Monterey or later and Windows 10 64 bit or
Windows 11.
Software
Software Updates
Using USB or Ethernet connection directly connected to Mac OS X or Windows computers. Includes ATEM Switcher Utility.
Configuration
Set via ATEM Software Control Panel, excluding ATEM chassis IP address which is set via the ATEM Switcher Utility connected via
USB to chassis.
Operating Systems
Mac 11.0 Big Sur,
Mac 12.0 Monterey or later.
Windows 10, 64-bit.
Windows 11.
Power Requirements
Power Supply
1 x External 12V power supply.
Power Usage
36W
Physical Specifications
L 370 mm x W 151 mm x 39.6 mm
Environmental Specifications
Operating Temperature
5° C to 40° C (41° - 104° F)
Storage Temperature
-10° to 60° C (14° to 140° F)
Relative Humidity
0% to 90% non-condensing
Shipping policy
Any items which are in stock, will be dispatched immediately - same day if possible and morning of the following business day at the latest. Items which are not in stock at our local warehouse will be routed to us, and dispatched immediately upon arrival to us. In that case, the estimated dispatch time is noted on the product page.
Note that you are always welcome to email info@dittools.eu or call (+372) 5556 0057 for a more accurate shipping time estimate, as this does vary depending on a number of factors.
Standard shipping
Unless otherwise noted, all items are shipped standard via DPD. We normally ship to European Union countries only – do contact us for possible exceptions, particularly other European mainland countries. Shipping times vary between 1 to 10 business days within Europe – an up to date estimate will be given at checkout.
Express shipping
Our shipping partner for expedited deliveries is DHL Express; please contact us directly for a quote.
Returning an item
If you are not completely satisfied with your purchase, you can return your item(s) for a full refund within 14 days of confirmed delivery.
Special sales, demo items and promotions may have modified return policies. If an item from a bundle is returned for refund, the total bundle discount or the total value of the gifts will get deducted from the returned item prior to issuing a refund. If the bundle discount (or gift value) exceeds the value of the returned item, the difference must be paid to be able to return the item.
Return autorization
If you would like to return any item(s), please contact us by either emailing info@dittools.eu or calling (+372) 5556 0057. We will share with you a Return Merchandise Authorization (RMA) code and ask that you clearly mark this code outside of your shipping box as you ship your item(s) back for a refund.
You will be liable for the shipping and any applicable customs/duty fees returning the item(s).
Incorrect items
If the return is made due to a faulty product, or an incorrectly shipped product, or if you are returning the item(s) due to a defect, or functionality issue, or because it is not the item you have ordered, we will gladly email or mail a return shipping label covering all shipping related expenses. In order to determine whether the return is initiated due to a technical problem, we may ask for you to provide visual support like images or a video on the item(s).
Shipping
Returned merchandise must be in its original packaging, and placed in a decent shipping box, e.g. the same box that we shipped the items to you in. Please make sure to clearly mark the RMA code you have received from us outside on the box.
Do not forget to cover or peel off any existing shipping labels on the box.
DIT Supplies OÜ cannot be held accountable for return shipments that have not reached us or returns made without RMA codes. We strongly advise that if you are returning the item(s) with a carrier of your choice that you use a traceable shipping method.
It may take 4-5 business days for your return to reach us. Once it is received and inspected, your refund will be processed and automatically applied to your credit card or original method of payment within 14 business days. Please note that depending on your credit card company, it may take an additional 2-4 business days after your credit is applied for it to post to your account.
Customs, duties & taxes
There are no customs duties or taxes on orders shipping within the EU. Orders shipped outside of the EU may be subject to import taxes, customs duties and fees collected by the destination country. The recipient of an international shipment may be subject to such import taxes, customs duties and fees, which are collected once a shipment reaches the recipient's country. Additional charges for customs clearance must be paid for by the recipient; we have no control over these charges and cannot predict what they may be. Customs policies vary widely from country to country; and when customs clearance procedures are required, it can cause delays beyond our original delivery estimates. We advise that you contact your local customs office for more information.