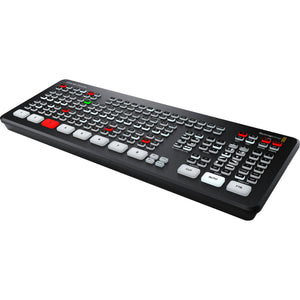 What's Included
ATEM Mini Extreme 
External 12V DC power supply with international socket adapters
ATEM Mini Extreme
This model is an advanced switcher for true professionals! You get all the ATEM Mini Pro features plus 8 HDMI inputs, 2 separate HDMI outputs, 2 USB ports and a headphone connection. There are also 4 chroma keyers, 6 picture in picture DVEs, 2 media players, and a multiview with up to 16 views!
8-Channel HDMI Live Streaming Switcher
Supports up to 1080p60
RTMP Streaming via Ethernet or USB-C
Record Program Out
The Blackmagic Design ATEM Mini Extreme is an 8-input live production switcher for live streaming. It features an integrated control panel and has advanced broadcast features. In addition to live streaming using RTMP protocols, you can also output your program as if it was a webcam over USB. This versatile switcher's eight independent HDMI inputs accept all popular HD signals up to 1080p60. Each input has discrete frame rate and format converters, and it supports re-syncing for seamless switching between a variety of pro and consumer cameras, game consoles, and computer feeds.

Switch, add effects, color grade, and key in real time using the control surface's buttons, or via the software control panel. CCU functions are available for controlling Blackmagic Studio and URSA Mini/Broadcast/Micro Studio cameras from the switcher. The ATEM Mini Extreme supports up to nine layers, with four upstream and two downstream keyers, up to four chroma keyers, up to four linear keyers, two DVE with borders and drop shadow, five pattern generators, and two color generators. Designed for live streaming or webcam production, the Mini Extreme has HDMI outputs to feed monitors and supports up to 16-screen multiview.
Stream Live
Live stream to YouTube, Facebook Live, Skype, Twitch, Zoom, Microsoft Teams, and other platforms that support RTMP protocols.
Control Interface
The front panel includes easy-to-use buttons for selecting sources, video effects, and transitions. The source buttons are large, allowing you to operate them by feel. Included on the ATEM Extreme are buttons for audio mixing, recording, and streaming control, as well as output selection buttons that let you change the video output between cameras, program, and multiview. On the rear panel, there are HDMI connections for cameras or computers, extra microphone inputs, USB for webcam out, plus an HDMI "AUX" output for program video.
Output
You can output using the Ethernet connection to your network or use the USB Type-C output to have your switched show recognized as a webcam input by virtually any video software such as Zoom, Microsoft Teams, Skype, Open Broadcaster, XSplit Broadcaster, and others.
4G and 5G Phone Support
If you're doing live production on location, the ATEM Mini Extreme models support connecting an Apple or Android phone to the USB port to use mobile data. It's also a great backup for the main Ethernet connection, so you don't drop your stream if your hardwired connection gets interrupted. The switcher will automatically switch to using the phone as the primary connection, and the USB port will also power your phone, so the battery won't drain.
Multiview Monitoring
You can configure the HDMI output for multiview with 4, 7, 10, 13, up to 16 views including Program, Preview, eight HDMI inputs, SuperSource, clean feed, media player, streaming status, recording status, and audio meters.
Camera Control
The ATEM Mini Extreme can control the Blackmagic Pocket Cinema Camera 4K and 6K models when they are updated to the latest software and plugged in via the HDMI inputs. You can control your HDMI camera settings such as iris, gain, focus, detail, and zoom control on compatible lenses. Plus, you can color balance cameras, as well as create unique looks using the DaVinci Resolve primary color corrector built into the Blackmagic Pocket Cinema Camera 4K and 6K.
Media Pool
The switcher can store up to 20 images with fill and key, and it supports PNG, TGA, BMP, GIF, JPEG, and TIFF file formats.
Compatibility
It includes the ATEM Software Control Panel, and it is also compatible with the ATEM 1 M/E, ATEM 2 M/E, and ATEM 4 M/E Advanced Panels. The ATEM Mini Extreme can be configured using Blackmagic's Videohub Hardware Panel Setup utility to route sources to destinations using Videohub Smart Control Pro and Videohub Master Control Pro.
Recording
The ATEM Mini Extreme models support the direct recording of your streaming data to USB flash disks using the same H.264 video files with AAC audio that you streamed. Recording to multiple disks is also supported via a USB hub or the Blackmagic MultiDock, so when a disk becomes full, recording can continue to a second disk for nonstop recording. Record settings and disk selection are set up in ATEM Software Control, and there's a record status view in the built-in multiview. You can even trigger recording on connected Blackmagic Pocket Cinema Cameras.
Video Effects
One of the benefits of ATEM Mini is the professional production values possible using the range of built-in video effects. The cut button ensures an instant cut when switching between sources. The auto button is a professional term used on large broadcast switchers to enable video effect transitions. There are duration buttons for video effects allowing 0.5-, 1-, 1.5-, and 2-second settings. You can also select the type of effect you want including mix, which does a smooth transition between sources, and dip, which fades via a color during the transition. Or use fun DVE effects that move the image off-screen when transitioning between sources.
Audio
With two independent 3.5mm stereo audio inputs, you can connect desktop and lapel microphones, or you can connect a music player to generate introduction music after the live stream commences but before the program starts. With two extra stereo audio inputs, you can ensure a host and guest both have lapel microphones when doing interviews. All audio inputs to the ATEM Mini include buttons on the panel for adjusting audio level and enabling inputs into the audio mixer. All models feature a Fairlight audio mixer with all HDMI inputs, and both microphone inputs are connected to the audio mixer, so you can live mix from all audio sources. The ATEM Mini Extreme also adds a headphone output.
Broadcast Features
Hiding in the ATEM Mini Extreme models are a host of broadcast-caliber features that are accessible when connected to a Mac or Windows computer running the free ATEM Software Control app.
Mix Effects
Available M/E Layers

9 M/E

Effect Types
2 x DVE
4 x Luma Key
4 x Chroma Key
Graphics Memory

20 Images

Downstream Keys
2 x Chroma, Luma, DVE
Generators
5 x Pattern
2 x Color
Audio Mixing

2-Channel Mixing
Processing
| | |
| --- | --- |
| Switching Type | Pushbutton, Software |
| Processing Resolution | 1080p |
Input
Number of Video Input Sources

8

Video Input Connectors
8 x HDMI
Input Video Format
HDMI (10-Bit 4:2:2 YUV)
1080p: 23.98/24/25/29.97/30/50/59.94/60 fps
1080i: 50/59.94/60 fps
720p: 50/59.94/60 fps
Audio Input Connectors
2 x 1/8" / 3.5 mm TRS Stereo Analog Female
Input Audio Format

Analog

Embedded Audio Input

HDMI: 2-Channel (per Input)
Output
Video Output Channels

2

Video Output Connectors
2 x HDMI
Output Video Format
HDMI (10-Bit 4:2:2 YUV)
1080p: 23.98/24/25/29.97/30/50/59.94/60 fps
Audio Output Connectors
1 x 1/8" / 3.5 mm TRRS Headphone/Microphone Stereo Analog Female
Embedded Audio Output

HDMI: 2-Channel

Multiview Output

16-Way Multiview viaHDMI
Connectivity
Other I/O
1 x RJ45
2 x USB Type-C
HDCP Support
None
IP Encoding/Decoding
IP Video
H.264:
1920 x 1080 Encoding
Transport Protocols

RTMP

Simultaneous Streams

1 Streams
Internal Recording
| | |
| --- | --- |
| Recording Modes | 1920 x 1080p up to 60 fps (MP4) |
Hardware
OS Compatibility
macOS 10.15
macOS 11.1 or Later
Windows 10
Power
| | |
| --- | --- |
| Power Connector | 1 x Barrel (12 VDC) Input |
| Power Consumption | Device: 36 W |
Environmental
| | |
| --- | --- |
| Operating Temperature | 41 to 104°F / 5 to 40°C |
| Storage Temperature | 14 to 140°F / -10 to 60°C |
| Operating Humidity | 0 to 70% |
General
| | |
| --- | --- |
| Dimensions | 14.56 x 5.37 x 1.56" / 36.98 x 13.64 x 3.96 cm |
| Weight | 2.72 lb / 1.23 kg |
Shipping policy
Any items which are in stock, will be dispatched immediately - same day if possible and morning of the following business day at the latest. Items which are not in stock at our local warehouse will be routed to us, and dispatched immediately upon arrival to us. In that case, the estimated dispatch time is noted on the product page.
Note that you are always welcome to email info@dittools.eu or call (+372) 5556 0057 for a more accurate shipping time estimate, as this does vary depending on a number of factors.
Standard shipping
Unless otherwise noted, all items are shipped standard via DPD. We normally ship to European Union countries only – do contact us for possible exceptions, particularly other European mainland countries. Shipping times vary between 1 to 10 business days within Europe – an up to date estimate will be given at checkout.
Express shipping
Our shipping partner for expedited deliveries is DHL Express; please contact us directly for a quote.
Returning an item
If you are not completely satisfied with your purchase, you can return your item(s) for a full refund within 14 days of confirmed delivery.
Special sales, demo items and promotions may have modified return policies. If an item from a bundle is returned for refund, the total bundle discount or the total value of the gifts will get deducted from the returned item prior to issuing a refund. If the bundle discount (or gift value) exceeds the value of the returned item, the difference must be paid to be able to return the item.
Return autorization
If you would like to return any item(s), please contact us by either emailing info@dittools.eu or calling (+372) 5556 0057. We will share with you a Return Merchandise Authorization (RMA) code and ask that you clearly mark this code outside of your shipping box as you ship your item(s) back for a refund.
You will be liable for the shipping and any applicable customs/duty fees returning the item(s).
Incorrect items
If the return is made due to a faulty product, or an incorrectly shipped product, or if you are returning the item(s) due to a defect, or functionality issue, or because it is not the item you have ordered, we will gladly email or mail a return shipping label covering all shipping related expenses. In order to determine whether the return is initiated due to a technical problem, we may ask for you to provide visual support like images or a video on the item(s).
Shipping
Returned merchandise must be in its original packaging, and placed in a decent shipping box, e.g. the same box that we shipped the items to you in. Please make sure to clearly mark the RMA code you have received from us outside on the box.
Do not forget to cover or peel off any existing shipping labels on the box.
DIT Supplies OÜ cannot be held accountable for return shipments that have not reached us or returns made without RMA codes. We strongly advise that if you are returning the item(s) with a carrier of your choice that you use a traceable shipping method.
It may take 4-5 business days for your return to reach us. Once it is received and inspected, your refund will be processed and automatically applied to your credit card or original method of payment within 14 business days. Please note that depending on your credit card company, it may take an additional 2-4 business days after your credit is applied for it to post to your account.
Customs, duties & taxes
There are no customs duties or taxes on orders shipping within the EU. Orders shipped outside of the EU may be subject to import taxes, customs duties and fees collected by the destination country. The recipient of an international shipment may be subject to such import taxes, customs duties and fees, which are collected once a shipment reaches the recipient's country. Additional charges for customs clearance must be paid for by the recipient; we have no control over these charges and cannot predict what they may be. Customs policies vary widely from country to country; and when customs clearance procedures are required, it can cause delays beyond our original delivery estimates. We advise that you contact your local customs office for more information.