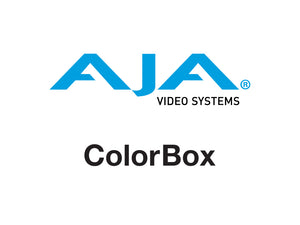 ORION-CONVERT brings the power of Cromorama color science to real time hardware based conversion.  This same color science is responsible for the Emmy nominated and IBC 2021 Special Award winning NBCU LUT based HDR-SDR broadcast workflows, as well as UEFA Euro 2020, Tokyo 2020 Olympics, FIFA 2021 Arab Cup, Beijing 2022 Winter Olympics, and the upcoming FIFA 2022 Qatar World Cup amongst others.  
ORION-CONVERT offers the necessary tools for broadcasters to create and deliver the HDR and SDR content consumers expect from a single master HDR workflow by providing critical controls required to set up the right conversion for your production.  By being able to set the HDR and SDR reference anchor points in an HDR to SDR conversion, you can target an SDR program output that suits your market's SDR display needs.  You can target 200 nits SDR resulting in a much more representative image for the camera shader and a more vibrant HDR image for the viewer at home or target a perceptual match at 100 nits SDR.  Also, in an HDR to SDR conversion, the unique 2 stage knee offers a pre-conversion compression in HDR only and a post-conversion compression in SDR only providing very effective roll off management control. This is a licensable upgrade and includes:
Conversions utilizing floating point math for higher precision results
SDR, HLG, and PQ transforms
Scene-light and Display-light modes
2 stage Knee adjustment for pre and post conversion compression or expansion

Compression amount control in HDR to SDR conversions
Expansion amount control in SDR to HDR conversions

Configurable SDR and HDR reference anchor points
HDR Peak Nit sets the system gamma for display light conversions
Easy to configure pixel perfect round tripping
Clamping options
Full bypass node for 12G-SDI and HDMI
Support for ITU BT.2408-0, Operational Practices in HDR Television Production
This toolset enables HDR workflows to be set up and easily replicated utilizing ColorBox preset import and export capabilities.
Shipping policy
Any items which are in stock, will be dispatched immediately - same day if possible and morning of the following business day at the latest. Items which are not in stock at our local warehouse will be routed to us, and dispatched immediately upon arrival to us. In that case, the estimated dispatch time is noted on the product page.
Note that you are always welcome to email info@dittools.eu or call (+372) 5556 0057 for a more accurate shipping time estimate, as this does vary depending on a number of factors.
Standard shipping
Unless otherwise noted, all items are shipped standard via DPD. We normally ship to European Union countries only – do contact us for possible exceptions, particularly other European mainland countries. Shipping times vary between 1 to 10 business days within Europe – an up to date estimate will be given at checkout.
Express shipping
Our shipping partner for expedited deliveries is DHL Express; please contact us directly for a quote.
Returning an item
If you are not completely satisfied with your purchase, you can return your item(s) for a full refund within 14 days of confirmed delivery.
Special sales, demo items and promotions may have modified return policies. If an item from a bundle is returned for refund, the total bundle discount or the total value of the gifts will get deducted from the returned item prior to issuing a refund. If the bundle discount (or gift value) exceeds the value of the returned item, the difference must be paid to be able to return the item.
Return autorization
If you would like to return any item(s), please contact us by either emailing info@dittools.eu or calling (+372) 5556 0057. We will share with you a Return Merchandise Authorization (RMA) code and ask that you clearly mark this code outside of your shipping box as you ship your item(s) back for a refund.
You will be liable for the shipping and any applicable customs/duty fees returning the item(s).
Incorrect items
If the return is made due to a faulty product, or an incorrectly shipped product, or if you are returning the item(s) due to a defect, or functionality issue, or because it is not the item you have ordered, we will gladly email or mail a return shipping label covering all shipping related expenses. In order to determine whether the return is initiated due to a technical problem, we may ask for you to provide visual support like images or a video on the item(s).
Shipping
Returned merchandise must be in its original packaging, and placed in a decent shipping box, e.g. the same box that we shipped the items to you in. Please make sure to clearly mark the RMA code you have received from us outside on the box.
Do not forget to cover or peel off any existing shipping labels on the box.
DIT Supplies OÜ cannot be held accountable for return shipments that have not reached us or returns made without RMA codes. We strongly advise that if you are returning the item(s) with a carrier of your choice that you use a traceable shipping method.
It may take 4-5 business days for your return to reach us. Once it is received and inspected, your refund will be processed and automatically applied to your credit card or original method of payment within 14 business days. Please note that depending on your credit card company, it may take an additional 2-4 business days after your credit is applied for it to post to your account.
Customs, duties & taxes
There are no customs duties or taxes on orders shipping within the EU. Orders shipped outside of the EU may be subject to import taxes, customs duties and fees collected by the destination country. The recipient of an international shipment may be subject to such import taxes, customs duties and fees, which are collected once a shipment reaches the recipient's country. Additional charges for customs clearance must be paid for by the recipient; we have no control over these charges and cannot predict what they may be. Customs policies vary widely from country to country; and when customs clearance procedures are required, it can cause delays beyond our original delivery estimates. We advise that you contact your local customs office for more information.