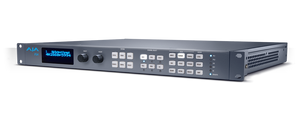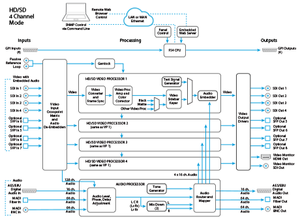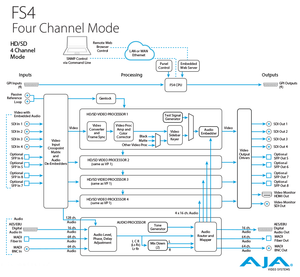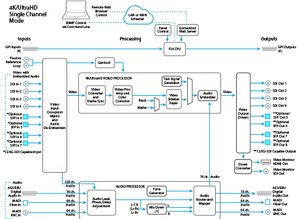 Single or Four Channel Modes in a 1RU frame
FS4 offers two modes for comprehensive conversion and signal processing.
Single channel mode provides a full suite of 4K/UltraHD processing and up, down, cross-conversion to and from 2K, HD or SD.
Four channel mode offers 4x 2K/ HD/SD channels of simultaneous conversion and processing, all within an elegant 1RU chassis for multi-channel high density delivery.
Single Channel Mode
FS4 is your real world answer for conversions of to and from multiple resolutions, built to AJA's high quality and reliability standards.
4K/UltraHD delivery, processing and synchronization is fast becoming the next standard, and FS4 gets you there with a wealth of digital video connectivity including Quad 1.5G, Dual 3G, Quad 3G over 3G-SDI and 12G/6G over optional 12G-SDI BNC and 12G-SDI LC Fiber SFP modules.
In single channel mode, FS4 will upscale your HD or SD materials to 4K/UltraHD and back, with a huge array of audio channels over Fiber, 3G-SDI, AES, and MADI for an incredible 272 x 208 matrix of audio possibilities.
Four Channel Mode
In four channel mode, FS4 provides incredibly powerful multi-channel conversion with up to four channels of simultaneous processing for 2K/HD and SD signals. New thinking requires a new layout, and FS4's front panel has been redesigned to simplify and speed your access to the product's wealth of features.
The panel has also been designed to provide straightforward operation in single channel or four channel mode. In four channel mode, all four VIDx buttons under Channel Select are lit up. In single channel mode, only VID1 is lit and VID2-4 are off.
Multi-channel density in a 1RU chassis - space, energy and power preserved.
New Thinking, New Interface
New thinking requires a new layout and FS4's front panel has been redesigned to simplify and speed your access to the product's wealth of features. The panel has also been designed to provide straightforward operation in single channel or four channel mode. In four channel mode, all four VIDx buttons under Channel Select are lit up. In single channel mode, only VID1 is lit and VID2-4 are off.
Up, Down, Cross-Conversion
Moving to 4K is never an instant change. Legacy signals and archival material need to be integrated into the 4K environment while 4K sources need to be down-converted for current 2K/HD pipelines.
Utilizing AJA's remarkable conversion algorithms, FS4 supports realtime up, down, cross-conversion from SD, HD or 2K over 12G/6G/3G-SDI video to 4K or UltraHD video and back.  Both Quadrant (Square Division) and 2SI (Two Sample Interleave) output formats are supported.
AJA's powerful hardware conversion technology ensures the highest image quality for your productions. Key conversion features include:
4K/UltraHD/2K/HD/SD up, down-conversion
SD/SD aspect ratio conversion
HD/HD cross-conversion (720p/1080i)
All done in beautiful 10-bit with dedicated hardware.
Incredible Digital Connectivity
Video and Audio deserve the connectivity and bandwidth required to meet the demands of your projects.
FS4 utilizes standard BNC as well as optional SFP inputs and outputs to integrate easily into a variety of workflows and facilities with support for SDI worklows all the way up to 12G. 
FS4 has BNC and Fiber* inputs and outputs to accept 4K/UltraHD/2K/HD/SD resolution SDI signals in Single Channel Mode. In Four Channel mode 2K/HD/SD inputs can be be routed to multiple locations simultaneously without the need for any external signal distribution.
A looping Reference Input allows the FS4 to be locked to your house reference signal for rock solid stability.
Digital Audio can be disembedded and embedded between SDI, MADI and AES for an incredible array of routing possibilities.
* SFP  inputs and outputs are optional.
12G/6G HD-BNC and Fiber SFP Options
FS4's SFP options include both 12G/6G-SDI HD-BNC and Fiber I/O options including single and dual channel Single Mode options and Multi-Mode options, allowing great SDI flexibility and fiber cable runs of up to 10 kilometers to be connected directly to the FS4 without the need for separate fiber to SDI conversion.
Optional 12G/6G-SDI SFPs:
HDBNC-2TX-12G:  12G/6G-SDI Dual Coax HD-BNC Transmitter
HDBNC-2RX-12G:  12G/6G-SDI Dual Coax HD-BNC Receiver
FIBERLC-1TX-12G:  12G-SDI Single Fiber LC Transmitter Single-Mode
FIBERLC-1RX-12G:  12G-SDI Single Fiber LC Receiver Single-Mode
FIBERLC-2TX-12G: 12G/6G-SDI Dual Fiber LC Transmitter Single-Mode
FIBERLC-2RX-12G: 12G/6G-SDI Dual Fiber LC Receiver Single-Mode
Optional 3G-SDI Multi-Mode SFPs:
FIBERLC-1TX-MM:  Single Fiber LC Transmitter Multi-Mode 850nm
FIBERLC-1RX-MM:  Single Fiber LC Receiver Multi-Mode 850nm
FIBERLC-2TX-MM:  Dual Fiber LC Transmitter Multi-Mode 850nm
FIBERLC-2RX-MM:  Dual Fiber LC Receiver Multi-Mode 850nm
Single and Dual Channel Fiber connectors supported:
Single Channel LC connector modules
Single Channel SC connector modules
Dual Channel LC connector modules
Possible CWDM options:
Choose from multiple wavelength CWDM SFPs, allowing advanced multiplexing of signals over a single fiber connection.
Dual TX 1271/1291
Dual TX 1311/1331
Dual TX 1351/1371
Dual TX 1391/1411
Dual TX 1431/1451
Dual TX 1471/1491
Dual TX 1511/1531
Dual TX 1551/1571
Dual TX 1591/1611
Massive Audio Flexibility
The growth of 5.1 and 7.1 audio has increased the number of audio channels that must be managed in a production,  The MADI standard provides a convenient way to transport huge numbers of audio channels along a single cable, simplifying the cabling demands for broadcasters, mobile trucks and production. FS4 supports both fiber and coax MADI input and output.  An internal 277 x 208 mono audio matrix allows you to route 1 to 1 or 1 to many with full routing of MADI, mixdowns and all audio coming from SDI, fiber and AES sources for an incredible amount of audio processing capability in a single box.
Closed Captioning Conversion
FS4 supports closed captioning and the conversion of closed captioning between 2K/HD/SD and 4K/UltraHD formats - including full conversion of CEA-608 and CEA-708 standards. FS4 can preserve closed captioning even when converting between formats, removing the need to reinsert closed captions after conversion.
Active Format Description
Automatically sets Active Format Description information to match the converted signal. This means AFD information does not have to be inserted after conversion and provides accurate information for devices that understand AFD.
Remote Configuration and Control
FS4 is network ready and supports SNMP monitoring and web-based remote control. Units can be connected to any Ethernet network via the built-in 10/100/1000MB Ethernet port, allowing control and configuration of multiple FS units from any web browser on a connected computer. Configurations can be saved and applied to multiple units, ensuring consistency and quick configuration in large installs.
To integrate smoothly with the existing automation of a facility, FS4 can also receive external GPI commands to trigger a variety of functions.
Shipping policy
Any items which are in stock, will be dispatched immediately - same day if possible and morning of the following business day at the latest. Items which are not in stock at our local warehouse will be routed to us, and dispatched immediately upon arrival to us. In that case, the estimated dispatch time is noted on the product page.
Note that you are always welcome to email info@dittools.eu or call (+372) 5556 0057 for a more accurate shipping time estimate, as this does vary depending on a number of factors.
Standard shipping
Unless otherwise noted, all items are shipped standard via DPD. We normally ship to European Union countries only – do contact us for possible exceptions, particularly other European mainland countries. Shipping times vary between 1 to 10 business days within Europe – an up to date estimate will be given at checkout.
Express shipping
Our shipping partner for expedited deliveries is DHL Express; please contact us directly for a quote.
Returning an item
If you are not completely satisfied with your purchase, you can return your item(s) for a full refund within 14 days of confirmed delivery.
Special sales, demo items and promotions may have modified return policies. If an item from a bundle is returned for refund, the total bundle discount or the total value of the gifts will get deducted from the returned item prior to issuing a refund. If the bundle discount (or gift value) exceeds the value of the returned item, the difference must be paid to be able to return the item.
Return autorization
If you would like to return any item(s), please contact us by either emailing info@dittools.eu or calling (+372) 5556 0057. We will share with you a Return Merchandise Authorization (RMA) code and ask that you clearly mark this code outside of your shipping box as you ship your item(s) back for a refund.
You will be liable for the shipping and any applicable customs/duty fees returning the item(s).
Incorrect items
If the return is made due to a faulty product, or an incorrectly shipped product, or if you are returning the item(s) due to a defect, or functionality issue, or because it is not the item you have ordered, we will gladly email or mail a return shipping label covering all shipping related expenses. In order to determine whether the return is initiated due to a technical problem, we may ask for you to provide visual support like images or a video on the item(s).
Shipping
Returned merchandise must be in its original packaging, and placed in a decent shipping box, e.g. the same box that we shipped the items to you in. Please make sure to clearly mark the RMA code you have received from us outside on the box.
Do not forget to cover or peel off any existing shipping labels on the box.
DIT Supplies OÜ cannot be held accountable for return shipments that have not reached us or returns made without RMA codes. We strongly advise that if you are returning the item(s) with a carrier of your choice that you use a traceable shipping method.
It may take 4-5 business days for your return to reach us. Once it is received and inspected, your refund will be processed and automatically applied to your credit card or original method of payment within 14 business days. Please note that depending on your credit card company, it may take an additional 2-4 business days after your credit is applied for it to post to your account.
Customs, duties & taxes
There are no customs duties or taxes on orders shipping within the EU. Orders shipped outside of the EU may be subject to import taxes, customs duties and fees collected by the destination country. The recipient of an international shipment may be subject to such import taxes, customs duties and fees, which are collected once a shipment reaches the recipient's country. Additional charges for customs clearance must be paid for by the recipient; we have no control over these charges and cannot predict what they may be. Customs policies vary widely from country to country; and when customs clearance procedures are required, it can cause delays beyond our original delivery estimates. We advise that you contact your local customs office for more information.