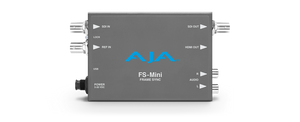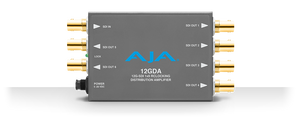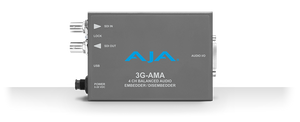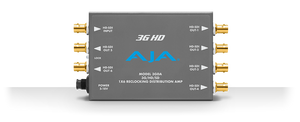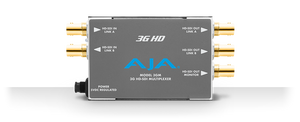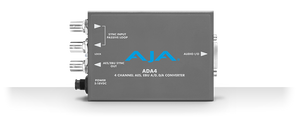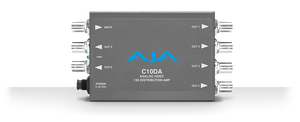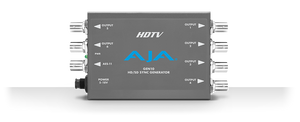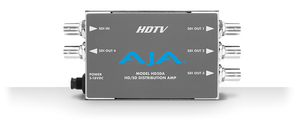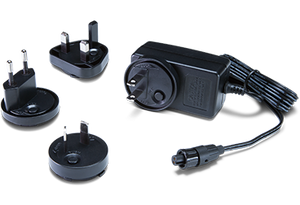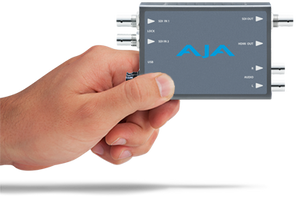 Product type:
Signal Distributors
Infrastructure Converters
Infrastructure Converters Overview
AJA's Infrastructure Mini-Converters provide a wide range of options for common infrastructure and point of use needs. Explore your options for frame synchronization, distribution amplification, audio embedding/dissembeding, digital to analog and analog to digital video and audio conversion, multi-plexing and sync generation with support for blackburst, bi-level, tri-level and equalization.

AJA 12G Solutions
The 12GDA and 12GM Mini-Converters offer the latest support for 12G-SDI Distribution Amplification and Multiplexing.
12G-SDI offers multiple advantages. 12G-SDI offers eight times the bandwidth of normal HD-SDI with the simplicity of single cable connectivity. 12G-SDI has the ability to handle high frame rate and deep color 4K/UltraHD signals, including up to 100/120fps. This has major benefits for live events, broadcast studios, on set and live venues when it comes to cable complexity, weight, and troubleshooting.
USB and Mini-Config Support
AJA's free Mini-Config software can be used with any USB-enabled AJA Mini-Converter and provides an easy-to-use graphical interface with detailed information about the current input and output formats. Control all the parameters of any supported AJA Mini-Converter as well as loading firmware updates from AJA that add new features and functionality.
Universal Power Supply
All AJA Mini-Converters ship with a universal power supply that includes international plug connections for use around the world.
AJA Mini-Matrix
Mini-Matrix offers information on the complete line of AJA Mini-Converters as a convenient search tool, available online and as an iOS app. The Mini-Converter product line is extensive and this app helps you find the right converter for any situation, wherever you are. Please click here to use Mini-Matrix to help find the AJA Mini-Converter you need.
The free AJA Mini-Matrix app for iPad® and iPhone® is available now in the Apple App Store. Individual products have links back to the main AJA website for more details and you can email product information directly from the app.
Industry Leading Support
AJA's technical support is recognized as among the best in the industry and is available to all AJA customers. If you need assistance with any aspect of your Mini-Converter installation, configuration, operation or encounter any technical issue, AJA Support will work with you to get up and running.
Mini-Converter products are covered by a generous five year warranty. Please see the individual Product's Manual for additional specifics around warranty conditions for the product itself.
FS-Mini
Frame Synchronizer
The FS-Mini is a broadcast quality utility frame sync that packs the production-proven reliability of AJA's leading FS frame sync technology into a portable Mini-Converter supporting frame synchronization of untimed 3G-SDI, HD, and SD video signals at an affordable price.

FS-Mini allows users to synchronize and convert a wide range of video formats to their house standard with a 3G-SDI input and output, HDMI output, and a 2-channel RCA style audio output. The FS-Mini also provides high quality up, down, cross-conversion.

The device also features a reference input that can be used to lock to a local reference. It can be simply controlled via local DIP switches or USB with AJA's Mini-Config application.
12GDA
12G/6G/3G/HD/SD-SDI Distribution Amplifier
12GDA is a miniature 1x6 12G-SDI reclocking distribution amplifier that allows facilities to save on cable runs and install times. With support for 12G-SDI for 4K/UltraHD single link workflows, the format agnostic device features six separately buffered SDI outputs identical to the recovered input. It also offers automatic input detection, reclocking and cable equalization, as well as a throw down package and LED signal detection indicator.
12GM
12G-SDI to/from SDI Muxer/DeMuxer
12GM is a compact SDI transport converter that enables 12G-SDI to quad link 3G-SDI and quad link 3G-SDI to 12G-SDI conversion. The muxer/demuxer supports 4K, UltraHD, 2K, HD and SD workflows and conversions from quad link SDI signals to single link SDI signals, and vice versa at 12G, 6G, 3G and 1.5G bit rates. Both Square Division (Quadrant) and Two Sample Interleave (2SI) input and output mappings are supported.
3G-AM
3G-SDI 8-Channel AES Embedder/Disembedder
The 3G-AM is an 8-channel AES audio embedder/disembedder with support for 3G-SDI input and output up to 1080p 60. Audio disembedding is always functional, providing 4 AES outputs. Audio embedding is user selectable, on a channel pair basis, to either pass 3G-SDI input audio or to embed input AES audio from the breakout cable.

AES inputs are sample rate converted to a 48 KHz rate synchronous to the video input. The 3G-AM automatically detects and configures to the input video standard.
3G-AMA
3G-SDI Analog Audio Embed/Disembed
The 3G-AMA is a 4-channel analog audio embedder/disembedder with support for 3G-SDI input and output up to 1080p 60. Audio disembedding is always functional, providing four analog outputs. Audio embedding is user selectable, on a channel pair basis, to either pass 3G-SDI input audio or to embed input analog audio from the breakout cable. Analog audio levels are selectable. The 3G-AMA automatically detects and configures to the input video standard.
3GDA
1x6 3G/HD/SD Reclocking Distribution Amplifier
The 3GDA is a miniature, low cost 1x6 3G HD-SDI/HD-SDI/SDI reclocking distribution amplifier. Featuring six separately buffered SDI outputs, the 3GDA provides automatic input detection, reclocking and cable equalization.
3GM
3G/1.5G-SDI to/from SDI Muxer/Demuxer
The 3GM is versatile and economical tool for interconnecting dual link 1.5G SMPTE372M and 3G SMPTE425M. 3GM either for dual 1.5G to 3G or 3G to dual 1.5G conversion. Additionally, 3GM's 3G HD-SDI output is configurable for SMPTE425M type A or B. The 3GM can even convert 3G from/to type A or B. 3GM also provides a monitor output which is a single link SMPTE292M 1.5G HD-SDI. The 3GM is also compatible with SMPTE259M 270Mb SDI.
ADA4
4-Channel Bidirectional Audio A/D & D/A Converter
The ADA4 is a 4-channel converter that can be configured as a 4-channel A/D, a 4-channel D/A, 2-channel A/D and 2-channel D/A, or an AES synchronizer.
C10DA
Analog Video 1x6 Distribution Amplifier
The C10DA is a 1x6 analog distribution amplifier with support for NTSC and PAL offering the ability to distribute multiple copies of the incoming signal or extend content of composite video with gain adjustment to compensate for long cable runs where needed.
The C10DA can also be used to DA Tri-Level sync in an HD facility when a sync signal is fed externally into the Video Input.
GEN10
HD/SD Sync Generator
The GEN10 is a cost effective and flexible SD/HD/AES sync generator. The GEN10 features 7 outputs including 2 groups of independently controlled SD/HD sync outputs and 1 AES-11 output. The SD outputs can be switched between Color Black or Color Bars. HD tri-level sync can be switched between 19 different HD formats including all that are in use today. The AES-11 output can be switched between SILENCE and TONE. All outputs are in sync with each-other and are sourced from an accurate master time base.
HD5DA
HD-SDI/SDI serial digital distribution amplifier
The HD5DA is a miniature, low cost, 1x4 HD-SDI/SDI distribution amplifier/repeater. Featuring four separately buffered HD-SDI/SDI outputs, the HD5DA provides automatic input cable equalization to 100 meters and automatically adapts to 143, 177, 270, 360 Mb, and 1.5 Gb.
Shipping policy
Any items which are in stock, will be dispatched immediately - same day if possible and morning of the following business day at the latest. Items which are not in stock at our local warehouse will be routed to us, and dispatched immediately upon arrival to us. In that case, the estimated dispatch time is noted on the product page.
Note that you are always welcome to email info@dittools.eu or call (+372) 5556 0057 for a more accurate shipping time estimate, as this does vary depending on a number of factors.
Standard shipping
Unless otherwise noted, all items are shipped standard via DPD. We normally ship to European Union countries only – do contact us for possible exceptions, particularly other European mainland countries. Shipping times vary between 1 to 10 business days within Europe – an up to date estimate will be given at checkout.
Express shipping
Our shipping partner for expedited deliveries is DHL Express; please contact us directly for a quote.
Returning an item
If you are not completely satisfied with your purchase, you can return your item(s) for a full refund within 14 days of confirmed delivery.
Special sales, demo items and promotions may have modified return policies. If an item from a bundle is returned for refund, the total bundle discount or the total value of the gifts will get deducted from the returned item prior to issuing a refund. If the bundle discount (or gift value) exceeds the value of the returned item, the difference must be paid to be able to return the item.
Return autorization
If you would like to return any item(s), please contact us by either emailing info@dittools.eu or calling (+372) 5556 0057. We will share with you a Return Merchandise Authorization (RMA) code and ask that you clearly mark this code outside of your shipping box as you ship your item(s) back for a refund.
You will be liable for the shipping and any applicable customs/duty fees returning the item(s).
Incorrect items
If the return is made due to a faulty product, or an incorrectly shipped product, or if you are returning the item(s) due to a defect, or functionality issue, or because it is not the item you have ordered, we will gladly email or mail a return shipping label covering all shipping related expenses. In order to determine whether the return is initiated due to a technical problem, we may ask for you to provide visual support like images or a video on the item(s).
Shipping
Returned merchandise must be in its original packaging, and placed in a decent shipping box, e.g. the same box that we shipped the items to you in. Please make sure to clearly mark the RMA code you have received from us outside on the box.
Do not forget to cover or peel off any existing shipping labels on the box.
DIT Supplies OÜ cannot be held accountable for return shipments that have not reached us or returns made without RMA codes. We strongly advise that if you are returning the item(s) with a carrier of your choice that you use a traceable shipping method.
It may take 4-5 business days for your return to reach us. Once it is received and inspected, your refund will be processed and automatically applied to your credit card or original method of payment within 14 business days. Please note that depending on your credit card company, it may take an additional 2-4 business days after your credit is applied for it to post to your account.
Customs, duties & taxes
There are no customs duties or taxes on orders shipping within the EU. Orders shipped outside of the EU may be subject to import taxes, customs duties and fees collected by the destination country. The recipient of an international shipment may be subject to such import taxes, customs duties and fees, which are collected once a shipment reaches the recipient's country. Additional charges for customs clearance must be paid for by the recipient; we have no control over these charges and cannot predict what they may be. Customs policies vary widely from country to country; and when customs clearance procedures are required, it can cause delays beyond our original delivery estimates. We advise that you contact your local customs office for more information.